2019 Mazda MAZDA3 Review
2019 Mazda MAZDA3 Review by Auto Critic Steve Hammes
Mazda has a vision for its future that looks and feels more premium even when it comes to their entry level sedan. This is the all new Mazda3.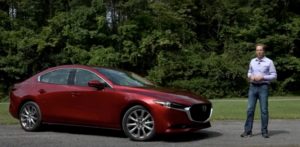 From Zoom-Zoom to Feel Alive, the small Japanese automaker embarked on the road to premium a few years ago; a journey Mazda hopes puts them in the same shopping group as Infiniti and Acura.  Their lineup currently consists of 3 cars and 3 SUVs, 2 of which do all the heavy lifting: the CX-5 and this, the Mazda3 available as a hatchback or like here, a 4-door with a trunk.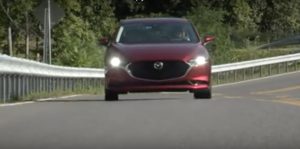 Since its debut in 2003, this compact has been known, like most Mazdas, as the driver's alternative.  Never the most up to date or lavish but with driving chops that put the segment leaders to shame, for example the dearly departed Mazdaspeeed3, this new generation is flipping the script.  The exquisite Kodo design language, the radiant Soul Red paint, the Volvo-level cabin aesthetics – the Mazda3 with Premium Package makes a divine introduction.  But it doesn't take long before its many flaws are revealed, emblematic of a brand in transition, toiling with its race-inspired drive and how to blend that with premium car attributes at a palatable price.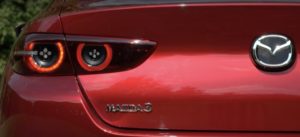 As it sits, this front-wheel drive tester with the upcharge paint and on-board navigation stickers for $28,465…so Mazda's got the premium pricing down.  And with features like a slightly out-of-focus though in-depth, color head-up display, memory settings, real leather seats, an uplevel Bose 12 speaker audio system, modern safety tech, and signature LED lighting with adaptive headlights that swivel in the turns, this buries the memory of Mazda3s with hard plastics and outdated design.
But this car and I have failed to develop camaraderie.  I just don't understand what Mazda's doing here.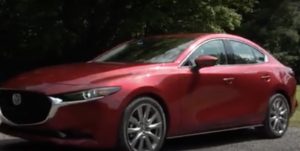 The ergonomics are poor so very few interactions work intuitively – like the car and I aren't on the same page.  The part-time touchscreen has been replaced by an even more frustrating interface, there's an annoying rattle somewhere in the cabin, but worst of all – and it's something we almost never criticize Mazda for – the drive is disjointed, artificial and dare I say boring? The cabin looks every bit the part with real aluminum speaker grilles and high quality touchpoints but otherwise this is a bit of a swing and a miss.
All 3s come with a 2.5-liter 4-cylinder engine and all but one comes with a 6-speed automatic transmission – if you want a manual you've got to choose the hatchback with Premium Package. Generating 186 horsepower this Skyactiv motor is held back by the auto's software mapping that feels overdone…like it's trying too hard to be perfect and instead produces the opposite result.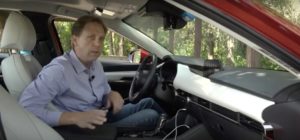 The sad part is that the engine feels spunky and my gas mileage has been excellent but the electronic controls sully the drive…it's not smooth, it's as if there's someone holding the car back, moving ahead and then being interrupted as if you were driving it in a low gear. And the ride lacks polish, clearly evident when you hit a bump and the rear end hops. It's also loud on the highway.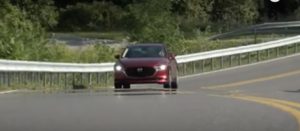 The torsion beam rear suspension lacks the very sophistication Mazda is targeting.  But the cabin's appearance is where the Mazda3 excels.  It feels as though you've just entered a car from one of those premium brands Mazda covets.  It's authentic and chock full of features.  The auto hold function is a favorite of mine when I'm sitting in traffic and want to give my brake leg a rest, the heads-up display alerts me to cars in my blind spots a la Hyundai and the gauges look cool.  But when your smartphone is connected the system voice commands no longer operate for the car…just for your phone.  So for instance you can't ask the car to change radio stations while CarPlay is running and that's a mistake because channel surfing is next to impossible with this setup.  I also hate that the parking brake automatically engages so just as you're ready to pull away and forget that you end up going nowhere.  I've seen this before in other cars but I can't find an off setting in here…I've searched all over.  The adaptive cruise control feels lacking in the AI department with overly abrupt stops and really slow restarts in stop and go mode.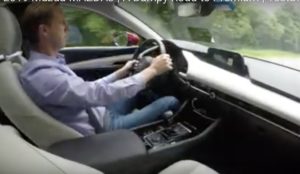 There's no height adjustment for the passenger seat and the rear seats feel a little tight on legroom.
Averaging over 31mpg has been nice but the less than 400 mile driving range puts it at a disadvantage with most of its competitive set.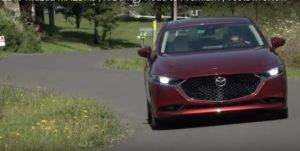 That being said its stylish design may just win your heart and render you accepting of its faults.