2020 BWM Z4 sDrive M40i
2020 BWM Z4 sDrive M40i Review By Auto Critic Steve Hammes
The roadster saw a rebirth in the late 90s fueled by the Germans who rediscovered a demand for fun-to-drive little 2-seat convertibles. And that harkens back to this car's predecessor the Z3. And now 2 decades later BMW is still perfecting the top-down experience with incredible amounts of power. This is the all-new Z4 M40i.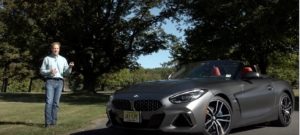 Who wouldn't want a little car like this in their garage for those nice weather weekends when the roads are yours and fun is on the agenda? After a 2-year hiatus, BMW has reimagined their rear-drive fun-mobile for the next generation and it doesn't disappoint.  A more powerful engine, new suspension, increased length and width – this Z4 is more dialed in than ever.  And with the added muscularity afforded by a host of M chops, this M40i model is a serious performance machine.  There's still an inline 6 under the hood but replacing the twin turbos is a single twin-scroll compressor churning out 382 horsepower and 369 pound-feet of torque. That kind of muscle pushing a modest 3,443 pounds means you're going to go fast – sub-4 seconds to 60mph.  That's 8/10th's of a second quicker than its predecessor.  BMW is proud of this car's 50:50 weight distribution and from behind the wheel the long nose is palpable.  But just like a modern, $70,000 sports car should, there are a host of drive modes, suspension settings and handling features that give the Z4 a wide dynamic range – meaning you can cruise the coast in relative placidity and immediately ratchet things up to backfire level.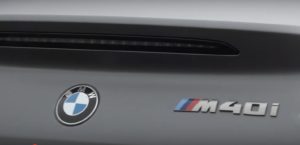 The M40i's tension is palpable from behind the wheel – it wants to go – yet with 4 driving modes it'll happily play the role of top down cruiser if you so desire. But the brakes grab so hard that if you find yourself in stop and go traffic smoothness is not on the menu.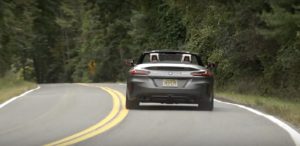 The staggered width rubber frame some meaty discs that combine with the new 8-speed auto with fast M programming to create a car that stops very quickly, sometimes too abruptly.  It can sound pretty mean too when you dial up the drive modes, unleashing its blatty soundtrack.  Paddle shifting is fun but the gearbox is smart enough to handle the job on its own when driving spiritedly.  There's a launch control feature as well but it wasn't cooperating with us on this particular day so we just floored it and kept it straight…an exhilarating experience. An electric motor in the rear automatically locks the differential when cornering hard allowing you to power out of the curves with controlled confidence.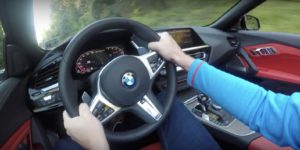 Like all M variants – some more than others – this Z4 is for the driver who wants more. Someone who appreciates prodigious power, added grip and deft handling. It feels extremely muscular with an aggressive Sport mode suited to hyper drives replete with exhaust backfires. With traction and stability control left on the rear end will step out just a bit when provoked. Turn them off however and it's a drift show.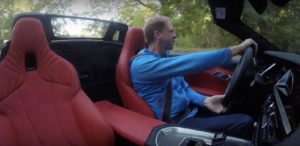 It provides as much unbridled fun as you could want.  With adaptive dampers the ride quality is typically compliant with a just a little bit of an M edge to it.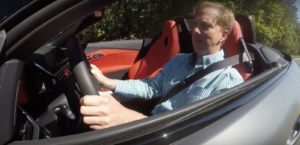 Like a good sports car should these seats snug you right in and with the wind blocker in place turbulence is kept to a minimum. There's a heads-up display and of course lots of premium features including BMW's much improved upon touchscreen infotainment which debuted a few years back.  And they were the first to introduce wireless CarPlay.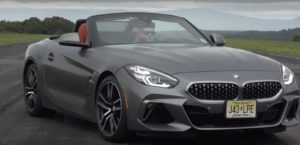 The new soft top reduces weight and increases trunk space – power operated, of course.  And the Z4 is surprisingly quiet with the top up though the sticky Michelins make quite a bit of noise over certain road surfaces and because you're close to the ground it can become a bit droning. There's storage behind the seats that's pretty wide and a pass through from the trunk.  The gauges are customizable and the infotainment is solid – this feels more like a luxury car now with high end features like ambient lighting and a 12 speaker surround sound system.  Safety features – like Active Blind Spot Detection and a Back-up Assistant that automatically reverses the car in tight spots – are all here.  My tester, in this premium and remarkably cool $3600 Frozen Grey II Metallic paint with upsized 19" wheels, and the Driving Assistance, Executive and Premium Packages comes in at $73,295.  And 26mpg in a powerful sports car is stellar.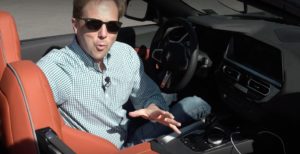 The new Z4 has also birthed the return of the Supra sports car as BMW took the lead in developing the chassis with partner Toyota.  But I love the sun and the wind so the Bimmer gets my nod.  And with the added athleticism of the M40i model, BMW has done their roadster proud.
Tagged with:
2020
,
bimmer
,
BMW
,
Convertible
,
DTwithSteveHammes
,
latest video
,
M40i
,
reviews
,
road test
,
roadster
,
sDrive
,
supra
,
test drive
,
top down
,
top picks
,
z4