2019 GMC Acadia Black Edition
2019 GMC Acadia Black Edition Review by Auto Critic Steve Hammes
I finally made it to summer vacation which, as you know, means I'm up in Maine.  And this year's workhorse is the 2019 GMC Acadia; a 3-row, midsize SUV that was last redesigned 3 years ago.  It has done a yeoman's job of everything I've asked of it thus far and if you're considering one here are 10 things you need to know.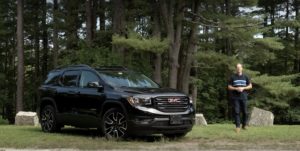 There is no better way to get to know a vehicle than taking it on vacation.  Lots of miles, all the sunscreen and sand constant loading and unloading.  At this point the Acadia and I are very well acquainted.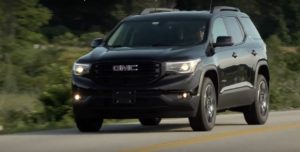 The headline for the 2019 model year is the availability of this Black Edition package.You can get it on SLT models and it includes 20" wheels and, of course, all kinds of blacked-out stuff for a more assertive appearance.
It adds about $1,500 to the price and is different than the less expensive Black Accent package, mainly due to the upsized rims.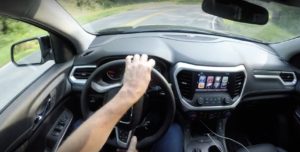 When it was last redesigned for the 2017 model year the Acadia got much smaller but that hasn't deterred shoppers. This vehicle is coming off of its best 1stquarter sales ever.
Despite having lost over 7" in length, this Acadia maintains a very large 2ndrow, and a decently sized 3rdrow.  Where it shrinks is in cargo capacity – big time – especially behind here.  But with these seats dropped, I've had no problem loading 3 beach chairs, a tent, cooler and lots of other stuff.  A foot-activated tailgate would have come in handy this week for sure.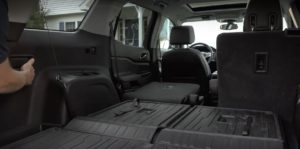 A front-wheel drive Acadia starts at around $30,000 while this well-equipped SLT-1 tester with all-wheel drive stickers for around $46,000. But if you want the ultimate, most luxurious Acadia experience there's the Denali model.  Load it up though and it could cross $50 grand.
The Acadia plays in that Honda Pilot, Toyota Highlander, Nissan Pathfinder arena – every one of them powered by a 3.5-liter V6 getting around 20 mpg when equipped with all-wheel drive. But at 310 horsepower, the Acadia makes more horses than all of them giving it a refined liveliness that makes it a confident, very quick ride.  A 2.5-liter 4-cylinder engine is also offered.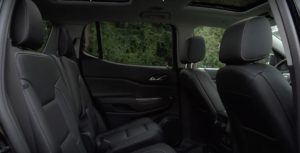 Depending on how it's configured with either a 2ndrow bench seat or captain's chairs the Acadia seats 6 or 7. And these 2ndrow seats slide fore and aft and recline for ultimate passenger comfort.  So no one – at least not in this row – has complained about not having enough space.
With your own climate controls, USB ports and dual sunroofs, these seats are perfect for kids or adults with lots of stretch out room and good visibility to limit car sickness.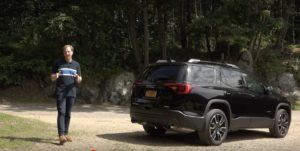 The $385 Floor Liner package add these heavy duty mats for all 3 rows and when you're on beach patrol these things are great at trapping the sand.
My tester – the Acadia AWD SLT-1 Black Edition with the optional sunroofs, floor liners, and Ebony Twilight Metallic Paint comes in at $46,070 and is rated at 17mpg city/25mpg highway with a 6-speed transmission.
Seven days, over 400 miles, four people, and lots of beach stuff and the Acadia has proven to be an excellent vacation companion. It's got an easy-going nature about it and the ride quality is super-smooth. It's quiet, relatively fuel-efficient, and its size makes it easy to position in these tiny little coastal towns. Now, all of that being said, big changes are in store for the 2020 model year including a newly available 2-liter turbo, bolder styling, 3 more gears for the automatic, a new e-shifter, and a heads-up display.
The 8" touchscreen here works easily and incorporates the cool OnStar features, the Marketplace where you can place an order at your favorite fast-food and fast casual restaurants and full smartphone integration. There's no wireless charging or on-board navigation here but with OnStar or your phone's mapping app that's not a problem.  The Wi-Fi hotspot and Bose stereo have kept everyone calm.
I didn't but if you're interested in towing, this Acadia maxes out at a useful 4,000 pounds with the optional trailering package.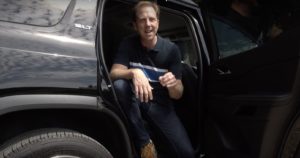 So I'm at the end of my extended loan and I've come away with a newfound appreciation for the Acadia. Perhaps the biggest surprise is this effortlessly powerful V6 making highway passing a breeze. It's really strong and refined. Ditto for the 6-speed. Now, would I've liked adaptive cruise control in a $46k vehicle? Yes. Cooled seats would also be nice. And GM's interiors continue to disappoint from a quality-per-dollar quotient.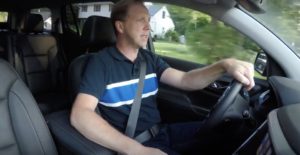 It's not off-putting but it's also not worthy of the Professional Grade moniker.  We know it.  They know it. GM's lackluster cabin designs need to move beyond the bankruptcy era.  Memory settings would've also come in handy with different drivers taking the wheel.
Built at the old Saturn plant in Spring Hill, Tennessee, the Acadia is still good now and looks even better for 2020.
Tagged with:
2019
,
Acadia
,
auto critic
,
BLACK EDITION
,
DTwithSteveHammes
,
GMC
,
latest video
,
reviews
,
road test
,
road trip
,
SUV
,
test drive
,
vacation