2019 Dodge Durango SRT 392 Review
2019 Dodge Durango SRT 392 Review By Auto Critic Steve Hammes
Let's talk about Dodge for a minute. 
Their 5 vehicle lineup's newest model is the Charger, last redesigned in…wait for it…2012!  Now, that's an insane amount of time to go between complete redesigns but Dodge could give a lesson to the rest of the industry as to how to pull off this magic trick with incredible results.  Case in point the Durango; itself last redesigned for the 2011 model year yet amazingly fresh.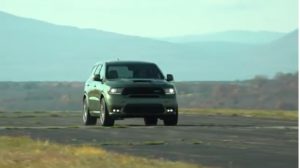 That is the sound of what Dodge does best.  As one of the few remaining sanctuaries for 8-cylinder muscle, when Dodge refreshes one of their core models you can bet there're going to be bigger engines and more horsepower on the menu.  Now, I first tested the Durango SRT early last year shortly after it was released and hardly anything has changed for the 2019 model year.  But when Dodge offers you one of these hooligans you don't turn it down.  And after all – it comes in this new F8 Green with optional Brass Monkey wheels so another week with the baddest Durango is in order.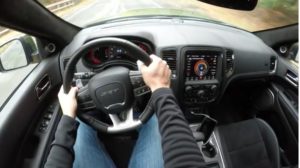 If you need a refresher, the Durango is a 3-row unibody SUV available in rear or all-wheel drive with 3 available engines, 2 of which are V8s.  There are 8 trim levels but it's only this SRT that receives the 6.4-liter, 475 horsepower motor and 4-wheel traction as standard.  No low range however, as this performance-tuned all-wheel drive system is here to put down the power and help keep this 2 and ¾ ton missile glued to the road while affording some rear-end playfulness.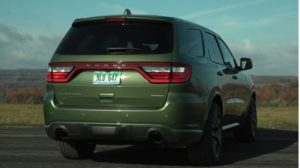 The 8-speed automatic gets a specific SRT tune for optimized shift points, there are Sport and Track modes offering one-touch powertrain and chassis customization sending as much as 70% of the torque to the rear wheels, Brembo brakes with 6 pistons in the front clamping down on 15" slotted rotors, a stirring exhaust note, and most importantly an active damping system with Bilstein shocks that works wonders in keeping the stiffer springs in check.  The ride quality is exceptional, even in the most aggressive settings.  And it earns its $65,000 asking price with a wide dynamic range bridging a docile, around the town Eco setting all the way to its adrenaline-filled friskier disposition where things happen fast.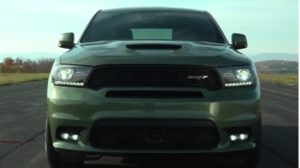 How fast exactly? Its claimed 0-to-60mph time is 4.4 seconds, but this time around a 4.7 was the best I could do while using Dodge's dummy-proof, one button Launch control system.  It is a thrust-you-into-your-seat experience with little to no wheel spin, holding a line so straight a baby could get it down the strip. The transmission is phenomenal, biting hard with each gear change and the amount of ways provided to analyze statistics is unparalleled.  Brake pedal feel is equally as impressive. The Durango SRT is a performance SUV that could be happily driven every day and isn't just focused on the driver.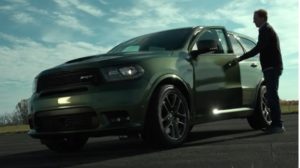 The Durango's cabin is hanging in there quite well with very few signs of aging. UConnect continues to be one of the very best infotainment systems on the market with robust performance pages. The gauges are superior. These sport seats are absolute perfection in terms of comfort and support. And the cabin is surprisingly quiet with only the exhaust sounds allowed in. In SRT livery this is 3-row awesomeness American style.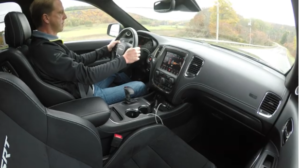 And that 3rd row is adult-friendly with tumble and fold 2nd row captain's chairs.  I'd rank it 2nd in overall spaciousness next to the Toyota Sequoia.  This one also has the Blu-ray entertainment system but the disc player eats up some valuable real estate in the center console.  These chairs are split by a deep console, cleverly accessible by the 3rd row.  They don't slide however so legroom can feel a bit tight until you recline.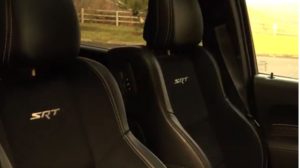 And though there are safety tech bits such as adaptive cruise control and lane departure warning, somehow Dodge manages to leave blind spot detection out of the Technology Group and instead makes it a $395 standalone option my tester doesn't have.  Otherwise, when equipped with nearly $12,000 in extras, this Durango hits nearly every mark.  MSRP as-tested is $76,700 though with current incentives you're looking at closer to $65,000 as seen here.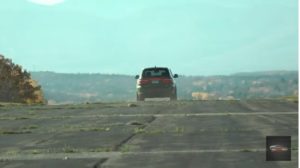 This Durango SRT is so Dodge. Big displacement V8 power, rip roaring sounds and their hallmark driving tune of extremely capable yet relaxed performance. There's nothing else on the market this size that blends all of this go with such a welcoming fun to drive nature. It's not European tuned it's American muscle and it's done perfectly.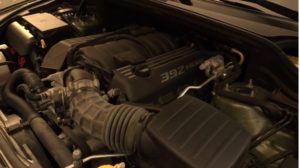 Gas mileage is rated at 15 mpg in combined driving on recommended premium.  My week came in at 14 leading to a driving range of 369 miles meaning lots of visits to the gas station.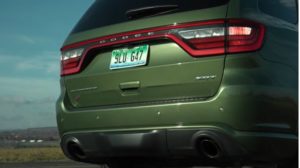 I tell you what; there aren't a lot of FCA products I'm clamoring over right now but the Durango SRT has looked father time in the face and said catch me if you can.  
Tagged with:
2019
,
392
,
auto critic
,
Dodge
,
DTwithSteveHammes
,
Durango
,
latest video
,
reviews
,
road test
,
SRT
,
test drive
,
top picks