2018 Mercedes AMG GLA45 Video Review
2018 Mercedes AMG GLA45 Video Review By Auto Critic Steve Hammes
Among the new breed of tiny SUVs, there isn't one that's more fun to drive than this. With a big wing, a raucous turbo and a green paint job, this certainly is not your grandfather's Mercedes.
This little guy arrived a few years ago, making it the first crossover Mercedes sold in the U.S. with front-wheel drive. Its compact dimensions and low-30s starting price made it bait for younger buyers and gave the brand a small runabout to compete with the likes of the BMW X1 and Audi Q3. My initial drive of the 2015 GLA was also of the racier AMG model – with a snowstorm and winter wheels to match – which at that time made a little less power. I loved it then and this time around had some summertime fun with the refreshed 2018 model. This one arrived in full AMG regalia making it considerably more hardcore than even my previous tester. A notable power bump came during its sophomore year, so this AMG 4-cylinder engine is even more insane than I remember it and sounds even crazier with the optional sports exhaust system with a 2nd mode that'll really stir the neighbors with its spunky blat and full-throttle popping. Further optioned with upsized 20" wheels with ContiSportContact summer-use tires, the gloss black aerodynamics package, a sport suspension with 2-stage damping, a limited slip front differential for enhanced traction and a race mode for the most direct powertrain responses, this GLA45 feels deep-rooted in the racing culture; a build that'll please the most ardent performance enthusiast. It'll also cost you. The AMG model starts at $51,595 but when you go full-tilt with the performance and convenience add-ons the price climbs to an eye-opening $71,300. But make no doubt about it; all of the in-your-face bits are more than for show. The exaggerated aerodynamics push the top speed up to 167mph, the 7-speed dual clutch transmission has shorter ratios in gears 3 through 7 for an enhanced feeling during acceleration, and the adjustable suspension with higher spring and damping rates adds another layer of awesomeness to the GLA45's incredible handling attributes. I only wish there was a drift mode here a la the Focus RS for some ancillary fun, because this car's 4Matic system working front to back with added torque vectoring never wants to give up the fight. That's an amazing feeling of confidence however on your favorite road where the GLA45 delivers the proverbial like-it's-on-rails handling sensation.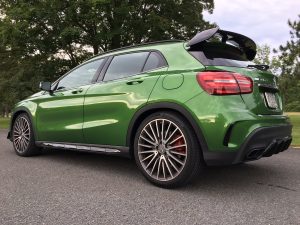 The days of needing big displacement to make lots of power are long since over. But this 2.0-liter turbo from Mercedes is pushing the envelope making 375 horsepower. Good job, Nico Kruger.
The twin-scroll turbo pumps out over 26 psi of boost, producing 350 pound-feet of torque, propelling this SUV from 0-to-60mph in a ridiculously quick 4.3 seconds. A launch mode will setup all of the systems for the quickest time. And how about 28mpg highway, to boot? Impressive stuff.
This car is a hoot. It's a super-boosted go cart with 4-wheel drive grip. The ride is quite firm, particularly with the suspension in its most aggressive setting, the shifts happen as quick as you want them to and the exhaust sounds are menacing. It's glued to the road letting you whip it through turns with a huge turbo punch on exit. This is an AMG for those who relish the youthful side of Mercedes.
The Recaro racing seats with variable power adjustments go hand-in-hand with the teeth chattering firmest suspension setup…so stiff it rattles the center screen. And getting in and out isn't easy over these high bolsters. There are all kinds of performance measuring tools and really cool data screens. CarPlay and Android Auto have been integrated though it's my first experience using them without a touchscreen…still works well with the rotary controller though. Overall, this is a COMAND system I could live with…the optional harman/kardon surround sound is disappointing however, losing out to the exhaust drone. With its lowered stance, this AMG doesn't share the quasi-SUV resemblance of the other GLA trims but its versatility is surprisingly good. Adult-friendly rear quarters and a reasonably sized cargo area with fold flat seats add a degree of usable practicality. Other goodies like changeable ambient interior lighting colors, Wi-Fi and smart cruise control add mainstream likability.
I don't love the 2018 facelift but this Kryptonite Green really did grow on me. For most, the GLA45 optioned like this probably pushes the boundaries of everyday performance a little further than what would be acceptable.  For me, I love its coolness factor assimilated with its exceptional performance attributes and year-round drivability.
Tagged with:
2018
,
auto critic
,
DT with Steve Hammes
,
GLA45
,
latest video
,
Mercedes-AMG
,
reviews
,
road test
,
small suv
,
steve hammes
,
test drive