2017 VW Beetle Dune Convertible Review
2017 VW Beetle Dune Convertible Review by Auto Critic Steve Hammes
Ever wish you could have one of those cool Baja Bugs popularized in Southern California the late 60s? Well, now you can have a modern interpretation with a VW warranty. This is the new 2017 Beetle Dune Convertible.
VW makes all sorts of limited edition Beetles including a new Pink bug and the return of the retro-look Classic model for 2017. But for me, the Dune is where it's at if you're looking for a Beetle with distinction. The Coupe came around for the 2016 model year now joined by the even cooler Convertible. VW applied the rugged treatment here with black wheel arch extensions, a raised ride height and wider body kit. But those aspects play second fiddle to this amazing new Sandstorm Yellow which has captured everyone's attention this week, even those with a Y chromosome. The Dune is also available in Pure White and Deep Black Pearl but to get it in any other color than this would be a waste. All Beetle Convertibles get revised front and rear bumper styling for 2017, mirroring the R-Line models. Unfortunately the painted 18" Canyon wheels and red brake calipers didn't make into production, though these still have great style.
Mechanical changes you will not find; there's still a 1.8-liter turbo-4 churning out a playful 170 horsepower and 184 pound-feet of torque and despite the skid plates and sand buggy appearance, this is still just a front-wheel drive Beetle riding on grand touring all-season tires. It's remarkably quiet, smooth and perfect for top-down driving. The soft top is power operated and sits out back where you can leave it as is or give it a more finished appearance with this boot. And then tucked up under inside the trunk is a foldable windscreen that pops in over the back seats. And I like how the windows follow a logical up/down sequence when raising and lowering the top. The weather has been gorgeous this week so down it was 95% of the time.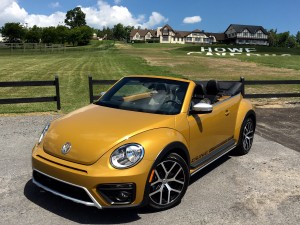 The Dune Convertible is just pure fun. You don't need huge power and a track tuned suspension to really enjoy a car. Once you put the roof down hang your arm on the door and find your favorite scenic drive, this Beetle becomes summer fun machine. The color attracts hordes of attention and VW's mastery of making premium compacts comes through in spades.
You forget sometimes how good VW is at engineering these small cars – the steering is dialed-in, the ride quality is incredibly smooth and there's a sophistication to the turbo/6-speed auto powertrain that provides a class above level of refinement. It's snappy throughout the RPM range and a Sport mode keeps the gears ready but you're not buying a Dune for its performance creds, even though it handles quite nicely, too. It'll take regular gas and returns 24mpg city/31mpg highway. The 2 rear seats are a bit tight and upright but the kids are OK back there and the bigger-than-you'd-think cargo area expands with a split fold feature.
Inside, the Dune gets really comfortable – though fully manual – sport seats with contrasting orange stitching and this infotainment system with Apple CarPlay. There isn't built-in navigation but with my iPhone connected via USB, mapping and directions are easy. An available Technology Package including dual zone climate control, Fender audio and keyless start and the Lighting Package with bi-xenon headlights and LED DRLs are not included on my pre-production tester. Because these old halogens are really deficient at night I'd opt in on the latter for sure.
We've all been having way more fun in the Dune than I ever would have imagined and the attention it gets also far exceeds expectations. Pricing has yet to be announced but a starting MSRP of nearly $31,000 or $5,700 more than the Dune Coupe is a good guess.
Tagged with:
2017
,
Beetle
,
Convertible
,
DT with Steve Hammes
,
dune
,
latest video
,
review
,
road test
,
steve hammes
,
test drive
,
Volkswagen
,
VW