2017 MINI Cooper Countryman Review
2017 MINI Cooper Countryman Video Review By Auto Critic Steve Hammes
The latest generation of MINIs is the best yet, elevating its premium status with a heaping dose of BMW goodness, and it's this one – the all-new Countryman – that takes the brand into legitimate crossover territory.
Whether you opt for the original Hardtop or seek adventure in one of the bigger MINIs such as the Clubman or this Countryman, you're getting a personalized, fun-to-drive car steeped in British history with recent German improvements. Their lineup is more solid than ever and I've thoroughly enjoyed test-driving all of the new models. Completing the BMW-infused makeover is MINI's biggest yet – the next generation 2017 Countryman. It now shares its front-drive architecture with the BMW X1 and has grown by a whopping 8.1", easily capable of carrying up to 5 passengers and luggage. It uses the same turbocharged engine strategy as the other new MINIs, offering 3- or 4-cylinder power matched to either a 6-speed manual or 8-speed automatic transmission. MINI's new ALL4 all-wheel drive system now is available even on the entry-level model for enhanced cornering dynamics in all weather and road conditions. That's right Subaru; MINI has you in their sights.
My tester for the week is the Cooper S Countryman ALL4 meaning it possesses the 189 horsepower 2.0-liter turbo and all-wheel drive. A higher performing John Cooper Works model and an all-new plug-in hybrid are also available. With 2 packages and a handful of options, this car sells for $36,000. From a distance you might experience some sticker shock but once you touch it, sit in it and drive it I promise you'll understand the value. That is if you appreciate driving a car with tuned feel, a premium interior and a personalized appearance. MINIs aren't like other cars and their uniqueness is refreshing. Items like the big, circular infotainment system, toggle switches galore and quirky design touches keep the Countryman whimsical. The electronics are excellent, featuring new touchscreen functionality and something I find particularly cool – full Napster integration for safe and easy use of my music streaming service. Apple CarPlay becomes available for the 2018 model year. There's wireless device charging, a multi-information head-up display, and all kinds of cool ambient lighting including logo projection. There's even a Country Driving timer that measures how much you're 4-wheeling. It's all fun and ups the car's coolness factor. The biggest disappointment is the lack of electronic safety systems; blind spot monitoring isn't offered at any price.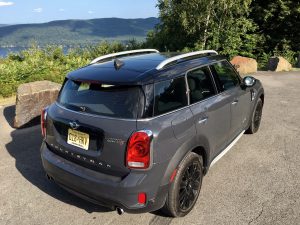 The new MINIs are really good and this Countryman delivers the widest appeal because it's highly functional and yet, is still a lot of fun to drive. The 6-speed is as agreeable as they come – a newbie could drive this smoothly – and the combination of hugging Sport seats and an energetic sport mode provides that MINI driving magic. Sure, its go-cart maneuvers have been diluted just a bit but the trade off in its more versatile size and smartness is well worth it.  This is the MINI that should resonate with current car shoppers.
And I mean just a bit – this is still a highly entertaining drive from the contoured sport seat and the 4-wheel traction makes cornering even more assured. The powertrain is stellar with the 207 pound feet of torque feeling spirited. It's not a rocket off the line but 0-to-60mph in about 7 seconds keeps things moving and on your favorite 3rd gear kind of road it feels downright quick. Best of all is how premium and harmonious it works. The steering is quick and nimble and the ride quality, even without the optional adjustable suspension, is very forgiving. The 3 Drive Modes are perfectly spaced with GREEN taking advantage of the engine's stop/start feature to save gas, MID for balanced driving and SPORT for tightening the steering and giving the engine a kick in the pants with a little off-throttle burble. And even though it's bigger, it's still city friendly for darting through traffic and parking in tight spots. Gas mileage is rated at 24mpg in combined driving on premium.
Cargo room has grown by more than 5 cubic feet and there's additional storage under the floor. The rear seats slide, recline and trifold adding versatility and the 2 pane panoramic roof creates airiness. It's an ideal size for those who don't want to sacrifice on the exciting drive.
At this price there are things missing – power seats, a rear armrest, power tailgate, adaptive cruise and that cool picnic cushion– all available but not before closing in on $40,000.
Right sized at the right time, the new Countryman will give MINI dealers a new volume leader.
Tagged with:
2017
,
ALL4
,
auto critic
,
Cooper S
,
COUNTRYMAN
,
DT with Steve Hammes
,
latest video
,
mini
,
reviews
,
road test
,
steve hammes
,
test drive