2017 MERCEDES BENZ GLC COUPE REVIEW
2017 MERCEDES BENZ GLC COUPE REVIEW BY AUTO CRITIC STEVE HAMMES
So is it a car or an SUV; a sedan or a coupe?  Or better yet; does it even matter?  Because with the GLC, Mercedes has blended together everything Americans currently love about automotive.
Gas is relatively cheap, engines combine power and efficiency like never before and just like that, the traditional 3 box car design is being shown the door. People like to sit up high, but not too high. They want bad-weather and off-road capability but don't need a 3 ton SUV. And why own a car and an SUV when a crossover accomplishes all of the needed tasks in a single solution? That's how we've come to have vehicles like this new 2017 GLC Coupe. It gives you a little bit of everything in a right-sized package. Sexy style, adjustable ride height, adult-sized rear seats and 27mpg highway…the new Coupe gives GLC shoppers an even more car-like experience. This is the entry-level GLC300 with standard 4Matic all-wheel drive priced from under $48,000. It derives its power from a 241 horsepower 2.0-liter turbo-4 producing 273 pound-feet of torque. A 9-speed automatic transmission with an ECO start/stop feature is standard. With a curb weight of about 4,100 pounds, that motor has some work to do but it feels more than up to the task imbuing this GLC with an assured, spirited manner feeling faster than its 0-to-60mph time of 6.4-seconds. Of course, Mercedes understands some will want more power and they're happy to oblige with biturbo V6 and biturbo V8 variants capable of cutting down that sprint to a mere 3.7 seconds. But this GLC300 is the volume model and can be fitted with a dizzying number of options to enhance both its appearance and performance. Mine stickers for $66,435 with designo paint and leather, Sport Package, the all-encompassing Premium 3 Package, high-end Burmester Surround Sound, heated and cooled front seats, Surround View camera and air suspension.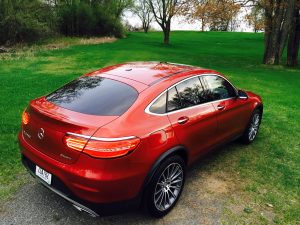 If you've been around long enough you know I have a soft spot for vehicles like this: the BMW X6 and X4 are a couple of my favorites. But what Mercedes has pulled off here in the GLC Coupe is in many ways even more impressive. It plays more sensibly, giving added attention to the U in SUV. The cabin is spectacular and the drive is everything you'd hope it would be. Sporty, fun, yet luxuriously well-mannered the GLC is the modern crossover, nearly perfected
With large 20" AMG Wheels with new, staggered width Goodyear Eagle Sport run flats, a louder sport exhaust, and DYNAMIC SELECT setting for the transmission and suspension, this GLC communicates the road and exhilarates the driver. The ride quality varies from Euro-tuned to edgy and complements the sportier nature of the Coupe's more direct steering ratio.  The paddle shifters don't add much to the experience.  Leaving gear changes up to the selected drive setting seem to work best.  Longer and lower than the regular GLC, this crossover satisfies aesthetically and dynamically.  The $1,900 AIR BODY CONTROL is key to tailoring the GLC to your desires, plus you can raise it for off-road driving and lower it for easier loading.  In Sport + mode it squats .6" for a sports car-like stance.  This is an option I wouldn't leave behind.
Beyond the beauty of this Cardinal Red hue, Platinum White Nappa Leather interior and AMG bodystyling, is a usefulness that exceeds its BMW competition while also far exceeding its curb appeal. The cargo area can be opened with a swipe of the foot.  It has a switches for lowering the liftover and lowering the seats.  There's underfloor storage and other clever ways to secure goods.  Plus, at over 56 cubic feet with the seats folded, the GLC offers 14% more volume than the X4.
The COMMAND system is a love hate relationship. It uses fancy animations, includes deep reserves of information, and allows for fun vehicle customization – like the air fragrance and ambient lighting.  But it's not a touch screen, doesn't integrate your smartphone completely and is controlled in a cumbersome manner.  There're no USB ports in the rear, either.  Despite this annoyance, the cabin – with its wonderfully supportive seats, spacious surroundings and quiet demeanor – makes me want to keep driving.
In some ways, it kind of reminds me of a modern-day and much more luxurious Subaru Outback sedan. Apparently, Mercedes can't keep the GLC in stock so they keep adding AMG models and Coupe styling to meet the unending demand.  It's a very impressive Swiss Army knife kind of crossover than can be fully equipped to feel like a genuinely special Mercedes model.
Tagged with:
2017
,
4MATIC
,
auto critic
,
Coupe
,
crossover
,
DT with Steve Hammes
,
GLC
,
GLC300
,
latest video
,
Mercedes
,
Mercedes-Benz
,
reviews
,
road test
,
steve hammes
,
test drive