2017 Jaguar F-PACE FIRST LOOK
2017 Jaguar F-PACE FIRST LOOK by Auto Critic Steve Hammes
Automakers know: if you don't have a crossover or SUV to sell then you're leaving sales on the table. By now, almost everyone does and when you already have a family member who's an expert at such things it would be nonsensical to leave that hole in your lineup.  Which brings us to the first ever Jaguar F-PACE; a midsized, luxury SUV engineered to offer the agility, responsiveness and refinement of a Jaguar car with the versatility of a sport-ute.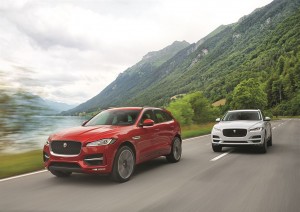 New for the 2017 model year, the F-PACE is largely built using the brand's metal of choice: lightweight aluminum – the largest amount of the alloy Jaguar has used yet.
They call it an all-weather Jaguar sports car, life-proofed for 5 people and their belongings.  Though not designed to challenge the prowess of a Land Rover, the F-PACE underwent its off-road evaluation with tests derived from its sister brand's demanding standards.  T
he AWD system moves torque from the rear wheels forward and features Adaptive Surface Response which automatically senses the road surface and adjusts the drivetrain accordingly.  Initially, engine choices include either a 340-horse or high-output 380-horsepower tune of the 3.0-liter supercharged V6, the later resulting in a 0-to-60mph time of 5.1-seconds.  An 8-speed automatic and all-wheel drive are standard.
A 4-cylinder turbo-diesel will come later. The new InControl Touch infotainment system is standard while a Pro version is optional, with a huge 10.2" screen and ultra-fast operating speeds. A unique innovation for runners and the like is Active Key; a waterproof, shockproof wristband that works like a regular key while allowing the bulkier key fob to be locked inside the vehicle.
Pricing starts at about $43,000.