2016 Scion iM VIDEO REVIEW
2016 Scion iM VIDEO REVIEW by Auto Critic Steve Hammes
The average transaction price of a new vehicle is about $35,000. That can seem awfully daunting when shopping for a new car, especially if it' your first one.  Well here's some good news courtesy of Scion; their all-new 2016 iM comes in one spec, full of fun and practicality for under $20,000.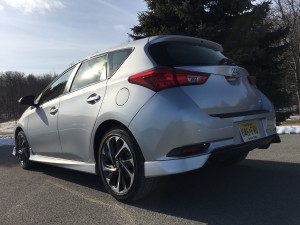 You can think of the iM as a Corolla Hatchback, the car which is the basis for this 2nd generation model which has been sold overseas as the Toyota Auris since 2013.  I see it more as a small wagon,  though US marketers largely avoid that word. But no matter if it goes by Auris or iM, hatchback or wagon, this is the highest-quality product that's ever worn the Scion badge.
The iM fits the Scion mold with youthful styling, a low price point and the ability to be highly accessorized. Classic Silver is the most conservative of the iM's 6 paint choices and it comes in stick or automatic, a CVT to be exact.  But I'm glad mine arrived with the 6-speed because this is one of those cars whose drivability benefits from more driver interaction.  Plus it costs $740 less.  Its estimated fuel economy isn't quite as good as that of the CVT's but it's darn close, rated at 27mpg city/36mpg highway.
The iM doesn't feel cheap…in fact, just the opposite – it comes across as a class above. Superb steering, a spunky engine and a willing chassis deliver on the fun while a quiet cabin and quality touch personify its impressive value.  The clutch has a high engagement point so this isn't for stickshift newbies, but once you get used to it, it's an entertaining drive.
I'm surprised. I wasn't anticipating this level of maturity in conjunction with the car's obvious youthfulness.  The broad shouldered types will find the driver's seat a bit tight up top but it's crafted to hold you in place and provides a comforting hug.  Go ahead and play with the 137 horsepower, 1.8-liter 4-cylinder – it enjoys high revving antics and provides a nice, torquey step-off to keep things moving swiftly.  First is aggressively geared and gone before you know it but shifting the iM is a pleasure.  Spinning the high performance all-seasons is easy and the new Toyos also provide excellent handling in a car that is tuned for safe, predictable understeer.  It's unusual to see a sporty, double wishbone rear suspension on a car of this ilk but it contributes to the iM's surefootedness as well as its compliant ride quality.
Listen to that. Doors shut without a tinny sound.  The cabin has a clean, yet quality-crafted appearance.  And guess what?  It's quiet…really quiet for a car in this class.  Other than the carpeted floor mats, everything you see here is included in the $19,594 as-tested price.  Highlighting the dash is a 7" Display Audio system, the conduit for music and phone operations which can also be controlled via voice commands.  There's no Sat radio but there is HD and there's no navigation though it is available.  Down below is a deep, covered cubby for plugging in your phone.  There's dual zone climate control, cruise and hill start assist for the manual transmission so Scion didn't skimp in here.  And the utility angle is well represented.  The back seats are more than just for kids and gear, they're adult ready.  Just too bad about the impotent arm rest.  You might have to slide the front seats up a bit but the splitfold seats go down easy and create a generous mid-size amount of cargo room.  There's also some underfloor storage and a grocery bag hook.  And like all Scions, the customization pallet is wide open including a line of TRD performance accessories.
The iM is a cool looking addition to the Scion lineup; a car that'll breath renewed life into Toyota's Gen Y brand.
Tagged with:
2016
,
DT with Steve Hammes
,
iM
,
latest video
,
manual
,
reviews
,
road test
,
Scio
,
steve hammes
,
test drive
,
top picks