2017 CHRYSLER PACIFICA VIDEO REVIEW
2017 CHRYSLER PACIFICA VIDEO REVIEW BY AUTO CRITIC STEVE HAMMES
Here's the dirty little secret about minivans; they're the most versatile, family friendly vehicles you can buy, accomplishing tasks that would make any 3-row crossover jealous. Yet there seems to still be a stigma attached. Well Chrysler's got a solution, because their new Pacifica is as cool to be seen in as it is flexible.
Say what you want about the minivan but once you've lived with one you can't imagine how you ever got along without it. And Chrysler knows a thing or two about this segment having introduced the very first of its kind more than 30 years ago, pioneering 115 features during that time. This 2017 redesign is arguably the most significant in the vehicle's history because it takes the minivan to a place it's never been – a seat at the cool kids' table. For the first time, it blends its hallmark cleverness and flexibility with honed driving skills and an uptown style. The evolution is so major that it warranted a name change, smartly reviving the Pacifica badge in place of Town & Country.
My wife Lara, my daughter Maddie and I spent the week trekking people and stuff all over the place in the Pacifica and we couldn't stop singing its praises. The lineup starts with the LX trim priced from under $30,000 while our ride this week is the Touring-L Plus, positioned one notch under the top-of-the-line Limited with an MSRP of $35,490…a very agreeable price point seeing as how it includes the cutting edge UConnect theater, useful Driver Information Display, heated steering wheel, power passenger seat, the very smart Stow 'N Go assist button on both the driver and passenger side – more about that in a moment, heated 2nd row seats, a wonderful sounding 506-watt 13-speaker Alpine sound system with 4 Active Noise Cancellation microphones and the big Uconnect touch screen. My tester adds in navigation, HD Radio, SiriusXM Traffic and Travel Link, a programmable key fob that can place limits on your young driver, hands-free sliding doors and liftgate that can be operated with a kicking motion under the vehicle and the Tire and Wheel Group which ups the rim size to 18" and better yet includes a Touring Suspension for an impressively smooth ride with a surprising level of handling agility. Sticker price here is $41,450.
Though you can specify seating for 8, this 7-seat configuration offers the easiest foray into the next-generation Stow 'N Go system, now with power assist buttons that move the front seats far enough out of the way for the origami to happen. Once you're done, another press of the button returns those seats to their original position. And when the seats are upright, the tubs provide covered storage. All very easy to manipulate. Throughout the vehicle, Chrysler has done an excellent job of clearly labeling features adding to the stellar ergonomics. Same when it comes to dumping the 3rd row seats, leading to segment-leading cargo capacity plywood haulers will find particularly handy. Clever storage areas can also be found between the center console and instrument panel, the drawer in front of it, and in the back of the center console itself. And the kid mirror gets its own space separate from the glasses holder. And this thing is mighty spacious so all rows are 100% adult friendly replete with the biggest 3rd row in the segment which even comes with a USB port. Rear zone climate controls are cleverly placed on the passenger's side ceiling within easy view and reach of the parents.
Minivans are the domain of kids like me. For example, just look at this touchscreen. Not only does it play Blu-ray DVDs, it has apps that you can play all the time during the car ride. It even has an app that tells me when we're going to get to the destination. I love this car because of that. And, it even has this remote. So it has a gesture pad you can use for the screen, or if you want, touching works too. The only problem I have with this screen is that it's too far to reach sometimes. So you have to end up using the remote more than you want to.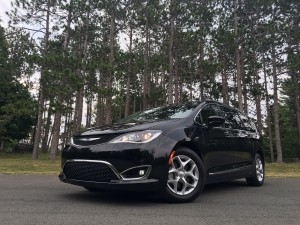 This all had Maddie at "hello" and the execution is brilliant…a huge winner with kids and adults alike. And when we had it fully loaded with passengers, the vault-like quietness was perfect for facilitating front to back conversations.
So what about the drive? The body is lighter and stiffer and the newfound driving precision is palpable. The redesigned Pentastar V6 provides class-leading power rated at 287 horsepower and 262 pound-feet of torque working through a 9-speed automatic transmission which operated without issue. Overtaking is certainly not a problem and the steering is light and precise making for stress-free journeys. Noise, vibration and harshness levels have been reduced to non-existent.
The Pacifica's drive is much more sophisticated than before fully capable of handling those mountain roads like a good sedan. And it's very quiet so conversation between all rows can be easily heard. And how about this; during a recent getaway to Vermont I averaged nearly 26mpg.
Rated at 18mpg city/28 mpg highway, the Pacifica treated me especially well at the gas pump. On the safety tech front, there's blind spot and cross path detection – my 2 favorites – but if you want more of the radar and camera tricks, including the self-parking features you see in the TV spots you have to step up to a bigger package. Ditto for the rear vacuum.
As a mom, the thing that I appreciate the most about the Pacifica is the flexibility is offers. Whether I'm transporting octogenarians to church or tweens to softball practice everyone can get in easily, the back row is accessible by walking – we don't have to flip anything – and the captain's chairs are extremely comfortable. So everyone can come in, sit down and feel as though they're in their living room.
What would I change? I honestly can't come up with much other than upgrading UConnect from simply having Siri Eyes Free to Apple CarPlay.  Minivans give designers and engineers the chance to show off their smarts perhaps more so than in any other vehicle and the new Pacifica continues its imaginative and innovative trailblazing ways.
Tagged with:
2017
,
3rd-row
,
auto critic
,
Chrysler
,
DT with Steve Hammes
,
latest video
,
minivan
,
PACIFICA
,
road test
,
steve hammes
,
test drive
,
top picks
,
Touring-L Plus
,
Town & Country