2017 ACURA MDX SPORT HYBRID AWD
TESTDRIVENOW QUICK TAKES: 2017 ACURA MDX SPORT HYBRID AWD OVERVIEW
Building on the refreshed and boldly restyled 2017 Acura MDX and employing the innovative three-motor Sport Hybrid Super Handling-All Wheel Drive (SH-AWD™) powertrain technology that was introduced in the RLX sedan and advanced in the 2017 NSX supercar, the 2017 MDX Sport Hybrid is Acura's first-ever hybrid SUV and the technological flagship of the Acura SUV lineup.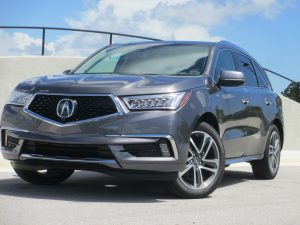 The 2017 MDX Sport Hybrid is engineered for customers who desire the ultimate in driving refinement, technological sophistication and prestige in a three-row Acura SUV. The MDX Sport Hybrid takes full advantage of the immediate, high-torque performance of its three powerful electric motors, along with the always-on capabilities of electric torque vectoring, to substantially improve fuel efficiency and expand dynamic performance for the luxury SUV customers' everyday driving needs – all without sacrifice to interior space or cargo volume.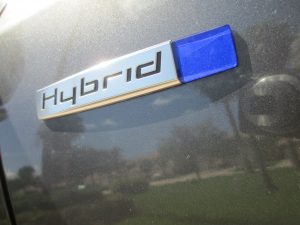 Unique elements of the MDX Sport Hybrid's design and engineering versus its non-hybrid counterpart include the Sport Hybrid SH-AWD powertrain with three electric motors and 7-speed dual clutch transmission (7DCT), and advanced Electro Servo braking system, new and model-exclusive Active Damper technology, and an expanded-range Integrated Dynamics System with new SPORT+ mode.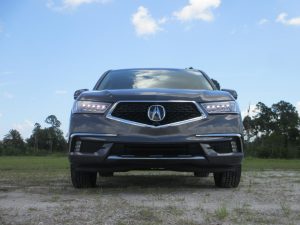 Moreover, the Integrated Dynamics System engages with numerous different dynamic systems within the vehicle, including its electric motors, throttle, steering, transmission and Active Dampers, to provide the driver with an expanded range of selectable performance characteristics to suit their varied driving needs and desires. (See Chassis section for more detail on the Integrated Dynamics System)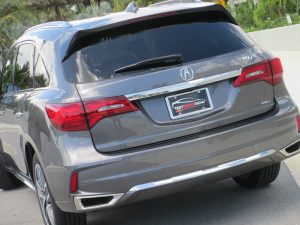 The MDX Sport Hybrid SH-AWD is offered in two grades: the MDX with Technology Package and the MDX with Advance Package. Both grades have exclusive interior trim and the Advance package features wood interior accents. The MDX Sport Hybrid SH-AWD with the Technology Package includes versatile seating for seven passengers, while the Advance Package features a 6-passenger interior with second-row captain's chairs and large second-row center console in place of a three-person bench seat.
What's New:
Sport Hybrid SH-AWD™ powertrain
3.0-liter, SOHC i-VTEC V6 engine
7-speed dual-clutch transmission (7DCT) with integrated electric motor
26/27/271 mpg (city/highway/combined) EPA fuel economy ratings
4-mode Integrated Dynamics System with SPORT+ mode
Active Dampers
Electric Servo Brake System
Exclusive interior trim
Body-color lower side sills and front/rear skid garnishes
SH-AWD badge on rear and Hybrid badges on front fenders
Powertrain
The MDX Sport Hybrid powertrain boasts a total system output of 321 horsepower and 289 lb.-ft. of torque, making this the most powerful Acura production SUV ever built. A 3.0 liter, 24-valve, SOHC V6 gas engine with i-VTEC® valvetrain and selectable idle-stop capability provides primary motive force, with a peak output of 257 horsepower (SAE net) at 6,300 rpm and 218 lb.-ft. of torque (SAE net) at 5,000 rpm. Three electric motors – a front motor built into the 7DCT, and a rear Twin Motor Unit (TMU) provide instant torque for a more responsive and vivid driving experience.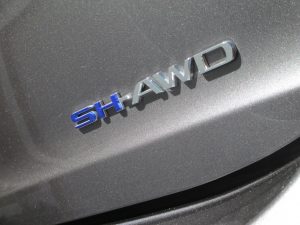 An advanced 7-speed dual-clutch transmission (7DCT) is standard – a feature in common with the RLX Sport Hybrid SH-AWD sedan and closely related to the NSX 9-speed DCT. Unlike a conventional automatic transmission, the DCT offers ultra-quick gear changes and operates without a torque converter, significantly improving efficiency. The 7DCT can operate in fully automatic mode, or it can be shifted manually via steering wheel-mounted paddle shifters.
Powertrain at a Glance
Engine
3.0-liter, SOHC, V6 engine produces 257 horsepower (SAE net) at 6,300 rpm and 218 lb.-ft. of torque (SAE net) at 5,000 rpm
i-VTEC® (intelligent Variable Valve Timing and Lift Electronic Control) for intake valves
Programmed Fuel Injection (PGM-FI)
10.5:1 compression ratio
High-strength steel crankshaft
Drive-by-Wire™ throttle system
Direct ignition system
Detonation/knock control system
High-flow, close-coupled next-generation precious-metal catalytic converters plus under floor catalytic converter
High capacity 32-bit RISC processor emissions control unit
Maintenance Minder™ system optimizes service intervals
100,000 +/- miles tune-up interval
3-Motor Sport Hybrid System
47 horsepower front electric motor built in to the 7DCT
72 horsepower rear inboard-mounted Twin Motor Unit (TMU) (two 36-horsepower motors)
1.3 kWh lithium-ion battery pack
Emissions/Fuel Economy Ratings
EPA 26/27/27 mpg1 (city/highway/combined) fuel economy ratings
ULEV125 emissions compliant 
Noise & Vibration (NV)
60-degree cylinder V-angle for smooth operation 
Automatically tensioned, maintenance-free serpentine belt accessory drive 
Active Control engine Mount (ACM) 
Active Sound Control (ASC) 
7-speed Dual Clutch Transmission (7DCT)
Electronic Gear Selector provides fully electronic push-button shift control
Steering wheel mounted racing-inspired paddle shifters
Advanced shift-hold control limits up shifts during spirited driving
Grade Logic Control System reduces gear "hunting" on steep hills 
Hybrid System Components
Front Motor
The MDX Sport Hybrid SH-AWD front motor delivers peak output of 47 horsepower. The motor is built into the 7-speed Dual Clutch Transmission and is connected to the front driveshaft via gears.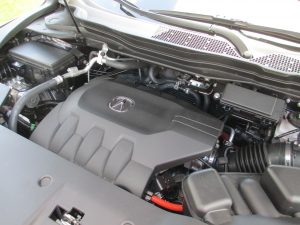 The front motor has three functions: (1) Provides supplemental power/torque to the V6 engine in driving the front wheels; (2) Provides regenerative braking capability to aid stopping power; and (3) Uses this regenerative function to convert engine power to electricity to help recharge the lithium-ion batteries.
Twin Motor Unit
Packaged inboard between the rear wheels (where a conventional AWD rear differential would normally be located) is the Twin Motor Unit (TMU).  Inside its die-cast aluminum casing are two 36 horsepower electric motors positioned back-to-back. The TMU provides for advanced all-wheel drive capability and enhanced cornering performance via dynamic torque vectoring through independent delivery of electric-motor torque (positive and negative torque) to the left and right rear wheels, while also providing regenerative braking to assist in battery recharge. A clutch allows each motor to be decoupled from its associated wheel in certain operating situations to improve efficiency.
Intelligent Power Unit (IPU) and Power Control Unit (PCU)
The MDX Intelligent Power Control Unit (IPU) contains a 72-cell, 1.3-kWh lithium-ion battery pack. Evolved from the RLX, the battery design employs smaller cells in higher volume with optimized electrode materials resulting in 10 percent increase of power density and a 20 percent increase in energy density. The IPU is air cooled via a fan unit located in the front center console that draws air from inside the vehicle cabin.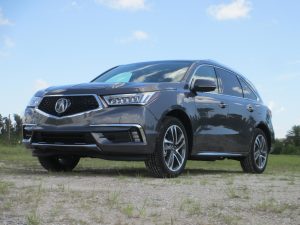 Mounted outside under the floor of the vehicle and completely water proofed, the Power Control Unit (PCU) is liquid cooled and incorporates the motor ECU. The ECU dictates the power management strategy of the Sport Hybrid SH-AWD system and three separate inverters to convert direct current to alternating current for use by the Sport Hybrid SH?AWD power unit's three electric motors.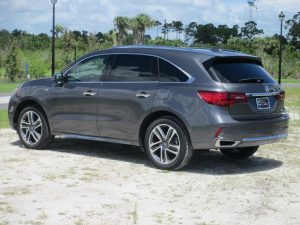 Previously air-cooled, a newly developed 12V DC-DC converter with liquid cooling increases conversion efficiency by 2.5 percent, increasing fuel efficiency.
System Packaging
The MDX Sport Hybrid's key hybrid components are laid out for maximum packaging efficiency, allowing the MDX Sport Hybrid to offer the same interior space and versatility as its non-hybrid counterpart. Further, following the same design philosophy as the next-generation Acura NSX supercar, key hybrid system components are packaged low and toward the center of the vehicle to support the MDX's dynamic performance by centering the mass and lowering its center of gravity.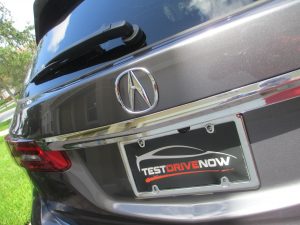 The Intelligent Power Unit (IPU) is located in a compartment directly beneath the driver and front passenger. The Power Control Unit (PCU) is mounted beneath the floor and positioned directly aft of the IPU compartment. The IPU is shared with the NSX supercar and benefits from advancements made in its development, including the aforementioned battery and other improvements, resulting in a more compact size and reduced weight. The combined volume of the IPU and PCU is reduced by 39 percent, from 118 liters to 72 liters, when compared to the RLX Sport Hybrid sedan.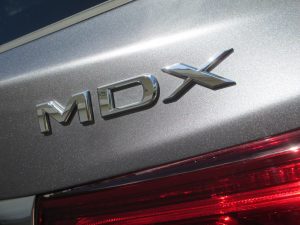 The placement of the IPU in the floor area of the vehicle lowers the center of gravity by one inch (26 mm) when compared to the non-hybrid model, helping to reduce body roll while cornering. Ground clearance, at 7.3 inches, is the same as the non-hybrid MDX SH-AWD.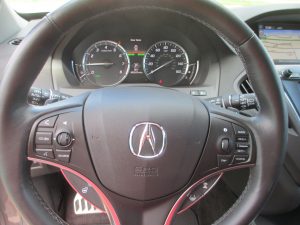 Importantly, a new symmetrical layout of the battery cooling air intake and exhaust ducts improves cooling efficiency and greatly reduces temperature variation of the battery cells, helping to improve battery life.
Sport Hybrid Super Handling All-Wheel Drive (SH-AWD)
Acura's SH-AWD system distributes power side-to-side between the left and right rear wheels, using "torque vectoring" to create a yaw moment to help the vehicle turn by sending more power to the outside rear wheel during cornering, providing for crisper turn-in, more responsive steering and improved line traceability.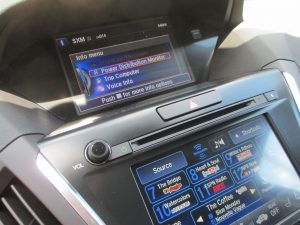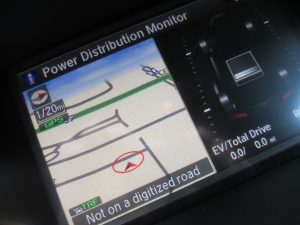 Unlike the mechanical Super Handling All-Wheel Drive (SH-AWD) available in the non-Hybrid MDX, the MDX Sport Hybrid's electric SH-AWD operates independent of the gasoline engine; as the two rear-mounted electric motors dynamically apportion both positive and negative torque directly to the rear wheels. This system provides for dynamic, immediate and always-on torque vectoring capabilities while eliminating the weight and energy losses associated with a conventional driveshaft and differential mechanism.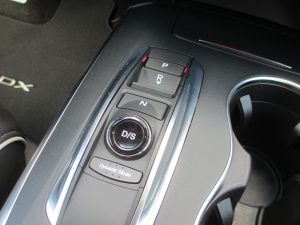 When cornering, the MDX Sport Hybrid delivers positive torque to the outside rear wheel, much like mechanical SH-AWD, to create a yaw moment. Unlike conventional SH-AWD though, Sport Hybrid SH-AWD can also simultaneously apply regenerative brake torque to the inside rear wheel during cornering to further enhance cornering control. In addition, since it doesn't rely on engine torque, electric SH-AWD can create a larger torque difference between the left and right rear wheels, even during small throttle applications, at low engine speeds or when decelerating. This substantially magnifies the positive handling benefits of SH-AWD across a much wider range of driving conditions.
Powertrain Drive Modes
The MDX Sport Hybrid SH-AWD system is optimized to provide both outstanding performance and class-leading fuel efficiency.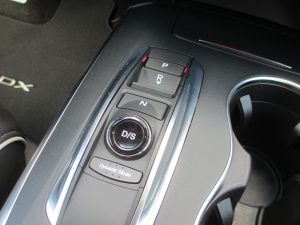 Depending on the driving mode (COMFORT, NORMAL, SPORT and SPORT+), the system utilizes the V6 engine, 7DCT with built-in motor, TMU and battery pack to provide exhilarating and confidence-inspiring performance while maximizing efficiency.
Body & Exterior
The majority of the MDX Sport Hybrid SH-AWD;s unit-body design and construction is common with MDX, with a few modifications to allow ideal component packaging. In the floor pan underneath the front seats, a recessed area is added to accommodate the Intelligent Power Unit (IPU).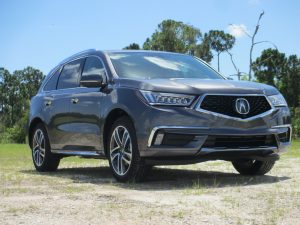 Additionally, the rear subframe is modified appropriately for the MDX Sport Hybrid's curb weight (4,471 lbs. for MDX Sport Hybrid SH-AWD vs. 4,244 lbs. for the MDX SH-AWD, both with Technology Package).
Exterior Design
The MDX Sport Hybrid SH-AWD shares its body design with the 2017 MDX and MDX SH-AWD, offering the new MDX Diamond Pentagon grille, low and wide stance, spacious interior and cargo capacity, LED headlamps and fog lights, and a premium overall presentation.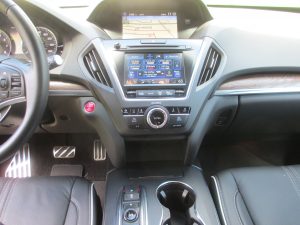 The MDX Sport Hybrid SH-AWD also includes dual exhausts mirroring those on the MDX, and an Auto High Beam feature that improves active safety, adds driver convenience, and allows the MDX Sport Hybrid SH-AWD to receive a TOP SAFETY PICK+ rating from the Insurance Institute for Highway Safety (IIHS).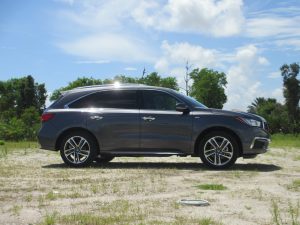 A few external visual cues distinguish the MDX Sport Hybrid SH-AWD from the MDX and MDX SH-AWD at a glance. The lower side sills and front/rear skid garnishes are painted body color instead of as-molded black. Additionally, the front fenders carry Hybrid badges and the remote-linked power-operated tailgate displays an SH-AWD badge.
Chassis
The 2017 MDX Sport Hybrid SH-AWD chassis is based on that of the current MDX. It includes front MacPherson strut and rear multi-link suspension systems with new Active Dampers and Motion-Adaptive Electric Power Steering (EPS).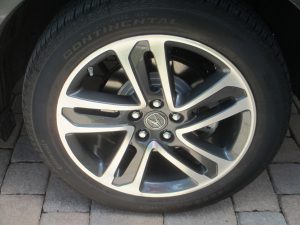 The performance of all these components is continuously adjusted by the MDX's driver-selectable Integrated Dynamics System which tailors suspension, steering, and powertrain performance to the driver's preference. The MDX Sport Hybrid SH-AWD also features a special 4-wheel disc braking system that utilizes a combination of regenerative braking and for charging the vehicle's lithium-ion batteries and Electric Servo Brakes, which provide confident and linear braking.
Integrated Dynamics System
The 2017 MDX Sport Hybrid, like the NSX before it, is designed to provide a wide range of driving experiences and dynamic character commensurate with the desires of the driver and the driving environment via its Integrated Dynamics System. The MDX Sport Hybrid's advanced technologies, including its Sport Hybrid power unit, Active Dampers, and electric power steering, enable a finer and more wide-ranging degree of control over the dynamic character of the MDX.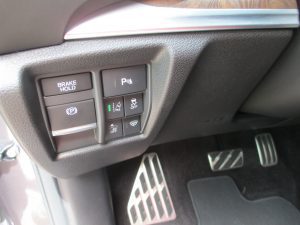 While the non-hybrid MDX features a 3-mode Integrated Dynamics System with COMFORT, NORMAL and SPORT modes, the 2017 MDX Sport Hybrid SH-AWD adds a fourth mode – SPORT+ – for maximum dynamic performance on the most challenging (and rewarding) roads.
Driver-selectable dynamic modes are automatically linked to the two standard remote key fobs, and the vehicle retains the selected setting (except for SPORT+, which reverts to the SPORT setting when the vehicle is turned off and then restarted).
Integrated Dynamic System Modes:
COMFORT – Reduces steering effort, improves ride comfort, softens drive-by-wire throttle response
NORMAL – Balances performance with enhanced steering, drive-by-wire, suspension and torque vectoring settings
SPORT – Provides firmer damping for more responsive handling and reduced body motion, enhances steering feedback, increases torque vectoring
SPORT+ – Maximizes powertrain performance with first-gear starts, disables EV-only driving, changes transmission shift and throttle mapping, and provides maximum battery assist at launch
Active Dampers
The MDX Sport Hybrid SH-AWD uses exclusive Active Dampers that are integrated with the Integrated Dynamics System functions. Similar in appearance to the MDX's coil-over dampers, the Active Dampers have electronically adjustable damping that lets the Integrated Dynamics System automatically fine-tune ride and handling to driver preferences.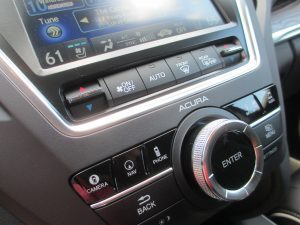 As directed by the Integrated Dynamics System controller, an electric actuator within each damper constantly controls the hydraulic fluid movement inside the unit.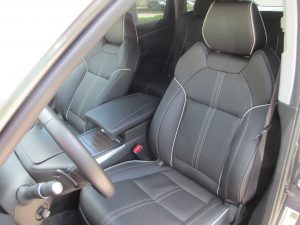 Damper settings are automatically calibrated to the Integrated Dynamics System setting to achieve the following benefits:
COMFORT – Emphasizes ride comfort and reduces road noise, vibration and harshness (NVH) to lowest levels ever for the MDX platform in urban driving
NORMAL – Provides an ideal everyday balance of ride and handling for a wide range of conditions
SPORT/SPORT+ – Flattens and stabilizes the vehicle body during rapid steering inputs and maneuvers, improving tactile feel and overall responsiveness
Electric Servo Brake System
The MDX Sport Hybrid SH-AWD's electric servo brake system maximizes regenerative braking capability for improved fuel efficiency. The braking system is fully hydraulic from the master cylinder all the way to the 4-wheel disc brakes, just like a traditional braking system.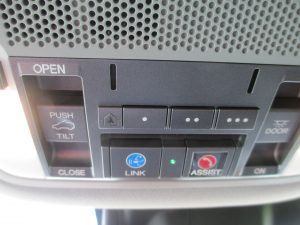 The key difference is that the braking function is electronically controlled rather than a purely mechanical activation, allowing regenerative braking from the front and rear electric motors to slow the vehicle, rather than the hydraulic friction brakes, under most circumstances.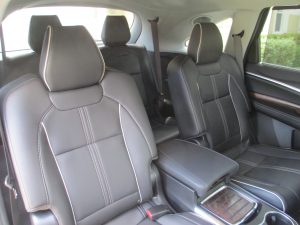 Besides its payoff in efficiency, the system offers excellent feel and feedback for the driver through the brake pedal.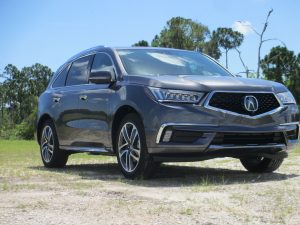 2017 ACURA MDX SPORT HYBRID AWD:  MSRP $58,000.00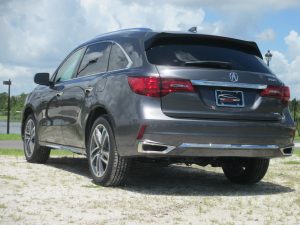 AS SHOWN WITH ALL STANDARD EQUIPMENT AT NO EXTRA COST