2016 Volkswagen Jetta VIDEO REVIEW
2016 Volkswagen Jetta 1.4T VIDEO REVIEW by Auto Critic Steve Hammes
I'm just wrapping up my week with the 2016 VW Jetta, having logged big miles in it driving to and from Chicago through terrible weather.  Road trips are the best way to get to know a car and the Jetta surprised me in a number of ways.
Let's face it; VW has yet to find its styling mojo in America; a hindrance to increased sales that far predates dieselgate. For some irony, it's their blandest-looking car which is also their best-seller.  This 6th generation Jetta debuted as a 2011 model and is the poster child for staid German design.  But as long as you don't judge this book by its cover, the Jetta will prove its worthiness in more ways than one.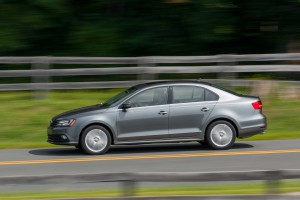 The big news for this model year is right here. A new 1.4-liter turbo replaces the base 2.0-liter engine in the Jetta lineup.  And no, this isn't the hybrid.
While the TDI models are on an indefinite hiatus, the timing for fitting VW's best-seller with this new engine couldn't be better. Why? Because gas prices are so low and diesel prices are still relatively high, this motor will save you money at the pump.  And the EPA estimates are the real deal.  I averaged nearly 40mpg highway here and beyond that, this smaller turbo is fun, lively and rich with sound; a real diamond in the rough.
Other Jetta engines include the 1.8T and 2.0T but this new 150-horsepower motor also generates a healthy 184 pound-feet of torque providing rewarding acceleration and confident passing ability. But it's the stellar real world gas mileage that really blew me away.  Paired with the smart 6-speed automatic with sport mode and manual shifting, the EPA estimates are 28mpg city/39mpg highway on regular with a nearly 500 mile driving range.  So on our trip to Chicago, it was often a full bladder and not an empty tank than precipitated a rest stop.
Out of all the weeks to get a car without built-in navigation! But no worries; the SE with Connectivity comes with Apple CarPlay, so I was able to use my phone's map function right on the big screen.
Don't use an iPhone? Android Auto and MirrorLink are also supported.  It may not be huge or look particularly modern, but this touchscreen infotainment unit has good flow and uses tablet-like controls enabling swiping and even pinch-zooming.  There's Sat and HD radio, phone integration and a USB port down below with adequate device space.  But without the Fender premium audio system, sound quality is poor.  VW Car-Net Security & Service is a subscription telematics service, free for the first 6 months, and adds new features for 2016 including remote vehicle access, remote door lock and unlock, and more.
Like the exterior, the Jetta's interior isn't going to widen your eyes, but I can attest that it's long-trip comfortable from all seats, with the leatherette surfaces nicely heated in the front. The front seats' manual operation is a little clumsy but I could reel off 5 hours at the wheel without ever feeling strain on my lower back.  Plus, there's VW's hallmark excellent forward visibility and a backup cam.  The cruise control can be set to the exact speed you desire and this Jetta motored smoothly and relatively quietly at highway speeds.  One thing I really missed though was blind spot detection.
Low-rolling resistance, all-seasons don't stand out when it comes to trudging through snow but this Jetta did a wonderful job for me in tracking through horrendous lake effect.
Get it off the highway, and it feels just like a good Jetta should – a euro-tuned suspension that lets you feel the road, quick, precise steering and a transmission that understands your intentions.
Rear seats are spaciously sized and contoured for support while the trunk's 16 cubic feet accommodates an above average amount of luggage and includes split-fold seats.
There are 10 Jetta trims on the table and this SE with Connectivity with no options resides near the lower end with an MSRP of about $23,000; a satisfyingly, well-prepared steak that could use a little more sizzle.
Tagged with:
1.4T
,
2016
,
auto critic
,
Connectivity
,
DT with Steve Hammes
,
Jetta
,
latest video
,
reviews
,
road test
,
SE
,
steve hammes
,
test drive
,
Volkswagen
,
VW