2016 Chevrolet Volt VIDEO REVIEW
2016 Chevrolet Volt VIDEO REVIEW by Auto Critic Steve Hammes
For the vast majority of Americans, electric cars simply don't make sense, whether the issue is driving range, vehicle size or financial. But the Chevy Volt is the most sensible solution for those galvanized by the prospects of electric driving without the range anxiety. And now in its 2nd generation, the Volt conducts itself in an even more electrifying manner.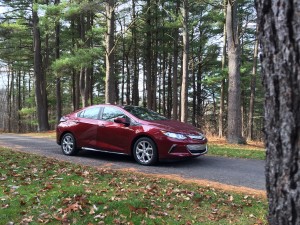 Hybrids, plug-ins, electrics, fuel cells, range extenders…is there any doubt as to why today's car shoppers are so confused buy the myriad of choices? Most don't care nearly as much about how this stuff works as they are about the benefits – nor should they. What does it cost, will it save me money and will I like driving it – that's the bottom line approach here. And this new Volt gets a price cut of more than $1,000, saves another $150 per year in fuel costs compared with the previous model and takes that next big step in refinement. It's a very likeable car that also looks sleeker while retaining its signature Volt identity.
You can view the Volt, as the EPA does, as a plug-in hybrid, using both electricity and gas for propulsion. GM calls the new 1.5-liter 4-cylinder engine a range extender, because in essence, the Volt is only driven by electric motors. Once the battery runs out of enough juice to power the car, the gas engine fires and you continue to motor for up to 420 miles. At that point you can either find a place to recharge the battery and/or pull into a gas station like a regular car. Of course unless you can find a free charging station – and they do exist at grocery stores and the like – electricity also has an associated cost. So the EPA rates this Volt at 106 MPGe – that's miles per gallon equivalent for electric driving and 42mpg once the initial EV driving is over. That's an increase of between 8% -13%. This is thanks in large part to a number of innovations to the all-new Voltec system, including a lighter, smaller lithium-ion battery with greater storage capacity, and a lighter, more efficient 2-motor drive unit providing a greater than 20% improvement in electric acceleration.
On a cold 25-degree morning like this, the fully charged battery delivers about 45 miles of pure EV driving. Now, in perfect conditions, that number can be as high as 53. That's up from 38 miles on the previous model.
On paper, that's how it works. But northerners will experience a bit more engine intervention when the temps are cold – say in the mid-30s and below. So a Volt owner in southern California is going to get better mileage than one in New York – that's just the way of the EV world. But during this mostly mild week, the majority of my trips were accomplished without any gas as 80% of Volt owners can already attest, getting around 1,000 miles between fill-ups. I don't have a 240 volt charger so filling the car's battery takes about 13 hours. If you do, it only takes 4.5 hours. You can monitor all of this through a smartphone app and via the green light on the dash. By the way, the illuminated charge port is an option I'd choose as it can be difficult to properly place the plug at night. And the portable charge cable now stows more conveniently in this cubby above the load floor.
If you've never driven an electric car you'll immediately fall in love with the quietness and effortless acceleration. And with the use of a new 2 motor system, this Volt is noticeably quicker than before. 294 pound-feet of torque get you moving immediately, enough to press you into the seat. Meanwhile the gas engine, best referred to here as the generator, nets you better mileage once the battery is depleted and no longer desires premium gas. From a driving perspective, this Volt is more polished with a stronger body structure lending to better ride quality.
It's not that the previous Volt was poor, but this car appeals to all of the senses in a much more mature manner. Though the brake pedal has a lot of travel before stopping, the new system feels incredibly organic and incorporates a new Regen button on the steering wheel that acts like a brake when descending hills to better recapture otherwise lost energy for the battery. The steering is sharp, you can feel the road, and though the fuel saver tires give up pretty easily, there's a joy to driving this car in a non-EV like manner that's actually quite satisfying. The Volt is obviously most impressive and enjoyable when the engine's not on – some of the car's polish and mystique is lost once it is.
The Volt is a compact and it's pretty tight inside, particularly in these rear seats which are borderline acceptable for adults. But you've got to be kidding me with the advertised 5-passenger seating.
Cargo room is quite expansive with a huge hatch area and seats that fold flat and the front seats, though lacking power operation even on this top trim are snug but comfortable. The cabin as a whole is a huge improvement over the previous car's rudimentary design. Quality, fit and finish all go much farther and the electronics are out of this world good – including Apple CarPlay, OnStar with a built-in 4G WiFi connection, a highly customizable information display and all kinds of electric car-specific goodies. Heated seats all around, remote start, a heated steering wheel, multiple USB ports, wireless charging capability, beautiful blue ambient lighting – it's exceptionally well done and thoroughly thought out. It can park itself, brake if you don't and alert you to all kinds of potential dangers. And I'm beginning to love auto high beams.
Pricing starts at $34,000 while this highly optioned though not fully loaded Volt Premier stickers for $40,225. These numbers are before you take a $7,500 Federal tax deduction. Compared with the average new vehicle, the EPA estimates that the Volt will save you $3,250 in fuel costs alone over 5 years. The run of 2016 models is very limited so it'll be the 2017 model year before the Volt's nationwide rollout. This is GM at its best, flexing its engineering muscle and showing that the company is ready for whatever the future of driving may hold.
Tagged with:
2016
,
auto critic
,
Chevrolet
,
Electric cars
,
electric vehicles
,
fuel cell
,
latest video
,
plug-in
,
Premier
,
reviews
,
road test
,
steve hammes
,
test drive
,
top picks
,
Volt