2016 Subaru Forester REVIEW
2016 Subaru Forester REVIEW by Auto Critic Steve Hammes
Subaru is one of those hot brands, having been on a roll for a number of years continuing to do what they do best: making all wheel drive runabouts for the left of center crowd. Here's a quick look at what's new for their best-seller, the 2016 Forester.
This 4th gen Forester went on sale in 2013 and comes in 6 flavors ranging in price from about $23,000 to $35,000, all with the brand's hallmark 4-cylinder boxer engine and standard all-wheel drive. Forester models with an XT badge are also turbocharged. The term Boxer refers to the motor's flat engine design with horizontally opposed cylinders. Not only does this arrangement provide a lower center of gravity imparting better handling, but it's also an integral part of Subaru's symmetrical all-wheel drive system, so called because all of its components lie along the centerline of the vehicle unlike competing setups. All wheels are powered, to various degrees, at all times and in my experience this isn't just a bunch of marketing jargon. All-wheel drive systems are not all the same and Subie's shine when the going gets tough. To expand their appeal outside of the northeast, they're educating shoppers about the inherent dry-road handling benefits, as well.
My tester is just a notch over the base model, known as the 2.5i Premium, referring to the 2.5-liter engine with dual overhead cams, an active valve control system but no direct injection. That being said, its gas mileage is still right there at 27mpg in combined driving. It produces 170 horsepower, 174 pound-feet of torque and can be had with either a 6-speed manual or like here, the brand's Lineartronic CVT. Despite its bad reputation, the continuously variable transmission is improving and Subaru's is surprisingly automatic-like in its sensations minus the shift points. It's very agreeable. It's interesting to note however that the freshened 2017 Forester will debut a reprogrammed CVT with pauses to mimic those shifts in hopes of delivering a sportier feel.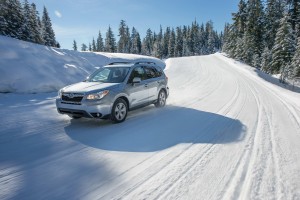 The standard panoramic moonroof and tall roofline lend a sense of grand openness and there's large, easy to load cargo room with fold flat seats and underfloor storage with compartments for small items.
Subaru calls their multimedia system Starlink and it's new in the Forester this year.
This optional 7" multimedia touchscreen navigation system is pretty decent and easy to get around. Connect your smartphone and gain access to a handful of apps too plus the ability to remotely lock and unlock the doors, etc. One of my favorite features is the sunrise/sunset map…so fitting in a Subaru. A push of a button also connects you to Starlink Connected Services, an OnStar-like 4G LTE-fueled telematics system with 2 different packages, the basic one free for the first year and then $99 annually. You won't find SIRI Eyes Free, Apple CarPlay or Android Auto, however. Also new for 2016, is the addition of Lane Keep Assist to the EyeSight Driver Assist package, a dual camera system providing adaptive crusie, pre-collision braking, lane departure warning and another new feature, steering responsive fog lights. Throw in heated seats and the price here rests at $28,540.
I'm sold on the virtues of Subaru's all-wheel drive system, and they make a darn good CVT to go with their surprisingly energetic Boxer engine. The ride is very smooth, there's also decent space in here and very good safety tech. But I have to say; I've never been a big Forester guy. To each his own, but the dorky styling combined with the early 2000's cabin is a big turnoff for me. It does not look or feel like a $28,000 car.
Subaru makes some pretty ugly cars but the Forester takes the cake. But I also acknowledge that the typical Subaru buyer doesn't care about such things. The pall of yesteryear however might rub some the wrong way.
All-wheel drive with big ground clearance, a comfortable ride, and high functionality are what the Forester is all about. The rest is simply minutia.
Tagged with:
2.5i
,
2016
,
AWD
,
crossover
,
DT with Steve Hammes
,
Forester
,
latest video
,
Premium
,
review
,
road test
,
steve hammes
,
Subaru
,
SUV
,
test drive