2015 Subaru Legacy Video Review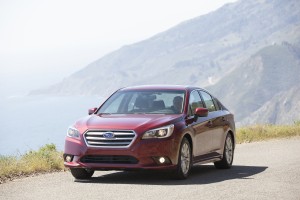 2015 Subaru Legacy Video Review:
Here you have the Subaru Legacy.  Sales wise, it's an also-ran in the midsize or family sedan segment, if you will; mostly purchased by northeasterners looking for a traditional car they can drive confidently on bad roads.  But having spent the week with this all-new 2015 Legacy, I'd say it's the most mainstream vehicle Subaru has ever produced and that'll resonate with a broader audience.
Subaru is a brand on fire.  The champion of all-wheel drive and an active lifestyle continues its push from the backwoods into suburbia.  They know they've got the camping, dog-loving crowd wrapped around their tires but this sixth-generation Legacy is all about expanding appeal.  Though the conservative styling is completely anonymous, it's not ugly and for Subaru that's a step in the right direction.  It clearly bears a resemblance to the Ford Taurus.  Its body size has hardly changed, but there's more room inside where it counts, like back here.  Leg room is right up there near the top of the midsize segment and the trunk's 15 cubic feet is equally competitive.  So the Legacy's undersized criticisms are now in the past.
Subaru's interiors typically feel cheap, which is why I'm pleasantly surprised by the highly cushioned, soft-leather touch points for your arms.  And though its design won't wow anybody, the attention to detail and overall quality feels several notches up.
When shopping Legacy, you can choose from 4 models and this here is the 2.5i Limited – the top ranking 4-cylinder car with a starting MSRP of $27,290. There's one big option package in here which adds a moonroof, keyless access with push button start, a navigation system integrated into the new Starlink touchscreen and the upgraded EyeSight driver assist system.  Using new color stereo cameras, EyeSight bundles Adaptive Cruise Control, Pre-Collision Braking, Lane Departure Warning and the never before seen Steering Responsive Fog Lights – a poor man's adaptive headlights, of sorts; providing enhanced illumination in turns by activating them independently when the fog lights are in their off position.  Combine those safety perks with a new rear radar system, and you've also got Rear Vehicle Detection, Blind Spot Detection, Lane Change Assist and Rear Cross Traffic Alert.  And there're new front seat-cushion airbags to boot, helping keep occupants in place in a frontal collision.
You often hear criticisms about the dreaded CVT or continuously variable transmission but not in here.  Subaru's Lineartronic version in this Legacy is likely the best in the industry by feeling most like a traditional automatic.  And in general, this car feels very much the part of a driver's car. The steering has a very accurate touch with a good sense of straight ahead, the Boxer engine's responsiveness has been spread across a broader RPM range, and the all-wheel drive system now incorporates torque vectoring for improved handling.  It is indeed a fun car to have on the back roads.  But if there is but one problem it's that the Legacy refuses to start off smoothly…I don't care how gentle you are in applying the gas takeoff is always a bit abrupt.
The 2.5-liter engine's 175 horsepower is a smidge higher than before but if it's speed you're after the 3.6-liter engine awaits – because the Legacy is likely the slowest to 60mph in the class, taking almost 9 seconds.  It feels much quicker though once you're in the midrange.  The double wishbone rear suspension adds to the nimbleness but the Legacy's ride quality isn't as forgiving as some other new entries I've driven recently.  With an aluminum hood and Active Grille Shutters among other efficiencies, gas mileage has improved from 27mpg to 30mpg combined and my own results show 31mpg – stellar for an all-wheel drive car.  But for those of you searching for the stick shift option – sorry, it's the CVT or the highway this time around.
The Legacy has matured.  It's quieter and feels more substantial.  Quality is improved, it's more spacious and though the GT model is no longer this 2.5i Limited always gave me a reason to want to take the road less traveled.  MSRP as tested is $30,580 – a strong price point for a Subaru better armed to compete with the heavy hitters.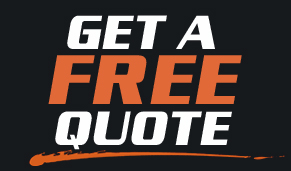 CLICK HERE to get a FREE ONLINE PRICE QUOTE for your NEW SUBARU from a dealer near you. Absolutely NO OBLIGATION.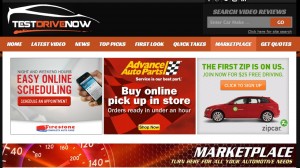 CLICK HERE TO FIND TODAY'S HOTTEST DEALS! TURN HERE FOR ALL YOUR AUTOMOTIVE NEEDS.

CLICK HERE to LIKE TestDriveNow.com on FaceBook!

FOLLOW Steve Hammes on Twitter!