2016 Mazda CX3 Touring VIDEO REVIEW
2016 Mazda CX3 Touring VIDEO REVIEW by Auto Critic Steve Hammes
There's a steadfast rule in the automotive biz right now: you can't have enough crossovers. Complementing the CX-9 and CX-5 in Mazda's lineup is the first-ever CX-3; a miniature utility vehicle for a new generation.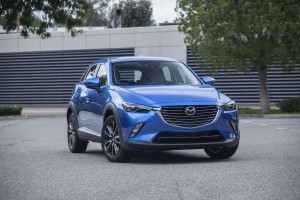 After years of mocking the tiny cars proliferating European streets, Americans have recently started to embrace smaller means of transportation. Gas prices surged and the appetite for SUVs waned.  Of course, that's all changing yet again as trucks and big utility vehicles are back on shoppers' radar screens.  No matter, Mazda has forged ahead to import this little runabout to the States, backed by a design of uncommon sophistication, the confidence of all-wheel drive and zoom-zoom Mazda genetics.
Fifteen years ago, when you heard the acronym SUV you immediately envisioned something the size of say, a Ford Expedition. But nowadays, it could be used to describe just about anything with a raised stance and 5 doors. The rear seats in this CX-3 though are really tight and cargo room is minimal.
And if you cross shop the CX-3's main competitors – the new Honda HR-V and Chevy Trax – you'll find that it's smaller in those key areas with the former offering 130% more luggage volume with the seats upright. Gas mileage, price and feature offerings are otherwise similar so you'll have to prioritize your needs.  Do you favor the dramatic KODO Soul of Motion design and more engaging drivability of the Mazda or the greater utility of the others?
Somewhat surprisingly, Mazda offer no manual transmission here. All trim levels, whether front or all-wheel drive, run with the same powertrain; a SKYACTIV 2.0-liter 4-cylinder pushing 146 horsepower and 146 pound-feet of torque.  This is Mazda's advanced small gas engine balancing appreciable output with class-leading fuel economy…at least on paper.  This AWD model is rated at 27mpg city/32mpg highway.  My weekly average was closer to 25mpg.  A 6-speed automatic with the option of manual shifting and Sport mode is the way all models roll.
Mazdas are known for their joie-de-vivre from behind the wheel and the CX-3 possesses that with its light and nimble Skyactiv chassis and quick, spot-on steering. Just like in the MX-5, this 2.0-liter engine produces suitable power but it's rather noisy on the intake and the 6-speed auto contributes some undesirable CVT-like sounds, especially in Sport mode.
Ride quality is taut but forgiving, the cabin is relatively quiet at cruising speeds and its tidy dimensions make it easily maneuverable. The all-wheel traction comes courtesy of a setup called i-ACTIV which uses the vehicle's onboard thermometer to determine ambient temperature among other sensors to proactively route power to the rear wheels.  It adds $1,250 to the base price.  This here is the middle trim – the CX-3 Touring – with a starting price of $22,840.  Key upgrades over the base Sport model include advanced keyless entry, blind spot monitoring, rear cross traffic alert, and heated leatherette seats.  My car chips in remote start, a moonroof, and a Bose audio system with Sat and HD radio for an as-tested price of $26,150.  If you're interested in the i-ACTIVESENSE Package with its suite of premium driver assistive features like Smart Brake Support with Collision Warning, you must step up to the Grand Touring level .
Here's a couple of things you should know about this 7" touchscreen; 1) it's only a touchscreen when you're standing still – the only such setup on the market and 2) it doesn't include navigation on this mid-level Touring trim.
The dark red accent color peppering the doors and dash and imaginative overall cabin design lend a high quality, premium small car feel. The only exception to this is this flimsy armrest.  There's also very little storage without a center console.
The CX-3 is quite the likeable new Mazda but space constraints will steer some to other choices.
Tagged with:
2016
,
auto critic
,
AWD
,
CX-3
,
latest video
,
Mazda
,
reviews
,
road test
,
small suv
,
steve hammes
,
test drive
,
Touring
,
video reviews