2016 CADILLAC CTS SEDAN QUICK TAKES
TestDriveNow Quick Takes: 2016 CADILLAC CTS SEDAN OVERVIEW
2016 CADILLAC CTS SEDAN OFFERS NEXT-GEN 3.6L V-6 ENGINE AND ALL-NEW EIGHT-SPEED PADDLE-SHIFT AUTOMATIC TRANSMISSION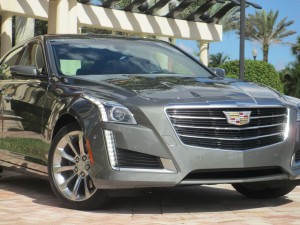 The centerpiece of Cadillac's expanded and elevated portfolio, the midsize CTS is the fullest realization of the brand's transformation and a compelling blend of performance and luxury. The 2016 edition of CTS features significant enhancements in performance, efficiency and connectivity.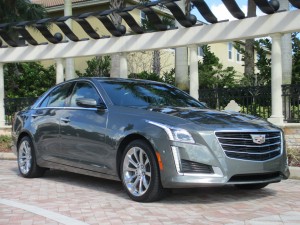 The CTS is lighter than its primary competitors, enabling the most agile driving dynamics in the class, and its range of power-dense powertrains underpins its performance.  A roomy, driver-centric cockpit interior with integrated technology through Cadillac CUE and hand-crafted appointments complements the exterior and supports the CTS sedan's driving experience. Eight interior environments are offered, each trimmed with authentic wood or carbon fiber. Leather seating is available, including available full semi-aniline leather, with hand-crafted, cut-and-sewn executions.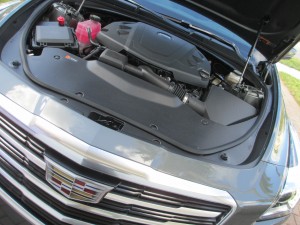 An all-new 3.6L V-6 engine debuts in the 2016 CTS, ushering in new benchmarks for efficiency, refinement and durability. The second-generation, clean-sheet engine redesign incorporates new features, including Active Fuel Management (cylinder deactivation) and Stop/Start technology to enhance fuel economy. At an SAE-certified at 335 horsepower (250 kW), it's also the most powerful naturally aspirated V-6 in the segment.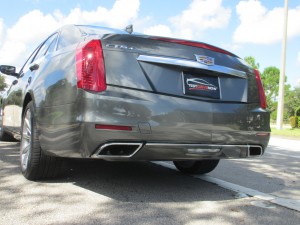 A new Hydra-Matic 8L45 paddle-shift eight-speed automatic transmission is matched with the 3.6L V-6, elevating the driving experience with one of the luxury market's smoothest, quietest and most efficient powertrain combinations.
The Cadillac 2.0L Turbo returns in the CTS for 2016, adding the fuel-saving Stop/Start feature. It also is matched with the new 8L45 eight-speed automatic transmission.
Also new for 2016 is an 18-inch polished wheel design and three premium exterior colors: Cocoa Bronze Metallic, Moonstone Metallic and Stellar Black Metallic. Inside, a Surround Vision 360 degree camera provides a "bird's eye" view of the entire vehicle, Cadillac CUE is enhanced and includes phone integration capability – including Apple CarPlay and Android Auto compatibility (Android Auto to be offered later in the 2016 model year) –  and several interior color/trim options enhance the ambience of the design.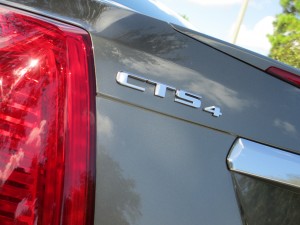 The 2016 CTS lineup is offered in well-equipped standard models, as well as Luxury, Performance and Premium Collections. The CTS and V-Sport models return unchanged for 2016. The V-Sport features the Cadillac Twin Turbo V-6 as its exclusive powertrain, helping the car achieve 60 mph in an estimated 4.4 seconds and an estimated top speed of 172 mph (277 kph).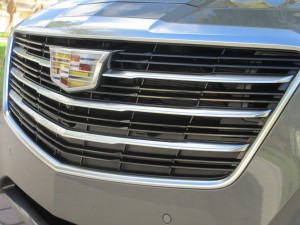 Cadillac also introduces the third-generation CTS-V for 2016. It introduces a new supercharged 6.2L V-8 engine SAE-certified at 640 horsepower (477 kW) and 630 lb-ft of torque (855 Nm). It's backed by the Hydra-Matic 8L90 paddle-shift eight-speed automatic transmission featuring launch control and Performance Algorithm Shifting. See the separate CTS-V release for complete details.
Cadillac CUE enhancements and phone integration technology
Cadillac CUE has been revised to function more intuitively while providing connectivity and information on a high-resolution eight-inch touch screen. A new higher-speed processor for 2016 will deliver quicker responsiveness to all aspects of the car's connectivity, information and entertainment features. Cadillac CUE also offers phone integration capability for 2016.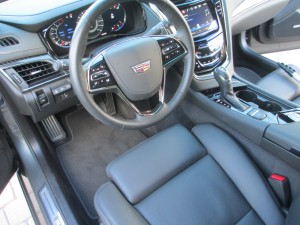 Phone integration technology is designed to take phone features customers would want to access while driving and put them on the vehicle's display in a smart, simple manner. The features allow customers to use select smartphone apps through the touchscreen interface. In fact, many features can be controlled via voice commands through a button on the steering wheel, helping drivers keep their eyes on the road and hands on the wheel. Apple CarPlay capability is offered at the beginning of the 2016 model year and Android Auto capability comes later in the model year.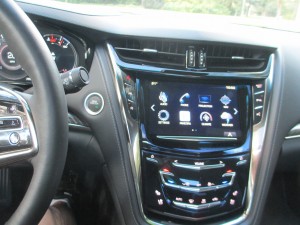 Apple CarPlay-supported apps include Phone, Messages, Maps, Music and third-party audio apps. A full list of those apps can be found at Apple.com/ios/carplay. Apple CarPlay is compatible with iOS 7.1 or higher.
Android Auto is built around Google Maps, Google Now and the ability to talk to Google, as well as a growing audio and messaging app ecosystem that includes WhatsApp, Skype, Google Play Music, Spotify and podcast players. A full list of supported apps is available at g.co/androidauto. Android Auto requires a phone running an Android Lollipop 5.0 operating system or above.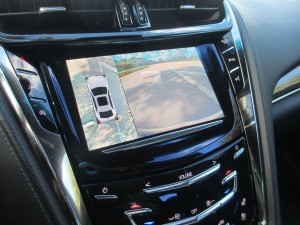 Using either application is simple. A "Projection" icon on the Cadillac CUE screen is visible when a phone is not connected, then changes to indicate CarPlay or Android Auto when a compatible phone is connected via USB.
Compatible apps need to be downloaded to a phone before using. Apple and Google's privacy statements and terms of use apply. Data plan rates may also apply.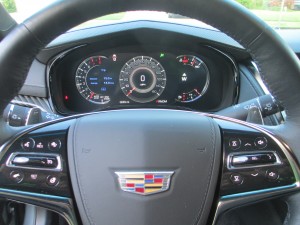 The heart of Cadillac CUE in the CTS is the eight-inch-diameter LCD multi-touch sensitive screen, integrated into the top of the central instrument panel and featuring a motorized, fully capacitive faceplate at the bottom concealing a 1.8L storage area. CUE's vibrant LCD screen resembles a smartphone's screen, with large, easy-to-target icons to execute commands. A navigation system is also available with the standard model and is standard with the Performance and Premium Collections and V-Sport models.
CTS also includes Wireless Charging and OnStar 4G LTE connectivity with a Wi-Fi hotspot. It provides a mobile hub for drivers and passengers to stay connected. The hotspot comes with a three-month/three-gigabyte data trial. 4G LTE is the most current and fastest mobile data network – 10 times faster than 3G and 100 times faster than the previous generation of OnStar hardware. And with OnStar, it also offers stronger, broader coverage than smartphones on the same network and it's easy to use: If the vehicle is on, the connection is on.
The Cadillac Wireless Charging magnetic inductive charging system is a wireless phone charger that allows users to simply place their phone – if equipped with wireless charging technology or a capable back cover – on a small mat in the CTS, where it charges without the need to plug it in.
Exterior features
Linear elements, including an uninterrupted feature line that runs from the headlamps to the taillamps, emphasize the CTS's long, lean proportion and contribute three-dimensional qualities to its surface. The sense of flow over the CTS sedan is furthered, too, with a "trapped" hood design – surrounded completely by sheet metal – that eliminates the forward cut lines between the grille and headlamps.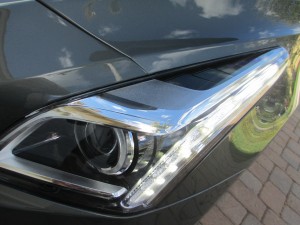 Cadillac's signature bold vertical lighting elements – including LED front signature lighting details – evolve with headlamps that flow up and with the hood line. The headlamp housings incorporate crystalline LED light guides in the upper and lower forward corners, bringing uniform white illumination without hot spots and serving as the daytime running lamps.
Projector-beam halogen headlamps are standard and high-intensity discharge headlamps with Adaptive Forward Lighting are available.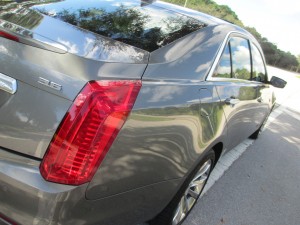 At the rear, first-, second- and third-order bezel elements within the taillamp housings offer a distinctive rear signature for the CTS when illuminated. LED lights within crystalline blade structures ensure a crisp, uniform appearance and the Cadillac script is etched in the upper illumination blade.
Additional exterior features include:
New 18-inch polished wheel design is standard on Premium Collection
Cadillac's upscale grille design and crest; Galvano chrome finish on base model grille and black chrome finish on V-Sport grille
Active aero grille shutters standard on base, Luxury and Performance Collections (not included with Driver Assist package or V-Sport)
Available illuminating door handles with Galvano polished aluminum finish
Rainsense automatic windshield wipers included with Driver Awareness package
Seamless Galvano aluminum trim around the side windows that reinforces CTS's craftsmanship with the "line weighting" of an artist's pencil – it's thicker in some areas and thinner in others to emphasize different proportions
Chevron-shaped center high-mounted stop lamp is inset in the leading edge of the trunk lid for a more elegant, integrated appearance
Through-fascia trapezoidal exhaust ports are accented with chrome trim,
In addition to the three new exterior colors offered for 2016 – Cocoa Bronze Metallic, Moonstone Metallic and Stellar Black Metallic – other choices are Phantom Grey Metallic, Red Obsession Tintcoat, Crystal White Tintcoat, Radiant Silver Metallic, Black Raven, Dark Adriatic Blue Metallic and Silver Coast Metallic.
Interior highlights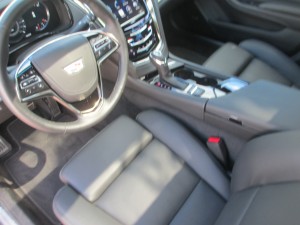 The spacious, driver-centric cockpit interior in the CTS Sedan combines technology and hand-crafted appointments to support the driving experience. It's an intuitive and connected cabin, with asymmetrical features that focus the controls and displays on the driver – reinforced with authentic materials and refined amenities to give it character that is distinctive in the segment.
An industry-exclusive, one-piece wrapped upper instrument panel flows from the base of the windshield down to the base of the center stack, while the "brow" over the instrument cluster reaches across the center stack, exemplifying the asymmetrical cues.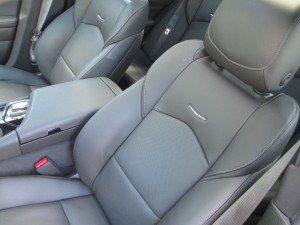 Several distinctive interior environments – including five two-tone combinations – are offered, each trimmed with authentic wood or carbon fiber. Leather seating is available, including available full semi-aniline, with hand-crafted, cut-and-sewn executions. The range of interior environments reflects the ambience of customers' driving experiences, from relaxed touring to serious performance.
Interior color and trim choices include:
Light Platinum with Jet Black accents and high-gloss Sapele wood trim or Natural Sapele wood trim
Jet Black with Jet Black accents and Natural Sapele wood trim or carbon fiber trim
Light Cashmere with Medium Cashmere accents and Black Olive Ash wood trim
Jet Black with Morello Red accents and carbon fiber trim
Kona Brown with Jet Black accents and Natural Elm wood trim.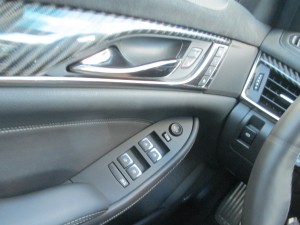 CTS sedan also offers full-leather, 20-way adjustable front seats, which includes 14 power-assisted adjustments, a manual cushion length extension and four-way manual headrests. The 20-way full-leather seats are available, with 16-way adjustable seats standard with leather seats. The CTS's standard seats feature 14-way adjustment and all seats were designed to deliver segment-leading comfort and craftsmanship. Heated and ventilated front seats are standard with leather seating and rear heated seats are available.
Additional interior features include:
Standard Rear Vision Camera
Heated and ventilated front seats with leather seating surfaces and heated steering wheel
Hand-wrapped and motorized cup holder lid in the center console that operates with a light touch, much like inserting a disc into a DVD player
Adaptive remote start feature that also activates the climate control system
Electrically actuated and locking glove box – with LED lighting and two tiers of storage – leads a list of multiple storage compartments that also includes a compartmentalized storage area in the center console, lit map pockets in all doors and a hidden storage area behind an articulating climate control/radio control panel
Storage under the center armrest includes auxiliary power points, including auxiliary jack and USB ports
Available indirect LED ambient lighting in the instrument panel, door panels, foot wells, door map pockets, various storage locations and the front door sills – where the Cadillac script is illuminated
Available tri-zone climate system includes vents in the rear of the center console for greater rear-seat comfort
Available manual rear door shades and power-operated rear window shade
Electronic park brake
Standard Bose eleven-speaker sound system and available Bose Centerpoint Surround Sound system with 13 speakers.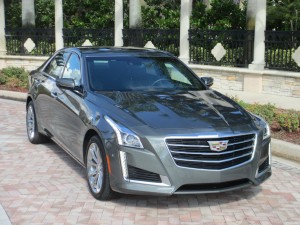 The CTS Sedan offers Automatic Parking Assist, which enables the car to park itself in parallel and perpendicular spaces. It uses ultrasonic sensors to locate a suitable space and maneuver the car into the space, with the driver only required to select the gear and apply the accelerator and brake pedals. Ultrasonic rear park assist is standard.
All-new 3.6L V-6
The all-new 3.6L V-6 engine with direct injection and dual overhead cams headlines the new model year for the 2016 CTS. It represents the second generation of GM's acclaimed DOHC V-6 engine family and incorporates new features such as Active Fuel Management (cylinder deactivation) and Stop/Start technology.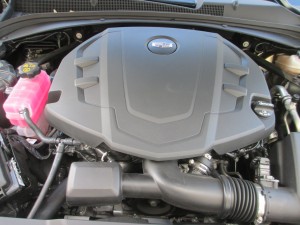 Noise-reducing features including an all-new cam drive system contribute to the new 3.6L being 3 dB quieter than the Infiniti 3.7L V-6.
The new V-6 also advances performance- and fuel economy-optimizing technologies introduced on previous generations, including direct injection and continuously variable valve timing. Output is SAE-certified at 335 horsepower (250 kW) and 285 lb-ft of torque (386 Nm).
GM's Active Fuel Management system temporarily deactivates two the 3.6L's cylinders in light-load driving conditions to enhance fuel efficiency and seamlessly reactivates them when the driver demands full power.
With the efficiency-enhancing Stop/Start system, the engine is shut down in certain driving conditions such as stop-and-go city driving to reduce fuel consumption, automatically restarting when the driver takes his or her foot off the brake pedal.
Additional engine highlights include:
Stronger, stiffer aluminum block with increased structure in the bulkheads for superior rigidity
Tough, refined rotating assembly with a stiff forged-steel crankshaft, friction-reducing polymer-coated pistons and strong high-copper-content, sinter-forged connecting rods
New four-cam phasing system with intermediate park technology that enhances efficiency by enabling late inlet valve closing in certain conditions
All-new, patented "targeted" cooling system that provides strategic cooling of the engine's hottest areas while simultaneously fostering faster warm-up to enhance efficiency
New, higher-flow cylinder heads that enhance direct injection performance and feature integrated exhaust manifolds
Revised, simplified timing drive system with cushioned chain sprockets contributes to quieter engine operation
All-new lubrication system with a variable-displacement, two-stage oil pump that enhances efficiency. It is located inside the oil pan, which contributes to greater noise abatement.
2.0L Turbo and 3.6L Twin-Turbo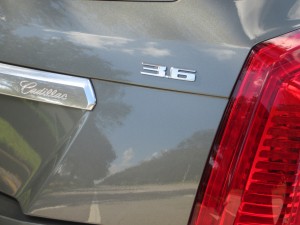 The CTS engine lineup is rounded out with a standard 2.0L turbocharged four-cylinder – with new Stop/Start technology – and the available Cadillac Twin-Turbo 3.6L V-6 in the V-Sport model. The 2.0L turbo is backed by the new 8L45 eight-speed transmission, while the Cadillac Twin-Turbo is matched with a higher-capacity eight-speed automatic.
At 134 hp/L, the 2.0L Turbo is one of the most power-dense engines in the industry, delivering 90 percent of its peak torque from 2100 rpm to 5400 rpm and the full 295 lb-ft of peak torque (400 Nm) from 3000 to 4500 rpm. The broad torque band is supported by boost levels as high as 18 psi (1.26 bar) in the speed range, which is designed to give the lightweight CTS an exhilarating feeling of immediate power on demand.
The CTS V-Sport's Twin-Turbo V-6 is the most power-dense six-cylinder engine in the midsize luxury segment – a 3.6L with 118 horsepower per liter (88 kW/liter) – and the eight-speed automatic enhances fuel economy and acceleration over a six-speed automatic.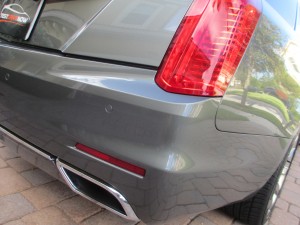 Rated at an SAE-certified 420 horsepower (313 kW) and 430 lb-ft of torque (583 Nm), it provides CTS with a performance level between the standard offerings and the elite, super high-performing V-Series. A pair of smaller turbochargers and an efficient charge air cooler help provide immediate power delivery. Additionally, approximately 90 percent of the Twin-Turbo's peak torque is available from 2,500 rpm to 5,500 rpm, giving the engine a broad torque curve that customers will feel as strong, willing power in almost all driving conditions, such as accelerating or overtaking traffic on the highway.
New eight-speed automatic transmission
Matched to the new 3.6L V-6 engine and the 2.0L Turbo, the new Hydra-Matic 8L45 paddle-shift eight-speed automatic transmission drives performance on the CTS Sedan with the best in technological advances. It shares the architecture and design features of the acclaimed, GM-designed Hydra-Matic 8L90 transmission, but scaled and calibrated for the performance envelope of smaller engines.
A wide, 7.0:1 overall ratio and numerically lower top gear offer an estimated 5-percent fuel economy benefit over a comparable six-speed automatic transmission. The transmission also features four simple gearsets for optimal efficiency and five clutches (two brake clutches and three rotating clutches) – creative packaging that enables them to fit the same space as the previous six-speed automatic, with lower weight.
In fact, the new 8L45 has a smaller overall diameter and length, and weighs approximately 33 pounds (15 kg) less than the 8L90 eight-speed – a transmission that was already lighter than the previous 6L80 six-speed automatic.
World-class shift time quickness and responsiveness are accomplished with a Gen II controls system, which works with variable force solenoid technology and three internal speed sensors. The transmission controller is mounted externally and its processor executes hundreds of calculations and commands every 6.25 milliseconds.
Additionally, friction-reducing design features – including synthetic fluid – and lower spin losses via a powerflow that uses only two open clutches contribute further to efficiency. The torque converter design is also specific to each transmission.
CTS driving experience
Excellent power-to-weight ratios and racetrack-honed suspension geometries established with the development of the ATS enabled engineers to advance CTS's performance with greater feelings of feedback, control and response. The comparatively low curb weight helps make the most of the driving experience by allowing the use of lighter-weight chassis components, which reduces unsprung weight to enable more precise handling without compromising ride quality.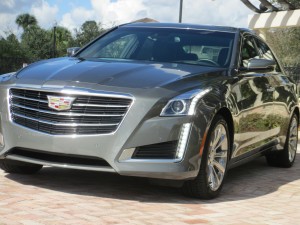 The CTS sedan's low mass and optimal brake sizes give it braking performance that is among the best in the segment, with standard Brembo front brakes.
Suspension and driver control highlights also include:
Multi-link MacPherson strut front suspension with a double-pivot design
Five-link independent rear suspension
Available all-wheel-drive
Premium electric, variable-assist power steering gear from ZF Steering Systems
Available Magnetic Ride Control real-time damping system
Choice of 17-, 18- and 19-inch aluminum wheels.
A number of aluminum components are used with the suspension system, while the rear suspension is mostly steel. That helps offset the weight of the engine and transmission at the front of the vehicle, helping the CTS deliver its near-perfect weight balance and reducing noise and vibration.
Additionally, CTS's all-wheel-drive system – available with the 2.0L Turbo and 3.6L V-6 – is designed to make the most of handling and stability in all driving conditions. It is an advanced, fully automatic and on-demand system that includes wheel-slip management.
The performance-oriented, rear-drive-only V-Sport takes the CTS driving experience to a higher level, with these unique features:
Eighteen-inch aluminum wheels with Pirelli summer-only performance tires
Sport-tuned suspension with enhanced spring rates and stabilizer bars
One-inch-wider rear wheels with P275/35R18 tires
A quicker steering ratio with sport-tuned steering efforts and response
Brembo disc brakes with aluminum calipers and available high-performance brake pads
Heavy-duty track cooling package
Driver-selectable track mode with specific throttle progression and Magnetic Ride Control calibrations for track driving
Electronic limited-slip differential that enhances capability on the track – including optimal acceleration out of turns.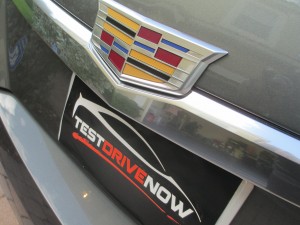 The Cadillac Twin-Turbo is paired with a high-performance, paddle-shift eight-speed automatic transmission that offers efficiency and performance advantages over a six-speed transmission – including 1.5-percent greater fuel economy.
The paddle-shift eight-speed delivers smooth, quick shift performance – as quick as 0.3-second on wide-open-throttle upshifts – with the quietness, smoothness and refinement Cadillac customers expect. Smaller gear steps – closer ratios – support world-class performance, with quicker, more imperceptible shifting.
Safety features
Advanced safety features on the CTS Sedan are based on Cadillac's "control and alert" strategy that employs advanced technologies – including radar, cameras and ultrasonic sensors – to help prevent crashes. The safety features bolster driver vision and awareness of road hazards, and can even assist to help the driver avert potential crashes.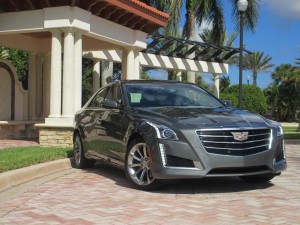 Among the most sophisticated of the features is front and rear automatic braking, which automatically applies the brakes in potential collision situations to help reduce damage or help avoid a collision with vehicles directly in front or behind.
Many of the advanced safety features are bundled in the Driver Awareness and Driver Assist Packages. The Driver Awareness package is standard with Luxury, Performance and Premium Collections, as well as V-Sport. It includes:
Safety Alert Seat
Side Blind Zone Alert
Lane Change Alert
Lane Keep Assist
Lane Departure Warning
Forward Collision Alert
Rear Cross Traffic Alert
IntelliBeam® high-beam control
Rainsense wipers.
The Driver Assist package is available on Performance and included on Premium Collections (include V-Sport Premium) and includes all of the Driver Awareness package content, plus:
Full-speed-range adaptive cruise control
Automatic safety belt tightening
Front and rear automatic braking.
The advanced technologies complement the CTS's other safety features, including 10 standard air bags, safety belt pretensioners and load limiters, Rear Vision Camera, StabiliTrak electronic stability control system with full-function traction control and four-wheel disc brakes with four-channel ABS, patented Duralife FNC-treated brake rotors and auto-dry brake functionality.
OnStar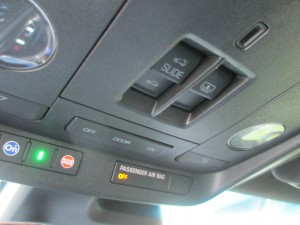 In addition to the new OnStar 4G LTE with standard built-in hotspot, OnStar offers other benefits to Cadillac CTS drivers. At the time of purchase, one year of OnStar Guidance includes all of OnStar's advisor-based safety and security features, including Automatic Crash Response and Stolen Vehicle Assistance, as well as Turn-by-Turn navigation.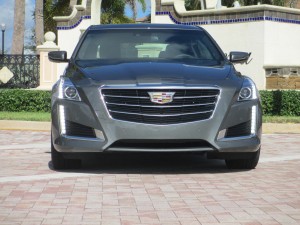 Five years of OnStar Basic Plan includes RemoteLink Key Fob Services, allowing owners to remotely start and lock/unlock a car (if properly equipped), and activate the horn and lights from anywhere with a data connection. It also includes OnStar Vehicle Diagnostics, which runs monthly checks of a vehicle's engine, transmission, anti-lock brakes and more, and Dealer Maintenance Notification, which sends a diagnostic report directly to a preferred dealer, simplifying service scheduling.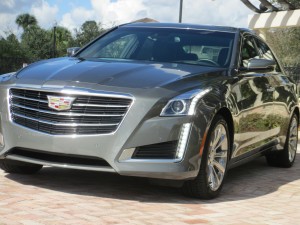 2016 CADILLAC CTS 4 AWD 3.6L SEDAN MSRP $64,685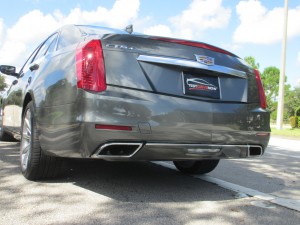 AS SHOWN WITH OPTIONS AND PRICING $66,425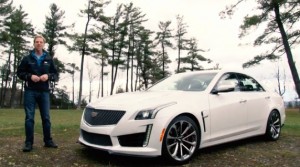 CLICK HERE & WATCH AUTO CRITIC STEVE HAMMES REVIEW OF THE 2016 CADILLAC CTS-V  https://testdrivenow.com/2016-cadillac-cts-v-video-review/