2016 BMW 750i VIDEO REVIEW
2016 BMW 750i VIDEO REVIEW by Auto Critic Steve Hammes
The Ultimate Driving Machine – a BMW tag line we all know well. And while that's often apropos, here in the all-new 6th generation 7 Series the best seat in the house is likely not the one in front of the steering wheel.
A German-built flagship sedan: the iconic status symbol of the buttoned-up executive. You probably envision the prototypical Mercedes S-Class and indeed, that model is chosen more than 2-to-1 over its closest rival, the BMW 7 Series. But this time around, BMW is dispensing of its stodgy interior reputation with an all-out assault on the senses, both from a technology and ambiance standpoint. From the fragrance ionizer with selectable aromas and intensities to unparalleled rear passenger controls via removable tablet and remote control, BMW is making a statement; we will not be outdone in the electronics arena.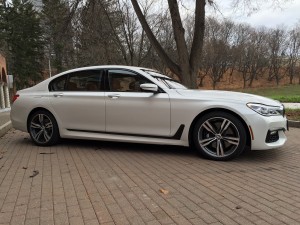 And when ordered with the Luxury Rear Seating Package and Panoramic Sky Lounge LED Roof, it's truly a remarkable experience. But it's even way more impressive at night.
Beware; if you go to your BMW dealer to test-drive one of these at night, it'll be goodbye to 100 grand because the eye-popping experience from the rear seats will have you hook, line and sinker. It's this car's oh-wow, show it off to your friends and family moment, elevating automotive interior lighting into another galaxy. There's even this LED Light Carpet for some outside theatrics. Like most of the car's mindboggling features, the color and intensity of the lighting can be controlled from any seat. This is where the 7 Series conversation starts.
This is the top-trim 750i xDrive – that's all-wheel drive in BMW-speak. There's no more short-wheelbase model. All 7 Series now come in at 206.6" long; stretched 1" beyond the previous long-wheelbase car. But thanks to the extensive use of carbon fiber reinforced plastic and other lightweight materials, this car weighs nearly 200 pounds fewer than before. The 750i is the V8-powered model and its 4.4-liter twin turbo has been redesigned with twin scroll air chargers, a higher compression ratio and greater breathing efficiency. It doesn't move the output needles, as it's still rated at 445 horsepower and 480 pound-feet of torque, but the power builds earlier in the rev range and the 8-speed auto's new control system helps make the car quicker and more efficient. Power delivery is exceptionally robust with a launch-controlled 0-to-60mph time of 4.3 seconds. Unless you're in the gas-saving ECO PRO mode, the 750i has a propensity to lurch a bit when you step on the gas in around the town driving. Gas mileage is a tad better than before, rated at 16mpg city/25mpg highway with the use of a stop/start system. But when equipped with the optional M Sport Package and its exhaust system, this car not only feels effortlessly energetic but it sounds good too with an appropriate, luxury-level soundtrack inside and sports car sounds outside. But the optional Integral Active Steering bundled with the debut of Active Comfort Drive –aimed to set the standard of driving comfort – lends to a curious ride quality that I'm still deliberating. Sometimes it feels far too mushy…
…then other times I can't believe I just took that exit ramp at that speed while the car dutifully held its line with no body roll.  From start, the car defaults to the Comfort setting and that seems as if it's riding on a dolly, very detached from the driver.  I immediately switch over to the new Adaptive mode which adjusts on the fly, even taking information from the navi.  At the end of the day, I'd test a model with and without this pricey Autobahn package before deciding if it's to your liking.  It can be weird or it can be amazing.
Either way, it's an exceptional piece of engineering by which a car of this size can keep its occupants so isolated from the road while maintaining impressive agility.
I could spend an hour going over the notable features this car possesses but let me highlight a handful.  Control is in the hands of the rear passengers via this detachable tablet.  So while they lay their head on the pillow, recline and enjoy a heated massage, access to almost all of the car's myriad functions are in their hands.  Additionally, a remote control is used for the dual multimedia screens.  One interesting note – the seats are positioned high so there's not as much headroom as you'd think.  You may have seen the optional Display Key in the car's advertising – it's kind of bulky and not that impressive, especially with no remote start.  It recharges wirelessly in the center console or via USB and costs $250.
It's a cool, magic-like moment to show off to your friends but Gesture Control seems a bit gimmicky…I can do most of these jobs more efficiently. I'd say a greater advancement is this new touchscreen.
There's more than one way to skin a cat here, so you can write, touch, speak or gesture to accomplish a host of tasks. There's an excellent surround view parking assistant and it's able to park itself in parallel and perpendicular spots. The Bowers and Wilkins sound system is the only thing to break the silence and it produces gorgeous sound. The controls have been modernized with lots of touch functionality, making many features easier to use. On the safety front, all of the driver assist features can be individualized so you can shut off what you don't like and there's a night vision system with pedestrian detection. Semi-autonomous features allow you to better handle traffic jams by doing most of the grunt work for you. The head-up display is bigger, everything has an auto setting and the LED roof takes a page from Rolls-Royce to create an amazing atmosphere.
If you're a technophobe – just go. Run as fast as you can because this car has the most electronic interior I've ever seen and not all of it is easy to use, even for someone who loves this stuff.
iDrive 5.0 is OK but sill unnecessarily complicated, fed by BMW's infatuation with little symbols. Just copy Hyundai's system and be done with it. Plus, how is it that there's no Apple Car Play here?
Pricing for the base 6-cylinder 740i  starts at $82,295 while this range topping, fully loaded 750i xDrive stickers for $127,945; a groundbreaking car for those with the means and desire to taste the future of luxury motoring.
Tagged with:
2016
,
7 series
,
750i
,
BMW
,
Future
,
latest video
,
Luxury
,
reviews
,
road test
,
steve hammes
,
test drive
,
xDrive