2014 Ram Power Wagon Video Review
2014 Ram Power Wagon Video Review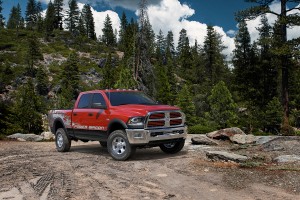 Whether it's used as an emergency rescue vehicle or just a ridiculously capable truck to take you to even the most remote lake the new Ram Power Wagon is a no-holds barred off-road piranha.
There's a history behind this truck worth noting.  Used as a military weapons carrier during WWII, returning soldiers asked Dodge to build a civilian-grade model that was just as tough as the truck they had been driving over there.  And in 1946 the Power Wagon for the people, known as the WDX, was born.
Ram ahead nearly 70 years and the Power Wagon is still built upon the credo of being the most off-road proficient truck on the market –with a host of significant changes for 2014.
First off, there's a new point of command.  Ram upgrades the Power Wagon to the 392 HEMI.  Everything about this truck is oversized so engineers turned to the 6.4-liter V8 which has been uniquely calibrated to improve low-end force as well as for a delicate throttle response when off-roading in 4-low.  It's a killer engine, easily taming this 6,700 pound beast with its 410 horsepower and 429 pound-feet of torque.  Despite its cylinder-deactivation technology – letting just 4 pistons do the work when feasible, my week long average ended up at 12.5mpg on regular gas.
The Power Wagon's co-headline is its all-new suspension system, featuring Bilstein shocks and something Ram calls Articulink; high movement joints leading to greater axle articulation.
When even more suspension flex is needed the Power Wagon packs an electronic disconnecting sway bar to allow the front axle to move more independently of the truck's frame.   Ram calls it the Smart Bar and it can be disengaged as long as you're in 4-wheel drive and travelling at speeds below 18mph. And in the rear where leaf springs used to reside you'll now find coil springs giving this gigantic rig's ride quality a suppleness I didn't see coming.
With over 14" of ground clearance and a water fording depth of 30" you can just keep on keepin' on.  I mean, this truck feels seriously tough.
So when you're out here…on the rocky, rutted and muddy trail the Power Wagon uses its multitude of axle control techniques, 2" of lift and 33" Goodyear Wrangler Duratec tires to turn a trail like this into a walk in the park.  I cannot get over how defiantly focused it is, clearly overqualified for the off-road journeys I subjected it to.  And the suspension separates you from the action, meaning the cabin remains serene.  No rotary dial in here, the Power Wagon has an old school column shifter for the 6-speed auto and a floor shifter for the transfer case.  Electronic controls are reserved for axle and sway bar activities.  Underbody protection keeps the important stuff covered.  And when you need to pull a less capable vehicle from the deep stuff, a 12,000 pound Warn winch is there to the rescue.  It can also tow over 10,800 pounds.
As for making the Power wagon your daily driver…well, the biggest obstacle is simply getting in.  There are no assistive devices like running boards, so my wife and daughter literally needed me to boost them up.  It can also be difficult to see over the tall hood when traversing an incline.  But its on-road ride is shockingly quiet, refined and coil-spring smooth.  The retro recirculating ball steering and commercial-grade 17" off-road tires do lend to a bit of roller skating but as long as you're comfortable looking like a complete redneck degenerate and can find a secluded parking spot big enough to contain it, the Power Wagon is an incredibly versatile, go anywhere vehicle.  We joked all week that Ram should offer this with a Confederate Flag package replete a peeing boy sticker and a case of Genny Light for the Ram Box.  This midtrim SLT model receives the most in-your-face visual treatments and is the only one in the Power Wagon triumvirate to come standard with these horrible decals, but you can choose to delete them at no cost.
All Power Wagons are 2500 Crew cab models with a 6' 4" box.  Pricing for the base Tradesman trim starts at $45,690 while the range-topping Laramie begins at over $56,000.  My SLT tester with a plethora of comfort and convenience upgrades which venture into luxury territory, stickers for $55,455.  The Power Wagon is one of the most impressive off-roaders I've ever driven and it's full of smart and clever features to make life easier and elevate your driving confidence.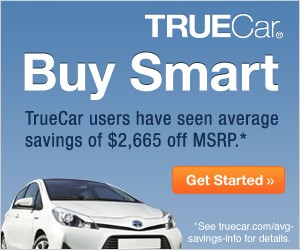 CLICK HERE to get your TRUECAR SAVINGS CERTIFICATE for your new RAM. Absolutely NO OBLIGATION. 

CLICK HERE TO FIND THE BEST DEAL ON TIRES FOR EVERY MAKE AND MODEL CAR, TRUCK OR SUV. SPECIAL DISCOUNTS FOR TESTDRIVENOW FANS.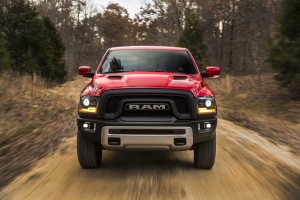 WATCH AUTO CRITIC STEVE HAMMES FIRST LOOK AT THE 2014 RAM 1500 rebel.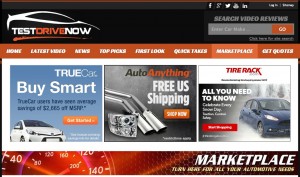 CLICK HERE TO FIND TODAY'S HOTTEST DEALS FOR ALL YOUR AUTOMOTIVE NEEDS.

CLICK HERE to LIKE TestDriveNow.com on FaceBook!

FOLLOW Steve Hammes on Twitter @DriveTimeVideos!
Tagged with:
2014
,
2500
,
auto critic
,
Dodge
,
Heavy Duty
,
HEMI
,
latest video
,
Power Wagon
,
Ram
,
reviews
,
road test
,
steve hammes
,
test drive
,
top picks