VOLVO XC60 T8 2018 VIDEO REVIEW
VOLVO XC60 T8 2018 VIDEO REVIEW BY AUTO CRITIC STEVE HAMMES
Seventy-five percent of Volvo buyers drive off with one of the brand's 3 SUVs and it's this 60 series that resides in the sweet spot of the XC trifecta…currently 1 of 4 Volvo models available as a plug-in hybrid.
So it's been off to Maine for the week for a little sun and sand with this range-topping XC60 T8…the designation Volvo gives to their plug-in hybrid models. On top of that, this is the highly luxurious Inscription trim.  And furthermore, it has every significant option.  A base, turbocharged, all-wheel drive XC60 stickers in the low $40ks, but when you push all of your chips to the center, this fully loaded T8 E-AWD Inscription comes in at $71,590.  The financial leap from gas-only to plug-in hybrid status isn't cheap – $8,000 to be exact.  But the T8 takes horsepower from 316 to 400, and torque from 295 pound-feet to a robust 472.  And it's the only XC60 that turns in a 0-to-60mph time of under 5 seconds.  But it's the T8's potential fuel savings that likely interest shoppers the most.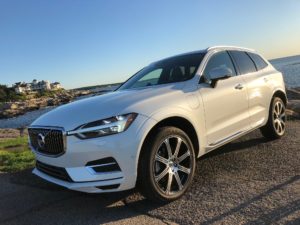 A full battery and ideal ambient air temperatures produce 18 miles of predominantly electric driving from the start.  For some perspective, a Porsche Cayenne delivers 14 miles of EV driving while the Honda Clarity goes all the way to 50 miles.  Press the gas pedal deeply enough though and the XC60's turbo- and supercharged 4-cylinder engine will fire even with EV miles left on the battery.  A plethora of selectable driving modes can tailor the experience, but it's the default Hybrid setting that allows the XC60's brains to sort out the best powertrain solution.
During that initial EV driving, the XC60's mileage is rated at 59MPG-equivalanet.  After that, expect about 26mpg during normal hybrid operation – on premium gas, of course.  I've diligently plugged in at each opportunity and have averaged nearly 30mpg with lots of highway miles where the XC60 is less efficient.  So just like all plug-ins, your results will widely vary depending on how and how far you drive.  Short trips around town might use no gas at all.  One note though: because the T8 has a smaller fuel tank its total driving range is the smallest – the only XC60 that can go less than 400 miles when full.
Fully charging the XC60's battery is pretty much an overnight job with your standard 120 volt household outlet like I have here. But up that to 240 volts, say like at your public charging station, and you can get the job done in about 3 hours.
It is not compatible with fast-charging.
Though this all-new XC60 has been on sale for nearly a year, this has been my first experience with it and spending extended time while on a trip is the best way to get to know a vehicle. Having driven a number of the new 90 series models, the XC60 is instantly familiar in terms of its appearance and driver interactions.  If you know one, you know the other.  Volvo's styling and design are distinct, clean and beautiful with attention to detail.
Whether from inside or out it's a feast for the eyes.  The Maroon Brown soft Nappa leather seats are heated, cooled and massaging – just perfect for my vacation travel.  A turn of this knob gets things started as the computers boot up in delectable EV silence.
Though the crystal gearshift knob is a beautiful touch, I really dislike having to push and pull it twice to engage drive and reverse.
I love the optional 360 degree camera. As a matter of fact, it's one of my favorite new car features…invaluable in tight parking situations like you face at the beach.  But I don't want to have to mess around with Sensus in order to turn it on.  It needs an easy access button.  One of the unfortunate byproducts of Volvo's uncluttered cabin philosophies.
If my list of Volvo complaints is beginning to sound like a broken record it's because all of their new vehicles are pretty much the same. For example, this has the same powertrain as the last XC90 I tested.  And though it's a marvel from a technological standpoint, after those 18 miles of electric are gone you're left with economy car engine sounds.  And though the hybrid power delivery is very quick it fails to satisfy in a luxury manner.
Pilot Assist could also use a 2nd generation as it continues to have difficulty keeping the XC60 centered in the lane…not very confidence inspiring.  And yes, the Sensus system often takes too long to boot up meaning changing things like a radio station or turning on your cooled seat often require a waiting period.  Now to its credit, these Nappe leather, massaging front seats are a godsend to travelers, the vast electronic safety systems speak to Volvo's strong suit and its SUV versatility is actually quite high meaning it makes for a great family mover.
Getting all of our gear into the XC60 was a breeze…its dimensions are perfect for family duties. There's a hands-free liftgate, remote switches to decisively flatten the rear seats, an underfloor compartment for stowing the plug and an elastic band perfect for transporting your empty propane tank to the hardware store.  The cargo area is very well managed and never leaves me needing more.
The optional 4-Corner Air Suspension comes in handy because it automatically lowers the vehicle for easier exit and for unloading cargo. It can also be manually triggered from back here.  But I am shocked by how little the air springs help with the overly firm ride quality.
From the moment I entered the highway I wondered what happened to Volvo's lovably soft ride. And with the $1,800 air springs to boot?  Very curious.  If you're in the mood for a fun drive, the Power setting does indeed deliver a very quick and sharper handling XC60 that takes advantage of the dynamic chassis.
For my backseat riders, there's ample stretch out room despite the non-adjustable seats and the backrests aren't as upright as in the XC40. And the panoramic moonroof is always the perfect addition. But USB port, climate control and sunshade omissions are conspicuous at this lofty level.
For me, the highlight is the XC60's incredibly quiet, smooth electric-only operation…it's been fun spooking unsuspecting pedestrians. And though I have issues with Sensus it's loaded with features and looks great in this impeccably crafted interior with the aural superiority of the $3,200 Bowers and Wilkins sound system.  The heads-up display is always welcome and the safety features are off the charts, including the new Steer Assist that in conjunction with the Blind Spot Indication System further reduces the risk of changing lanes.
After our nearly 2 weeks together the XC60 mostly pleased and occasionally disappointed. If I wanted one though I'd likely skip the plug and consider the T6 model instead.
Tagged with:
2018
,
auto critic
,
DT with Steve Hammes
,
e-AWD
,
family vacation
,
Hybrid
,
INSCRIPTION
,
PHEV
,
plug-in
,
reviews
,
road test
,
steve hammes
,
T8
,
test drive
,
Volvo
,
XC60