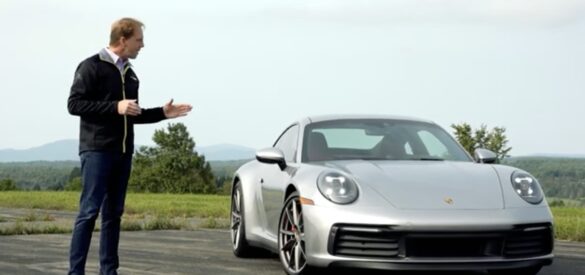 2020 PORSCHE  911 CARRERA S TEST DRIVE BY CAR CRITIC STEVE HAMMES. When you're really passionate about something you dive deep into your desires. If you're an audiophile you'll pick up on every nuance of the speakers, or if you're a watch collector you'll have intimate knowledge of its inner workings. And that's what buying a Porsche is like; it's a car for the driver who appreciates exactness and demands the best no matter the cost.
The priciest options on this tester are the Black/Bordeaux Red leather interior, the Adaptive Sport Seats with memory, the Sport Package which includes the exhaust, the front axle lift system to keep that chin off the ground, the rear axle steering and the Bose sound system.  As-tested, this car comes in at $137,570 and features new easier to control touchscreen infotainment with wireless CarPlay and other innovative features.
At face value you could say it's just another Silver 911…but its added muscularity and new lighting design give it the subtle newness you're looking for while retaining its unmistakable silhouette.