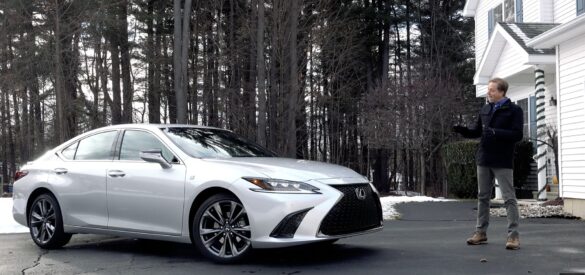 My first go around in this current generation ES was 2 years ago when Lexus last redesigned it.  I really embraced the changes but ultimately decided that the hybrid powertrain was simply not for me.  Well now, Lexus is offering the ES with all-wheel drive for the first time but unfortunately they've paired it with the wrong engine.
Just to make it clear, I like the ES… but not like this.  With the 4-cylinder engine, this has to be the slowest luxury car I've ever driven and I'm not one that believes everything has to be a sports sedan; far from it.  I love cushy, smooth rides and quiet cabins.  But this here is a mistake and putting the F SPORT badge on it is an insult to the letter F and the word Sport.  So just make sure the numbers after your ES begin with a 3 and not a 2.
The ES F SPORT is an attractive, conservatively styled car with a little extra flair that when V6-powered can make for a worthy luxury companion.
Tagged with:
1 LEXUS
,
202
,
250
,
Car Critic
,
DTwithSteveHammes
,
ES
,
f sport
,
latest video
,
reviews
,
road test
,
test drive