Porsche Panamera 4 E Hybrid 2018 Review
Porsche Panamera 4 E Hybrid 2018 Video Review by Auto Critic Steve Hammes
Porsche's 4-door sports car comes in a variety of flavors including this new wagon-esque body style for added versatility. Oh, and this one also includes a plug for up to 30 miles of electric propulsion.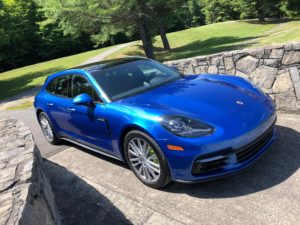 This is the Panamera 4 E-Hybrid Sport Turismo.
"Porsche builds a wagon?" I heard that a number of times this week, referring to what is called the Sport Turismo version of the brand's executive car.  Compared with the traditional Panamera sedan, the ST provides easier access to the slightly expanded cargo area while for the first time adding 5-passenger seating potential.  This model comes standard with all-wheel drive and compared with the Panamera 4 E-Hybrid sedan costs an additional $4,400.  An extra 1.7 cubic feet of cargo capacity doesn't seem like much of a selling point but the raised roofline at the rear provides more head clearance when getting in and out and the wide, lowered luggage compartment makes loading less taxing.  But I'm guessing the Sport Turismo buyer simply wants a little more separation from the standard bodystyle…a bit more exclusivity.  And it does look cool.  I'll give Porsche that.
Base price is about $105,000 and this particular car has the shortest options list of any Porsche I've ever seen, none of which is a smart way to get into the car.
And I don't care what Porsche fanboy has to say; having to use this to get into my $120,000 car is embarrassing.
But more exciting than the new body is its plug-in hybrid powertrain; very impressive, indeed. Though the official EPA estimates have this car at 16 miles of all-electric driving before it becomes a gas-electric hybrid, I was seeing about 28 miles on a full charge with ideal ambient temperatures.  In this EV mode, the Panamera feels stealthy and electric-quick with 295 pound-feet of torque available right from the start.  If you've never driven an electric car the sensation of smooth, quiet, immediate, acceleration is very gratifying.  And with launch control, you can keep the engine dormant for a battery sapping 0-to-60mph run of 5.8 seconds or dial into Sport Plus and tap the twin-turbo V6 to reduce that to a mere 4.4 seconds.  Total system output is 462 horsepower and 516 pound-feet of torque, a significant energy increase over the non-hybrid model and more than enough to overcome its additional 684 pounds.
The E-Hybrid gives the driver a number of powertrain management options, all of which are readily accessible both at the wheel and on the touchscreen.  The car defaults to the all-electric E-Power mode upon startup and then will mix in the engine for a traditional hybrid experience in the Hybrid Auto mode.  E-Hold allows you to preserve the battery's energy for later use, E-Charge uses the engine to replenish the battery and then for maximum fun and sports car sounds, Sport and Sport Plus keep the engine in play while tuning the car's vitals for maximum sportiness with the highest electric boost possible.  And at any time and in any mode, you can press the Sport Response button for a 20 second steroid injection.  Having already driven the Panamera 4S last year, I'm glad to report that the E-Hybrid Sport Turismo preserves that car's delectable driving dynamics – so easy to control and drive fast, sport modes setup the air suspension, rear axle torque vectoring, anti-roll bars, throttle response, steering and engine sounds to deliver a true sports car experience.
It's a magnificent drive with spry moves, incredible grip and exactness to its controls that define Porsche performance.  But more than that, it's downright fun with an 8-speed dual clutch transmission that enjoys being paddle-shifted and optional rear axle steering that makes it both more manageable at low speeds and more stable at higher ones.
The Panamera is a true Porsche in that it doesn't make compromises to its driving acumen. It's spectacular from behind the wheel with every ounce of driving precision you'd expect and a high level of comfort you might not. The E-Hybrid component delivers serene electric motoring at first and a torquey power boost on demand. I love having the drive mode selector right here on the wheel. But there are aspects of its $120,000 price tag that are less desirable. This car is actually not heavily optioned for a Porsche and as such it's a bit lacking. Beyond the comfort access omission, this car needs the deeper bolstering of sport seats, a better sound system, hands free lift gate and higher quality switchgear.
Porsche's new infotainment is pretty good with some unique features like a way to see what's going on in the community around you and a charge station finder but the touchscreen is so vertical and somewhat low that I have to contort my hand to make it work. The shifter is also troublesome to get into gear quickly.  It's certainly comfortable enough in all 4 spots though…no one wants to use this new 3rd seatbelt back here…and the dual moonroofs add light into this otherwise dark cabin.
The most prominent extras on this car consist of Porsche InnoDrive including Adaptive Cruise Control which uses the navigation system to scan the road ahead taking corners, gradients and maximum speeds into account, 20" wheels, 14-way power seats with memory, rear axle steering, and lane keep and lane change assist.  And you'd be nuts to not pay the extra $840 for the upgraded onboard charger.  At 240 volts it takes less than 2 ½ hours to replenish.  As with all plug-in hybrids mileage is going to vary widely based on miles driven but for what it's worth it's rated at 46MPGe in EV mode and 22mpg after that. Priced here at $120,390 before the available $6,670 Federal Tax Credit, this Panamera looks, feels and drives in a special way that leaves me wanting more.
Tagged with:
2018
,
auto critic
,
DT with Steve Hammes
,
E-Hybrid
,
Hybrid
,
latest video
,
luxury wagon
,
Panamera
,
Porsche
,
reviews
,
road test
,
Sport Turismo
,
steve hammes
,
test drive
,
Wagon