Ford Mustang GT PP2 2018 Review
Ford Mustang GT PP2 2018 Review By Auto Critic Steve Hammes
When you're shopping for a new Mustang there are a lot of choices staring you in the face: Fastback or Convertible, turbo-4 or V8? Maybe you'll even consider the new 10-speed auto. And then there's this new option called Performance Pack Level 2.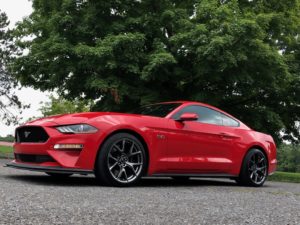 It's a significant investment but if you're in search of a more track-honed GT, you're going to want to check this out.
It starts with the 5.0-powerd GT Fastback with the 6-speed manual, priced from $36,185. When you build it, you'll see there's a GT Performance Package option that adds about $4,000 to the MSRP.  Move past it though and choose Performance Pack Level 2 and you'll get all of the features of the lesser grouping including unique chassis and antilock brake tuning, unique stability control and electric power-assisted steering, Brembo™ six-piston front brake calipers with larger rotors, a k-brace, larger radiator, silver-painted strut tower brace and a TORSEN® limited slip rear differential with 3.73 axle ratio PLUS this one cops a lower stance, a redesigned front splitter and rear spoiler, ultra-wide, competition-ready Michelin Pilot Sport Cup 2 tires and a custom-tune for the MagneRide active suspension replete with quicker steering, beefier stabilizer bars and stiffer springs for less body roll. The easiest way to spot one of these PP2 Mustangs is to look for these 10-spoke Dark Tarnish wheels and then peak inside to see if the owner chose these deeply bolstered Recaro seats in cloth or leather.
In Race Red this is one of the most beautiful Mustangs I've ever seen. And for 2018 it's been given a thorough freshening.  Sure there's more power, but the chassis has also been upgraded, the cabin looks and feels fresher with better electronics and here's a cool feature – an exhaust setting that won't wake the neighbors.
The $895 Active Valve Performance Exhaust allows you to set the pipes to a Quiet mode right from startup so no one gets upset. Get it out on the open road and you can continue to crank it up or just let it work in concert with the various drive modes to match the setting.  It is a spectacular sound that is distinctly Mustang 5.0.  Reworked with both direct- and port fuel injection and revving higher, this classic V8 now makes 460 horsepower and 420 pound-feet of torque and can rip through 60mph with a launch control or Drag Strip Mode-aided 0-to-60mph time in under 4-seconds.  15mpg city/25mpg highway on regular is what you can expect.  While PP2 has been designed to further bridge the gap between the regular GT Performance Pack and the mighty Mustang GT350, this is still a car you can enjoy off the track.  But there are some caveats.
Beyond all of the cool electronic goodies like Line Lock and Drag Mode, this PP2 Mustang's drive is defined by these competition tires. They're wide, slick and tend to steer the car every which way but straight…tramlining worse than the old Vipers did.  If the pavement looks anything less than pristine you're going to be playing tug of war with the wheel.  In dry conditions you'll love their tidal-inducing grip, in a rainstorm you'll be reaching for the wet drive mode and crossing your fingers.  So as an everyday driver – PP2 is a no.  But man, in the right conditions this Mustang can haul, it sounds great and is super fun to drive.
With the increased downforce of the honed aerodynamics and the glued to the road nature these tires afford, this is a Mustang that is just begging to be thrown into a curve so that it can flex its pumped up muscles. The 6-speed has been upgraded to better handle the grunt and is a perfect dancing partner for this motor.  It's easy to drive though the springy clutch pedal can occasionally catch you off guard.  Though getting in and out is less than graceful, the driver's position, pertinent controls and new displays provide a right-at-home feeling that imbue a sense of muscle car invincibility – highly engineered yet true to the original.
I love the Pony switch on the wheel that allows you to quickly tap all of the performance settings and the video game-like instrument cluster that is highly customizable. The Pony projection and selectable ambient lighting is just icing on the cake.
At $51,375 as-tested, this Mustang feels like a bargain proposition for someone who intends to drive this car beyond public roadways. That price does not include items like side blind zone alert or any of those types of advanced safety features however. So when a Shelby is too rich for your blood, this Mustang can feed your need for speed quite nicely.
Tagged with:
2018
,
auto critic
,
DT with Steve Hammes
,
Ford
,
GT
,
latest video
,
Mustang
,
PP2 reviews
,
road test
,
steve hammes
,
test drive