DEBUT OF 2017 TOYOTA HIGHLANDER MID-SIZE SUV AT NEW YORK AUTO SHOW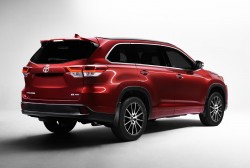 DEBUT OF 2017 TOYOTA HIGHLANDER MID-SIZE SUV AT NEW YORK AUTO SHOW
Toyota will be debuting the significantly enhanced 2017 model year Highlander mid-size sport utility vehicle (SUV) on Wednesday, March 23 at the upcoming New York International Auto Show.  The popular Highlander, receives an array of new and updated equipment and technology, inside and out, including a new Direct Shift 8-speed (8AT automatic transmission).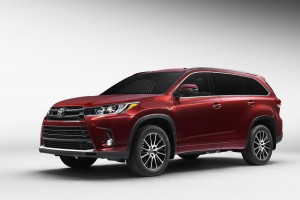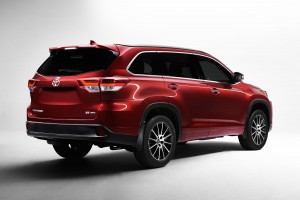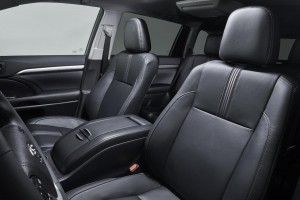 Highlander is a no-compromise mid-size three-row SUV that brings together the best in style, technology, comfort, capability, and safety. Its exterior design conveys both refinement and strength, which complements a refined interior that sets a high bar in its segment. The third- generation model, now entering its fourth year, offers room for up to eight, a choice of three powertrains and six model grades, including a new sporty SE model. The Highlander Hybrid adds two new grades, (LE and XLE) to its existing lineup of Limited and Platinum models for a total of four. All Highlander Hybrid models will continue to be all-wheel drive (AWD). The six Highlander gas models will continue to be (LE, LE Plus, XLE, SE, Limited and Limited Platinum) available in both front-wheel and AWD. It all adds up to the ideal family vehicle.Greater Level of Performance
Performance will be enhanced in the 2017 Highlander gas models with the addition of the new Direct Shift 8AT (automatic transmission) that will be paired with a new 3.5-liter V6 Direct Injection Engine. The new transmission is more compact and will provide more transmission efficiency through its 8-speed gear range. The 8AT (Automatic Transmission) will be standard on all V6 Highlander gas models.
The new 3.5-liter Direct Injection V6 Engine will be available on all Highlander gas models and standard on all Hybrid grades. The new engine will generate significantly more horsepower, provide enhanced fuel efficiency, and deliver a more direct driving feel by expanding the lock up range.
In addition to Highlander, the new Direct Shift 8AT (automatic transmission) and 3.5-liter V6 Direct Injection Engine powertrain will be equipped in the 2017 model year Toyota Sienna van.
In an effort to help conserve fuel, Highlander V6 models (excluding LE) will come standard with a new Stop and Start Engine System (S&S). While driving the Highlander, the S&S allows the engine to shut off when the vehicle comes to a complete stop and restarts when the driver lifts their foot off of the brake pedal.
The standard powertrain on Highlander 4×2 LE gas models will remain the 2.7-liter 4- cylinder paired to a 6-speed automatic transmission. All Highlander Hybrid models will continue to receive the electronically-controlled continuously variable transmission (CVT).