CHEVROLET BOLT 2017 FIRST LOOK
CHEVROLET BOLT 2017 FIRST LOOK BY AUTO CRITIC STEVE HAMMES
While the Volt plug-in hybrid provides a combination of electric and gasoline-fueled driving, the all-new 2017 Chevy Bolt is a pure EV, running exclusively on battery power, delivering a total driving range of 238 miles. The 60kWh lithium-ion battery pack spans the entire floor and was developed in conjunction with LG Electronics to provide a unique blend of energy and power.
Like the Volt, it uses active thermal cooling to keep the battery operating at its optimum temperature.  It feeds an electric motor drive unit to propel the car, rated at 200 horsepower and 266 pound-feet of torque providing a quick around-the-town feel and a 0-to-60mph time of less than 7 seconds. The Bolt EV features a new regenerative braking system that has the ability to provide one pedal driving.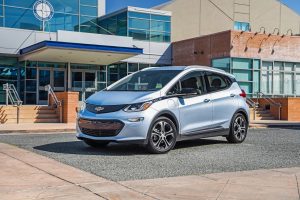 When operating in "Low" mode, or by holding the Regen on Demand paddle located on the back of the steering wheel, the driver can bring the vehicle to a complete stop under most circumstances by simply lifting their foot off the accelerator.
The battery system is mated to an onboard charger for regular overnight charging from a 240-V wall box.  A typical commute of 50 miles can be recharged in less than two hours.  The Bolt also features an optional DC Fast Charging system capable of regenerating 90 miles of range in 30 minutes.
The car's connectivity innovations provide smart, personalized solutions for managing the driving experience. For example, an accurate driving range projection is based on the time of day, typography, weather and the owner's driving habits.
Many of the Bolt driver-focused technologies are supported by OnStar 4G LTE, which turns the Bolt EV into a Wi-Fi hotspot.  And if you like to compete, owners can compare driving styles to determine who is driving most efficiently.
Classified as a small station wagon by the EPA and rated at 119 MPGe in combined driving, the Bolt – which comes in LT and Premier trims – is priced from $37,500 before an up to $7,500 federal tax credit.
Tagged with:
2017
,
4G LTE
,
Bolt
,
Chevrolet
,
Chevy
,
DT with Steve Hammes
,
Electric cars
,
electric vehicles
,
EV
,
first look
,
latest video
,
PREVIEW
,
steve hammes