ALL-NEW 2017 INFINITI Q60 SPORTS COUPE ARRIVING AT DEALERSHIPS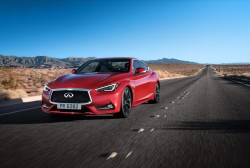 TDN NEWS: ALL-NEW 2017 INFINITI Q60 SPORTS COUPE ARRIVING AT DEALERSHIPS
Select models of the third-generation of INFINITI's iconic sports coupe set to arrive in early September at INFINITI retailers nationwide
Pricing begins at $38,950 for Q60 2.0t rear-wheel drive model
Special INFINITI Q60 Reservation Program now available online at InfinitiUSA.com
Curated gifts for Reservation Program participants include GoPro® Hero4 Silver camera, Bose® SoundTouch® 20 Series III Wireless Music System, Rosewood Hotel one-night accommodation, Tumi Tegra-Lite® carry-on luggage and specially curated culinary experience
INFINITI today announced pricing for select models of the all-new 2017 INFINITI Q60 sports coupe, which will begin arriving at INFINITI retailers nationwide in early September. The Q60 is offered in a range of grade levels, including all-new advanced turbocharged engines and rear-wheel and all-wheel drive configurations.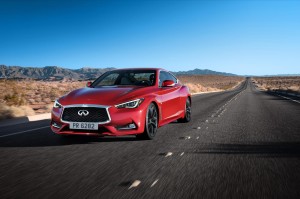 For buyers desiring to be among the first in line for the completely redesigned third-generation INFINITI sports coupe, a special Q60 Reservation Program is available at InfinitiUSA.com. Those who sign up for the program will not only be rewarded with their new Q60, but will receive their choice from a selection of gifts – including a GoPro® camera, Bose® music system and Tumi luggage.
"Like the new Q60 sports coupe, we've selected Reservation Program rewards that fit INFINITI owners' lifestyles," said Randy Parker, vice president, INFINITI Americas. "The real reward, of course, is the new Q60 with its next generation ride and handling technologies and the very latest INFINITI infotainment and driver assist systems."
The Manufacturer's Suggested Retail Prices* (MSRP) for the 2017 INFINITI Q60 are:
Model                                        Engine/Drive                                          MSRP
Q60 2.0t                                       2.0L I4 Turbo / RWD                                 $38,950 USD
Q60 2.0t AWD                            2.0L I4 Turbo / AWD                                  $40,950 USD
Q60 2.0t Premium                     2.0L I4 Turbo / RWD                                  $41,300 USD
Q60 2.0t Premium AWD          2.0L I4 Turbo / AWD                                   $43,300 USD
Q60 3.0t Premium                    3.0-liter V6 Twin Turbo 300 hp / RWD    $44,300 USD
Q60 3.0t Premium AWD          3.0-liter V6 Twin Turbo 300 hp / AWD    $46,300 USD
Destination and Handling $905 USD
Pricing for the 2017 Q60 Red Sport 400 will be announced at a later date.
About the 2017 INFINITI Q60
The all-new INFINITI Q60, a style leader since its original inception, offers a compelling combination of daring design and exhilarating performance and dynamics. The third-generation of INFINITI's renowned sports coupe is offered in a range of two-wheel and all-wheel drive configurations and powerplants – including the 3.0-liter V6 twin-turbo that it shares with the popular INFINITI Q50 sports sedan.
The INFINITI Q60 2.0t is powered by an advanced 2.0-liter 4-cylinder turbo engine, producing 208 horsepower and 258 lb-ft of torque. Positioned as a key entry model to the premium sports coupe segment, the 2.0t provides rich feature content and undeniable style. Notable standard features include 19-inch wheels, LED headlights, Flexible Stop Position doors, 8-way powered high backed bolstered sport seats, contrast stitched dashboard and door panels, Bluetooth® hands-free phone system with streaming audio, and RearView Monitor. The Q60 2.0t Premium grade adds power sliding/tilting moonroof, Bose® Performance Series Audio plus seven speakers (13 total) and more.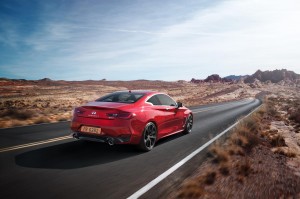 The INFINITI Q60 3.0t Premium features the standard content of the Q60 2.0t Premium but is powered by the all-new VR-series 3.0 liter V6 twin-turbo engine. Positioned as the core volume trim, the 3.0t offers superior V6 performance to comparably priced 4-cylinder competitors.
The new, exclusive VR-series 3.0-liter V6 twin-turbo engine is available in two states of tune – 300 horsepower in the Q60 3.0t Premium and 400 horsepower in the upcoming Q60 Red Sport 400 – and is a more than worthy successor to the renowned, highly awarded "VQ-series" V6 that has been a mainstay of INFINITI performance models for many years. Both of the new VR-series engines have been developed to provide an ideal mix of drivability, efficiency and performance. Around 85 percent of the parts utilized in the VR-series V6 are different from those used in the previous VQ-series V6.