2022 TOYOTA HIGHLANDER HYBRID
2022 TOYOTA HIGHLANDER HYBRID TEST DRIVE BY CAR CRITIC STEVE HAMMES
2022 Toyota Highlander Hybrid Platinum AWD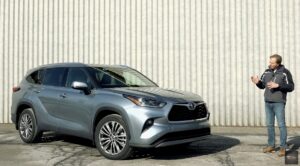 When I first tested this new Highlander a couple of years ago I discovered Lexus-level luxuriousness to this new Platinum trim.  Toyota had taken their popular 3-row SUV and refined it to the point where it blurred company lines.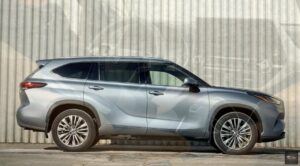 But that one had a V6 that returned a lackluster 23mpg.  This time I'm trying the Hybrid, taking mileage to 35mpg but there's a catch.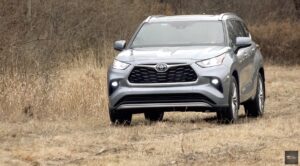 The Highlander was redesigned for the 2020 model year taking on an ultra-premium character and sporting a new level of off-road capability.  I was impressed but what about the hybrid.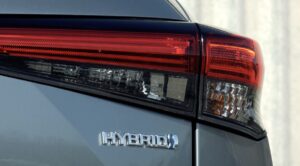 Available in 5 trim levels including a new for 2022 Bronze Edition, pricing for the Hybrid starts at $40,270 for an LE front-wheel drive and tops out here at about $53,000 with all-wheel drive, Moon Dust paint and every feature the Highlander has to offer.  Replacing the powerful and smooth V6 is Toyota's latest gas-electric hybrid design starring a 2.5-liter 4-cylinder engine and 2 electric motors producing 243 total horsepower…52 fewer than in the non-hybrid models.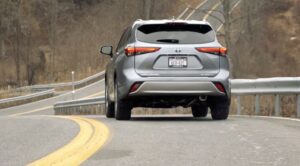 And with the all-wheel drive option there's a 3rd electric motor back here powering the rear wheels, doing its own thing without the need for a mechanical connection to the transmission.  Storing the energy for the motors are old school nickel-metal hydride rechargeable batteries situated under the rear seats.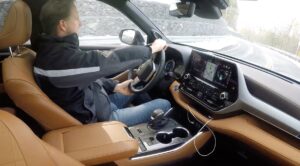 All of this results in the heaviest, least powerful, lowest towing rated Highlander you can buy BUT – and this is of course  the Hybrid's trump card –mileage which is 52% higher than the gas-only model with the secondary benefit being extended driving range.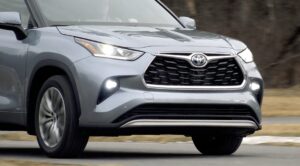 This one will take you 600 miles on a single tank!  And in times like these 35mpg city/ 34mpg highway sounds great for a midsize SUV – though I've averaged a tad less than 30mpg in the winter cold.  But the catch I was initially referring to is in regards to the drive.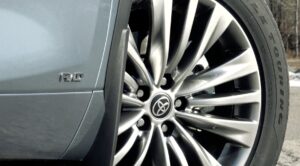 Unlike the smaller Venza which uses a similar hybrid system, the Highlander lets you know this in fact a hybrid.  While the Venza serves as the smoothest hybrid powertrain Toyota offers the Highlander's makes unappealing sounds under acceleration and is less transparent in its gas-electric operation.  It also doesn't feel as snappy.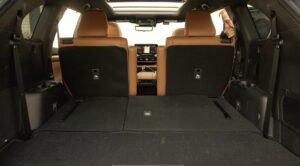 Now, whether or not that bothers you enough to forgo the stellar gas mileage and choose the V6 instead is a personal decision.  A couple of other considerations: The hybrid's max towing is 1,500 pounds less than the gas-only model, there are no multi-terrain driving modes – instead you get one Trail Setting – and Dynamic Torque Vectoring AWD is replaced with a less sophisticated setup here.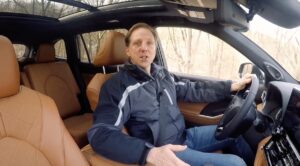 So to reiterate, if you're not a "car person" or particularly dialed into how a vehicle drives everything I just said may be of zero concern to you but if you're sensitive to such things it may give you reason to pause.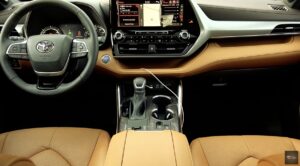 The cabin is gorgeous.  Absolutely top-notch for $53,000…very reminiscent of what you'd find in a Lexus SUV.  And hey, Toyota listened…there's now a height-adjustable passenger seat on XLE grades and above.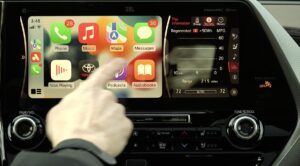 And though there's still no wireless CarPlay or Android Auto this JBL Audio System is astonishingly good.  And the quietness of this cabin lets you take in every note.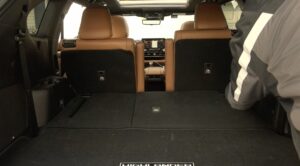 This should all sound familiar to you if you've watched my previous Highlander Platinum review and if you haven't you can do so by clicking the link up above.  Two years later and it's looking fresh and feeling good in here with everything you see included as standard equipment minus the carpeted mats.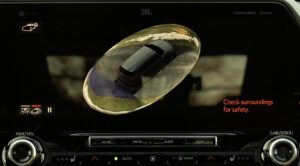 It's stocked with luxury features and modern tech…provides generous room for 4 and/or lots of cargo…and comes with smart driving tech.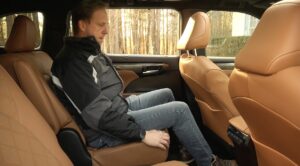 Potential trouble spots come in the easy to access but tight 3rd row seats, the heavy doors which never seem to close on the first try and the lack of smart key entry on the rear doors…all the same beefs I've previously stated…perhaps some of these will be addressed in the Highlander's anticipated refresh later this year.
2022 TOYOTA HIGHLANDER HYBRID TEST DRIVE BY CAR CRITIC STEVE HAMMES  |  TESTDRIVENOW 2022 (c)
2022 Toyota Highlander Hybrid Platinum AWD
Tagged with:
2022
,
3rd-row
,
AWD
,
Car Critic
,
Highlander
,
Hybrid
,
Platinum
,
steve hammes
,
SUV
,
test drive
,
top of the line
,
Toyota