2022 HYUNDAI SANTA CRUZ TEST DRIVE
2022 HYUNDAI SANTA CRUZ TEST DRIVE BY CAR CRITIC STEVE HAMMES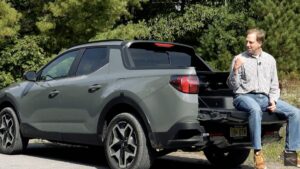 2022 Hyundai Santa Cruz Limited AWD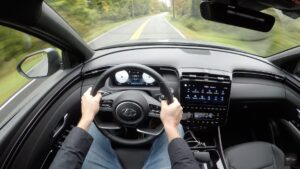 I've always been supportive of car companies who dare to do something different. And when I think back to some of the most memorable cars I've tested names like Baja and Avalanche come to mind.  Which leads me to this new pickup truck/SUV called the Santa Cruz.  I fell in love with it when I first saw it in concept form years ago but unlike most automakers who keep their experiments in the design lab Hyundai has the guts to actually bring this one to market.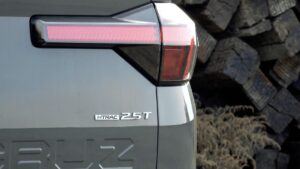 And it's a curiosity worth exploring. 
Looking back through my 20+ years of test drives, the Subaru Baja left an indelible mark for its quirky combination of car and truck.  I always wanted one and in the more than 15 years since its cancelation there really hasn't been anything quite like it…until the Santa Cruz.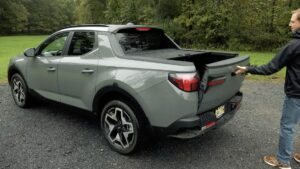 And though it's small for a pickup it's really not that small; similar in length to Hyundai's Palisade 3-row SUV.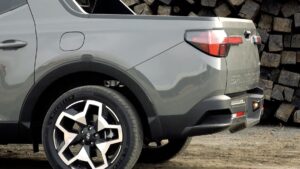 But unlike most other trucks, it still fits in your garage; it's easily maneuverable in the parking lot and can be parallel parked in the city.  You won't need a ladder to get into it, the bed is covered by a sliding, lockable tonneau cover and drives a lot like a Santa Fe – not a truck.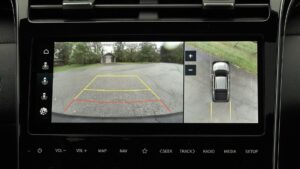 This top-trim Limited model receives a turbocharged engine and all-wheel drive as standard though a front-wheel drive model is coming in early 2022. Its 22mpg bests the old Baja turbo by over 20% but this number still seems less than impressive considering you can get a gas-powered Ram 1500 with nearly identical mileage or a new Ford Maverick that nets 25mpg.  But this engine is no slouch, generating 281 horsepower and 311 pound-feet of torque working through an 8-speed dual clutch transmission.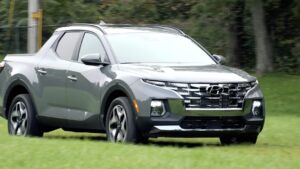 This one can also tow 5,000 pounds and carry over 1,600 pounds in the bed.  Through in some floor mats and the MSRP is $41,140.  Now, for those who don't care about such niceties as leather seats, the big screen navi, and Smart Cruise Control you can go for the base SE front-wheel drive for about $25,000.  But this Limited with its 20" wheels, ventilated front seats and surround view monitor is very well stocked with modern car luxuries that give it a premium SUV vibe.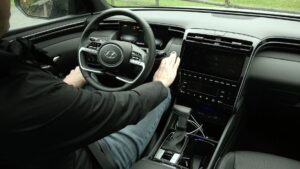 Though Hyundai calls this a truck/SUV crossover the cabin is decidedly car-like and bland.  I wish they had toughened it up and added contrasting colors or some unique Santa Cruz details.  It is very comfortable and quiet with solid tech, but it just doesn't seem to fit what the Santa Cruz is all about.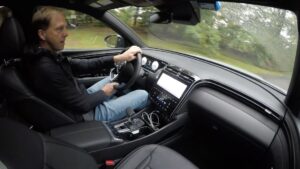 Hyundai says this softer approach is on purpose, contrasting with the boldness of the exterior but for me, I'd rather something a little more truck-like.  And if you've watched any of my Hyundai vids of late then you already know that wireless CarPlay and Android is reserved for the small 8" screen and that phone as a key only works with Android devices…just so you're aware.  The cabin, in general, reminds me a lot of the new Tucson's as does the grille with the daytime running lights cleverly integrated into the grille.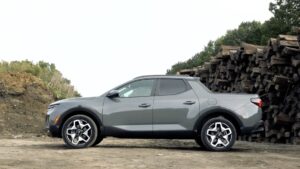 I love the exterior design…from any angle it has presence with a dynamic profile and sport truck back end.  This is called Hampton Gray and though it's not the most exciting color offered it plays nicely with the light to give the Santa Cruz a sophisticated, athletic appearance.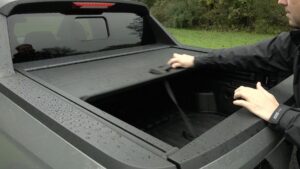 So here's the 4' composite bed replete with an assisted tailgate, lockable, sliding tonneau cover, underbed and sidewall storage compartments, LED lighting, a power outlet and numerous tie downs.  I've had no problem carrying my kayak back here.   And if you want to create a support shelf for say carrying a 4X4 sheet of plywood, there are formings in the sidewall where you could insert 2 2X6s and do just that.  But there are some caveats with this entire setup.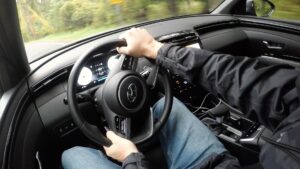 It's not a huge deal but the strap to help pull the tonneau closed can be a little difficult to reach, it's not water tight and when you take it to the car wash you should leave it open as Hyundai says the coating may be damaged by the chemicals.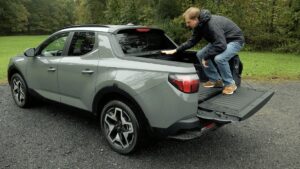 And if I thought living with the 5' bed in my old Tacoma was tough at times this 4' space presents even more challenges.  Like I said, I've been able to get my kayak around without any troubles but 2 of them might be difficult.  Hyundai envisions the Santa Cruz's bed as a place to put muddy gear and other stuff you don't want to throw in the back of your SUV but if you want to make this space more versatile Hyundai's accessory shop sells a bed extender, a cargo bed mat and net and roof crossbars for carriers.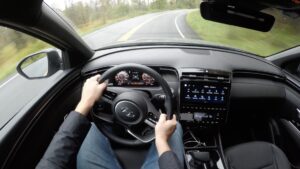 The Santa Cruz drives like a car.  It's nimble, peppy, quiet, comfortable – an anti-truck, if you will.  The turbo is really strong; it rides very comfortably and drives with an unexpected purpose.  And with 8.6" of ground clearance, solid Michelin light truck tires and a switch to lock in the traction of all 4 wheels, the Santa Cruz has the advantage of a full-time all-wheel drive system and not part time like some other small trucks.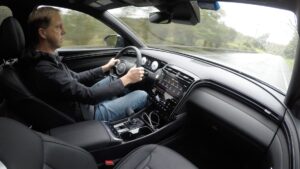 I'm just surprised Hyundai didn't include an off-road mode in addition to the snow setting.       
HTRAC is not a torque vectoring all-wheel drive system but it can send up to 50% of the power to the rear.  It's a pleasure to drive in any setting but all week I've been dreaming up cool things Hyundai could do to the Santa Cruz that could ratchet up the excitement – like an N line sort of thing but in a SEMA off-road kind of way.  They would be remiss not to maximize the coolness factor practically begging to come out.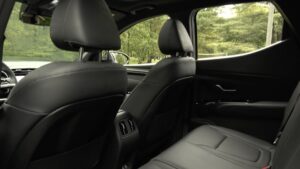 Lastly, the rear seats are upright as you would expect in a truck like this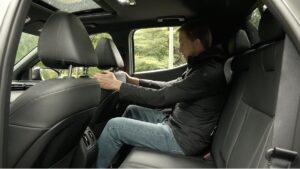 but legroom isn't a problem and they also fold up to reveal some storage, at least on one side.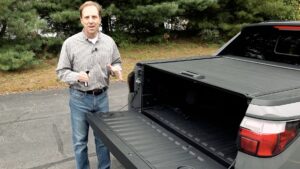 And with the Limited you get HVAC vents back here.  And as I mentioned in my Tucson review the Highway Driving Assistant is as good as smart cruise with steering assist gets without being a true hands-off driving feature.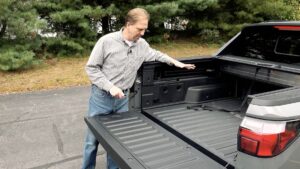 It works on federal interstates.  As for the infotainment, I live with this in my Kona EV and I can attest it's an excellent system with strong voice commands and cool features.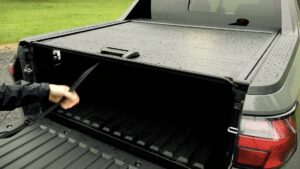 I love the combination of quirky, versatile and interesting and the Santa Cruz checks all of those boxes.  
2022 HYUNDAI SANTA CRUZ TEST DRIVE BY CAR CRITIC STEVE HAMMES  | TESTDRIVENOW 2021(c)
Tagged with:
2022
,
AWD
,
Hyundai
,
latest video
,
Limited
,
pick up
,
reviews
,
santa cruz
,
SMALL PICK UP
,
steve hammes
,
test drive