2020 KIA SOUL REVIEW
2020 KIA SOUL REVIEW BY AUTO CRITIC STEVE HAMMES
Not even Kia could have foreseen the runaway success of this little runabout when it was introduced in 2009, but shoppers quickly took to its combination of quirky styling and practicality to catapult it to one of the brand's best-sellers. And now the next generation is here – immediately recognizable as a Soul but with numerous enhancements to keep the masses satisfied.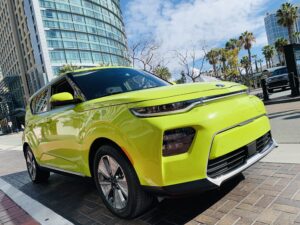 While its similarly boxy competitors have been relegated to the automotive graveyard, the Soul has not only endured, it has thrived. And the changes Kia has made to this all-new 2020 model are well-received.  It's a high value proposition with captivating design and that's a winning formula.
So to an unseasonably cold San Diego we go to get fully immersed in the Soul's rock and roll lifestyle. Though it comes in 6 trim levels Kia has us focused on the 2 new kids on the block; the GT-Line and X-Line.  If you're a passionate driver who is attracted to bits such as a sport-tuned suspension, chrome-tip center exhaust, larger brakes, and sporty styling then the Soul GT-Line is for you.
Or perhaps you're more of the off-road type who's into the rugged look with more body cladding, bigger fenders, 18" wheels, and an optional 2-tone paint job – well, if that's you then it's the X-Line you'll want.
Kia calls this approach a Soul for everyone and that's smart because if you've ever peeked into one while sitting in traffic you're just as likely to see a senior behind the wheel as you are a 20-somethng.
The Soul has grown about 2" in length and has had its interior packaging tweaked to provide 5 cubic feet more cargo room while leaving other interior dimensions virtually unchanged. The tailgate is also wider and lower and there are larger front door openings.  Spending the majority of my time in this range-topping GT-Line, I'm super impressed with the new premium nature of the cabin.  Just as I was with the all-new Forte I recently tested, this Soul goes above and beyond its sub-$30,000 MSRP with an amazing array of features such as a heated steering wheel, an over 10" touchscreen infotainment system that blows everything else out of the water regardless of price, a premium Harman Kardon audio system with an updated and expanded version of the Soul's signature lighted speaker grilles, wireless device charging, a heads-up display and smart cruise control.  The faux leather and cloth seats are really comfortable and the all-new platform delivers a more refined driving experience with less noise, vibration and harshness while also improving ride and handling.  The Soul's ascension into a much more polished product is complete.
I absolutely love the design direction with more than just a subtle resemblance to the Range Rover Evoque with full LED lighting that finishes with these awesome hockey stick taillamps. This is the best looking Soul yet.
Power stems from a standard 2.0-liter 4-cylinder engine producing 147 horsepower paired with Kia's very good, in-house developed continuously variable transmission. However, the GT-Line can be upgraded to the 1.6-liter turbo and 7-speed dual clutch transmission, turning up the boost to 201 horsepower and 195 pound-feet of torque.  A manual transmission is still offered but only on the base LX trim.  Here are my initial thoughts; the 2.0 is lacking for those with a racier pulse and the turbo powertrain is solid but gets exposed when pushed hard through the mountains where the transmission has trouble keeping up even in the sport drive mode.  This is an urban vehicle anyhow so the X-Line is best suited to less taxing duties while the GT is up to the task of providing some excitement.
The GT-Line can be had with the 1.6-liter turbo and dual-clutch transmission delivering a much sportier and engaging driving experience than you'll find here in the X-Line. And having just driven that one through these gorgeous mountain passes here in southern Californian that it is indeed fun to drive but it's no sports car.
The cabin is quieter, it feels more spacious from all seats, the cargo room is clever with the movable shelf…the GT Turbo feels like a win and a bargain at $28,485 including destination. The X-Line has left me far less impressed.
Obviously, I prefer the sportiness and driving dynamics of the GT but this X-Line model will nab slightly better fuel economy and its 2.0-liter engine should satisfy the more casual driver. The biggest thing I'm really missing in this model is all of the goodies I had in the GT.
The X-Line is priced from $22,485 – six grand less than the GT Turbo – and it feels it. And it really is too bad Kia doesn't offer the X-Line with AWD or anything for that matter that would better facilitate that off-road persona.  Gas mileage with the 2.0-liter engine is 30mpg while the turbo is right there at 29mpg.  And though we weren't allowed to drive it, the new Soul Electric with its 243 mile range is looking like a sweet alternative.
Tagged with:
2020
,
auto critic
,
DTwithSteveHammes
,
GT-Line
,
Kia
,
latest video
,
reviews
,
road test
,
Soul
,
steve hammes
,
test drive
,
X-Line