2018 Toyota Camry Hybrid First Look
2018 Toyota Camry Hybrid First Look By Auto Critic Steve Hammes
The all-new 2018 Camry is finally here promising a new emotionally-charged design and performance experience. Three new powertrains are available including a next-generation Toyota Hybrid System.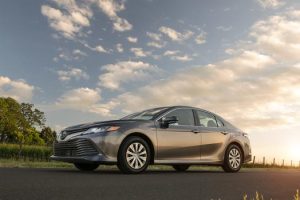 The company says it has been engineered to provide the same spirited performance and driving enjoyment as the conventional gasoline powertrain, including new Sequential Shiftmatic technology that allows the driver to "shift" the continuously-variable transmission mimicking a six-speed automatic.
A new SPORT mode drive setting has been added, allowing for an increase in power from the hybrid system.  Yet, depending on the trim level, the new Hybrid nets up to 53mpg highway, achieving balance between sportiness and efficiency.
The new hybrid equation includes a 176 horsepower 2.5-liter 4-cylinder gas engine working in concert with a 88kW electric motor combined with a 2nd motor for the purpose of battery charging.  The brains of the system known as the Power Control Unit or PCU have been updated to reduce weight, run quieter and improve efficiencies.  Total system net horsepower is 208.
When selecting the base LE Hybrid, owners benefit from a modern lithium-ion battery pack delivering the best mileage; 52 mpg in combined driving.  But if you prefer a heightened level of sportiness or luxury, SE and XLE grades use the tried and true nickel-metal hydride battery pack, returning 46mpg.
Driving characteristics and trunk room are improved through new packaging allowing for the hybrid system's battery pack to be moved from the trunk area to beneath the rear seat, positioning the battery weight at a lower center of gravity.
The Camry Hybrid also features new Auto Glide Control, which helps to improve fuel efficiency by calculating an efficient coasting logic when the driver lifts off the accelerator pedal. Pricing starts at $28,685.