2017 TOYOTA 86 FIRST LOOK
2017 TOYOTA 86 FIRST LOOK BY AUTO CRITIC STEVE HAMMES
The Scion brand bid us sayonara in 2016, but don't fret yet…many of their models can now be purchased under the Toyota brand including the beloved little FR-S; an affordable rear-drive sports car now called the 86 – a name harkening back to the similarly fun-to-drive Corolla GT-S known globally as the AE86 in the mid-80s.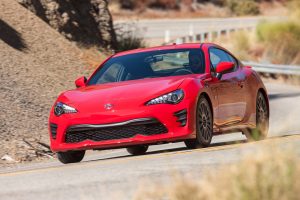 This 2017 Toyota 86 adopts more aggressive styling replete with standard LED headlamps and alloy wheels with a twisted spoke design.  New soft touch materials are found inside while enhanced control and agility further driving performance via revised shock tuning and spring rates.
Those opting for the 6-speed manual get a little bonus including more teeth for the differential and a revised engine tune increasing torque to 156 pound-feet as well as a 5hp increase to 205hp.
As a tradeoff, those choosing the 6-speed automatic net the best fuel economy – a 3mpg bump over the stick shift, rated at 27mpg in combined driving on premium unleaded.  This 2.0-liter boxer engine co-developed with Subaru uses an innovative dual mode fuel injection system to extract 100hp per liter.
Combine that with the car's low curb weight and low center of gravity and Toyota's got the recipe for pure sports car fun.  Pricing starts at $27,120 including destination for the manual model and $720 more for the auto.
A plethora of available accessories include LED fog lights and navigation.  And those seeking an even greater bite can customize their 86 with a variety of TRD Performance parts including everything from wheels to exhaust.