2017 MITSUBISHI LANCER VIDEO REVIEW
2017 MITSUBISHI LANCER VIDEO REVIEW BY AUTO CRITIC STEVE HAMMES
Names like VR4, Ralliart and Evolution conjure up images of Mitsu performance models from the past. But with the company's US operations in a constant state of reinvention, the sole remaining tie to those go faster days is right here. And even it won't be around for much longer.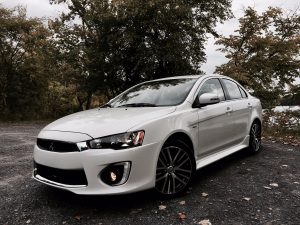 When it debuted at the 2007 Detroit Auto Show, Mitsubishi had big plans for this current generation Lancer; some of which came to fruition like the 5-door Sportback, and others that didn't like the promised diesel model. But when it comes to deciphering Mitsu's ever changing product plans, it's really anybody's guess as to what's coming next. Currently they seem to be bullish on electrified vehicles as well as SUVs. And much like the dearly departed Eclipse and Galant, the Lancer is expected to go away after the 2018 model year and a replacement isn't likely.
So where does it fit into today's compact landscape? Well, Mitsu gave it a facelift last year and for 2017 a rear camera and a new display audio system become standard. There are new 18" two-tone wheels and an optional Sun & Sound Package which includes a sunroof and a 9-speaker Rockford Fosgate stereo. The base front-drive ES model is powered by a 2.0-liter engine and a 5-speed manual while this top trim Lancer SEL moves with a 2.4-liter motor, a CVT and all-wheel drive. Variants like the GT, Ralliart and Evolution have all gone by the wayside. As tested with the Sun & Sound Package, MSRP is $24,430.
Here's what's working in its favor: Mitsu's All Wheel Control system gives it a unique proposition with 3 driving modes including a more efficient 2WD setting, auto and a 4WD lock which directs up to 70% of the available power to the rear wheels – choices you don't get in the Lancer's natural rival, the Subaru Impreza. Its 4-cylinder engine, born from an alliance with DaimlerChrysler and Hyundai over a decade ago, feels lively and makes 168 horsepower and 167 pound-feet of torque. The Continuously Variable Transmission is smart, quiet and unobtrusive, the 4-wheel independent suspension is sport tuned for a racier feel, the Dunlop ultra-high performance rubber adds to the grip and the steering forgoes electric assist for a delightfully organic feel. The rear seats are spacious even for adults and the Lancer's recently freshened appearance keeps it sporty-attractive.
But…
Mitsu is an enigma. Sales are up a little bit this year, driven by their pair of SUVs, but the Lancer is their slowest seller not named i-MiEV.  And that's because it's stuck in a time capsule, from an era when entry level compacts could skate with a feeling of cheapness. Fact is that the Lancer is a pretty good Driver's alternative with connected steering, a peppy engine and a sportier suspension but with little attention paid elsewhere it's hard to take it seriously.
Gas mileage of 23mpg city/30mpg highway is 5mpg off of the Impreza's ratings.
Now, I don't like to kick an automaker when they're down so I'll just say this; from the hollow-sounding doors to the turn of the century interior riddled with penny-pinching moves at every glance, the Lancer is emblematic of a Japanese automaker that either doesn't fully understand the U.S. market or doesn't have enough cash to fix it. I root for the little guy and who wouldn't like to see Mitsu flourish again, but products like this make it hard to see a brighter future.
Tagged with:
2.4
,
2017
,
auto critic
,
AWC
,
DT with Steve Hammes
,
Lancer
,
latest video
,
Mitsu
,
Mitsubishi
,
reviews
,
road test
,
steve hammes
,
test drive