2017 Kia Cadenza FIRST LOOK
2017 Kia Cadenza FIRST LOOK by Auto Critic Steve Hammes
Kia offers a trifecta of large sedans ranging in size and cachet, starting with the Optima, followed by the Cadenza and finishing with the K900, with pricing beginning in the $20k, $30k and $40k range respectively.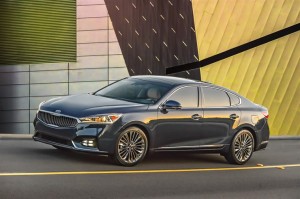 And now it's time for the arrival of the Cadenza's second generation with a stronger yet lighter body, a heightened level of sophistication and the brand's first implementation of a front-wheel drive 8-speed automatic transmission.  Kia says everything you see and touch in the cabin has been improved with precise craftsmanship and cutting edge technology.
The 2017 Cadenza is available with 2 different grilles with lower trim models receiving the Diamond Butterfly with its unique concave shape while higher trims come with the Intaglio featuring vertically oriented blades. While the new Cadenza has the same overall length as the outgoing model it's slightly wider and lower in height.  Its stretched wheelbase contributes to nearly ½" of increased rear seat legroom while the car's sportier profile offers slightly improved trunk space.
Kia designers visually widened the Cadenza's interior space and now buyers have greater opportunity to customize it with a total of 4 color combinations.  Improvements were made throughout to ensure a more pleasant driving experience.
The 2017 Cadenza is also the first Kia sold in the U.S. under the Drive WiSE sub-brand offering the latest driver assistance features such as Forward Collision Warning and Autonomous Emergency Braking.  Mechanically speaking, there are now Amplitude Selecting Damping shocks anchoring a new suspension designed for a smoother ride over broken surfaces, better high speed stability and handling.
Under the hood is a revised version of Kia's 3.3-liter V6, making 290 horsepower and retuned for improved fuel economy.