2017 CHEVROLET CRUZE HATCHBACK
2017 CHEVROLET CRUZE HATCHBACK FIRST LOOK BY AUTO CRITIC STEVE HAMMES
With 9% market growth in small hatchbacks last year, Chevrolet views it as the perfect time to introduce the all-new 2017 Cruze Hatch. Sensitive to the term 'wagon' due to American's aversion to that bodystyle, Chevy markets this 5-door Cruze as a functional and sporty choice for customers.
While the Cruze sedan has a 14 cubic foot trunk, the Hatch expands cargo space to over 47 cubic feet with the rear seats folded and nearly 28 cubic feet with the seats upright.  It rides on the same wheelbase as the sedan but features a unique roof and rear-end structure making it nearly 8 ½" shorter in length.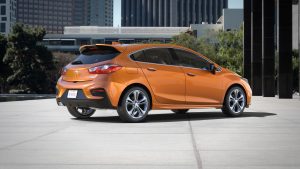 Power stems from the same 1.4-liter turbo-4 making 153 horsepower and 177 pound-feet of torque mated to either a 6-speed manual or 6-speed automatic transmission.  A diesel and 9-speed auto combination arrives as an option for the 2018 model year.
The Cruze Hatch is offered in LT and Premier trims and with the more expressive RS package,  starting at $22,115 or about $1,000 more than a comparable sedan.  The automatic equipped base model achieves the best mileage, rated at 32mpg in combined driving.