2017 BUICK ENVISION VIDEO REVIEW
2017 BUICK ENVISION VIDEO REVIEW BY AUTIO CRITIC STEVE HAMMES
So let's say you're an automaker, and you've only got 2 crossovers in your lineup during a time when they're hotter than ever. Well to solve that dilemma you scour your global portfolio to find more. And that's exactly what Buick has done here with the in between-sized Envision.
At the subcompact end there's the Encore. And at the 3-row end there's the Enclave. So when Buick realized they had a runaway hit in China with the Envision, they made the decision to import it to the States. This is not a particularly new strategy for Buick, who has pulled in the Encore from Korea and the Regal from Germany. Sometimes when cars are imported from foreign markets they don't arrive fully Americanized, if you will; they may look and feel a little disjointed from the rest of the lineup. With the Envision, there's some of that but it's not all bad. While the body styling is unfortunately dowdy and uninspired, the cabin introduces a new layout that looks great and works extremely well. And though I was expecting a traditional Buick experience, the Envision has pleasantly delivered something more; a higher degree of sport and hustle to go along with its finer Buick attributes.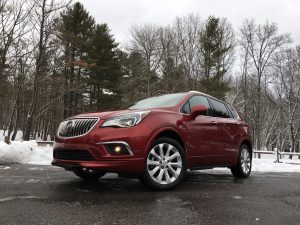 Though you can spec an Envision now with a base 2.5-liter engine, this one runs with the 2.0-liter turbo and 6-speed auto; a detuned version of the power train found in the Regal. This top level trim also uses GM's renowned HiPer struts for improved ride quality and all-wheel drive for year round traction. I wouldn't describe it as overtly sporty but it handles these back roads with a deft touch and the turbo is a nice fit. Other than a mushy brake pedal the Envision feels athletically gifted and the surprisingly fresh interior design and quiet tuning deliver an overall premium experience.
252 horsepower and 260 pound-feet of torque is on point both in terms of prodigious acceleration and segment appropriate refinement. Using stop/start technology, fuel economy is right in step with its competitors like the Acura RDX and Lincoln MKC, but it wants premium unleaded to achieve the EPA estimated 22mpg in combined driving.  Like the new LaCrosse, the Envision employs Buick's first twin-clutch all-wheel-drive system sourced from GKN, offering better performance during acceleration and cornering by splitting torque between the rear wheels. Though it has the HiPer Strut front suspension negating torque steer and benefitting steering feel, the ride quality is more European tuned than typical Buicks and it can't be adjusted by the driver, i.e. there are no selectable driving modes nor is there a sport mode for the transmission.
The interior is a breath of fresh air with a unique design featuring flowing lines and an attractive fusion of ebony leather and wood with chrome accents. The driver's seating position is elevated in the SUV style and the heads-up display keeps the eyes on the road.  It feels more spacious than its rivals and the panoramic roof really opens things up.  Touch points are of high quality and the tech is superb with the trifecta of IntelliLink, OnStar and smartphone projection.  From its easy to use touchscreen to the high-speed Wi-Fi hotspot and everything in between, GM integrates modern tech better than any.  In that regard, the Envision has everything you could want including a surround vision camera, self-parking, a vibrating safety alert seat and a hands-free tailgate.  This top of the line Envision AWD Premium II trim has not cut any corners in regards to "stuff."
With max cargo room of more than 57 cubic feet, volume is about on par with the Honda HR-V. Remote levers help get the job done but don't completely finish the chore.  Underfloor, compartmentalized storage is a nice touch.  The rear seats are more spacious than those in the Acura RDX and have their own climate control, heated outboard positions and another pair of USB ports.
Priced as seen here at $49,320 the Envision induces sticker shock though a base model can be had this year for thousands less than before thanks to the new engine offering starting at about $35,000. If it only had some of that new Buick design swagger and greater value the Envision would be even more ingratiating.
Tagged with:
2017
,
Buick
,
DT with Steve Hammes
,
Enclave
,
Encore
,
Envision
,
latest video
,
reviews
,
road test
,
steve hammes
,
test drive