2016 Volvo S60 Cross Country REVIEW
2016 Volvo S60 Cross Country VIDEO REVIEW by Auto Critic Steve Hammes
The S60 is a top tier sports sedan available in a variety of configurations appealing to the frugal and enthusiast alike. For 2016 Volvo expands its S60 offerings to include a jacked-up model ready to run cross country.
With visions of Paul Hogan and his Subaru Outback sedan running through my head, the S60 is not the first car to undergo such a transformation. Sure, you could get an all-wheel drive S60 sedan with the same powertrain but that car only clears about 5". The Cross Country ratchets that up to almost 8", fits the car with standard SUV tires, and for fun – gives the chassis a dynamic tune. And unlike the sports sedan, the Cross Country eliminates the choices, right down to providing just 1 color. Thankfully the Osmium Grey Metallic looks fantastic. Each one comes fitted with Volvo's venerable 5-cylinder turbo, 6-speed automatic and all-wheel drive in the uplevel Platinum trim. There are a handful of available options and my car has them all, the costliest of which is the Climate Package bundling heated seats all around, a heated windshield and heated steering wheel. The Blind Spot Information Package also adds cross traffic alert, front park assist and a lane change merge aid. Speed sensitive steering, sunglass holders, urbane wood inlays and upsized 19" wheels wrapped in sport truck tires lead to a fully loaded, as-tested price of $48,455. If you spec an S60 similar to this it costs only $780 less. So as long as you want lots of goodies, the Cross Country's price premium is minimal. And the styling is spot on with a rugged, Scandinavian elegance that both literally and figuratively raises its curb appeal.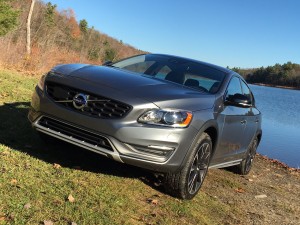 Nearly 8″ of ground clearance is legit and a sweet set of Pirelli Scorpions, skid plates, hill decent control and all-wheel drive complete the S60s off road resume.
During some experimentation, like on this leaf strewn trail, I couldn't get the hill decent control to activate but in general the Cross Country feels hearty enough to lead you to the lake and those kinds of off-road jaunts. The XC60 has over 9" of ground clearance and the V60 Cross Country provides greater utility but it's this S60 that stands out as a stylish sedan with a muscular lift.
Because of the car's higher center of gravity the Cross Country trades in some of its nimbleness for off road worthiness. You can feel more body roll in the turns though it's still all Volvo in its forgiving ride quality. The 5-cylinder engine is certainly eager enough with ambitious bouts of acceleration but it feels a little mismatched here both for its lack of maturity and its proclivity for turbo punchiness – something you don't want when on the trail.
Quick off the line, this car's 250 horsepower and 266 pound-feet of torque gives it some zing, going from 0-to-60mph in 6.7-seconds. But the option of the T6 engine would be welcome, if for nothing more than to better match the Cross Country's Platinum persona. Gas mileage, which isn't impressive, is the same as the V60 CC at 20mpg city/28mpg highway on regular, not premium.
Of course, safety features make a notable presence in here with the combination of radar and camera systems that can detect pedestrians and activate full braking if the driver fails to respond. It even works on cyclists in certain conditions. It also reads road sign information, activates the high beams, and packs in adaptive cruise control among a number of other support systems.
Audiophiles will love the standard Harmon Kardon Premium Sound System which is definitely a class above but the Sensus Connect infotainment unit feels like a class below. I do like how it can be easily controlled via buttons and scroll wheel while driving but the screen looks small, the 3G connection is not, well, 4G, and there's no touchscreen functionality. You can configure the look for ECO, Elegance or Performance, and there is Volvo On-Call for roadside assistance. It's a comfortable car to nestle into, unless you're an adult in the rear where the surroundings feel tight and the trunk is really diminutive with this elevated floor eating into valuable cargo room.
I like exclusiveness in my cars and applaud automakers that take chances with something a bit different and as such my wife and I both enjoyed our week with this Volvo.  It's destined to be one of those cars you'll see on the road someday and say, "Hey, it's an S60 Cross Country…pretty rare."