2016 smart fortwo VIDEO REVIEW
2016 smart fortwo VIDEO REVIEW by Auto Critic Steve Hammes
It's mind boggling but our cities have become so crowded that parking spaces, yes parking spaces, can sell for as much as 1 million dollars. Which leads me to this: the all-new, next-generation smart fortwo; a car that measures less than 9' long and can turn on a dime. So, if you live in a place where space is at a premium, the fortwo does small like nobody else.
Put aside your small car prejudices and tired smart car jokes for a minute and realize that securing a parking space in a big city is a harrowing, not to mention costly reality, for millions of Americans. In can be hard to fit in, literally. And just slicing and dicing through congested city streets on a daily basis can give SUV owners a dose of buyer's remorse. This is where smart enters the picture. Built in France through collaboration between parent company Mercedes-Benz and Renault, the smart fortwo arrived stateside in 2008 becoming the 37th country to sell it. Truth be told, I never drove the previous generation model but this all-new 2016 fortwo is much improved upon in ways that even a smart novice can easily identify. The most recognizable, of course, is the fortwo's more appealing, masculine, and substantial styling. Vehicle length remains the same at 8.8 feet, but kudos to smart designers for taking the look from funny to formidable. The new broad front end looks like it was smacked in the face with a frying pan…one of the rare occasions where that's intended as a compliment. Meanwhile, the combo of black and matte grey bodypanels in addition to these matching wheels advance the virile narrative. Bottom line; it looks cool now and more purpose built for the urban environment.
This is a rear-engine, real-wheel drive 2-seater with proportions that make a MINI look like a midsize. It's 4' shorter than a Cooper. Model highlights include a new turbocharged 3-cylinder engine, producing 89 horsepower and a fun, easy-to-shift, 5-speed manual transmission as standard. There's a 6-speed dual clutch automatic available as an option. 100 lb-ft of torque is also significantly more than before providing much swifter operation. Its 0-to-60mph time has been reduced from 13 seconds to 10, even though its put on a little weight.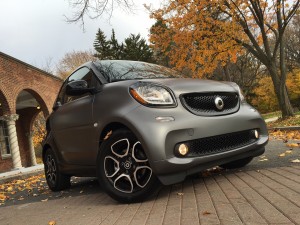 In smart speak this is the tridion safety cell while these matte finish body panels are made from ding resistant plastic. The entire car weighs less than 2000 pounds and with its new turbocharged engine and 5-speed manual, is honestly fun to drive in a city car kind of way.
One of its biggest advantages is its miniscule turning radius, further reduced in this car by another 6' at 22.8' from curb to curb. A narrower front tire with a high outside wheel turn angle in addition to its obvious small car attributes allow the fortwo to turn like your ride-on mower. For some perspective, that's 8' smaller than even a Fiat 500. With a chassis configured for gentle understeer, you can spin this car in a tight little circle for as long as you can stand the dizziness.
Riding on such a short wheelbase, the fortwo can feel peculiar outside of the urban environment. The 90-horsepower engine and friendly stickshift provide a spunkiness you can enjoy no matter where you're driving but turn-in happens faster and it can feel a little top heavy in quick maneuvers. I like it though.  I really do. Even on the highway cruising along at 75mph feels totally in-play. The small motor can get a little noisy when it starts to vibrate but in general driving this isn't that much different than a regular subcompact…there's just less in tow.
The sophisticated non-independent rear suspension with its twin-tube shock absorbers and McPherson struts in the front have all been calibrated for greater ride comfort though you'll still feel a lot of the road over rough city patches. There is an available sport suspension for those who want more engaging handling.
I'm 6'1″ and so you may be surprised that I'm not at all cramped in here. The seating position is tall and the roofline is high. Once you're in, you completely forget you're driving something that's this small.
This car ranks 3rd in the 4 car fortwo lineup.  It's called the prime and it's priced from $18,240.  My car adds the matte grey and heated seats for an as-tested price of $18,930.  Choosing the manual will cost you 1mpg as this car is rated at 32mpg city/39mpg highway…very similar to the previous car.  And yes, it still wants premium gas.  So if all you want is a super frugal small car you'd be better off looking elsewhere.  Safety is always a discussion point here, too.  8 airbags are standard and while this car has yet to be crash-tested in the U.S., the previous model earned the highest level 'Good' rating in all categories with the exception of head restraints and seats in which it was awarded 'Acceptable.'  There's some cargo room but the smart fortwo simply exists for those who need a car with a small footprint and unparalleled maneuverability.  And for that, it does a stellar job.
Tagged with:
2016
,
auto critic
,
fortwo
,
latest video
,
prime
,
reviews
,
road test
,
small
,
smart
,
steve hammes
,
test drive