2016 Infiniti Q70L VIDEO REVIEW
2016 Infiniti Q70L VIDEO REVIEW by Auto Critic Steve Hammes
Infiniti's flagship is extending itself to provide the extra legroom executive sedan shoppers require. This is the new Q70L, available with a brawny V8, AWD and myriad safety technology.
Sales of Infiniti's biggest car, formerly known as the M, have increased significantly this year, boosted by a revised exterior, added safety technologies and the addition of this long wheelbase model. The Q70L expands rear seat legroom by about 5 ½", nearly identical to the long wheelbase Audi A8. So now you can drive the junior executives to lunch in big car comfort…at least 2 more. The middle position isn't very useful other than to access the heated seat switches housed inside the armrest console. There's a power outlet, a rear window sunshade and a power door cincher but otherwise there's not much pandering here and that's an opportunity missed. Climate controls, a USB outlet; anything additional would have shown more effort than what Infiniti displays here.
The L is available with V6 or V8 power, in rear or all-wheel drive. My car is the most opulent Q70L, the 5.6 AWD which comes standard with the $7,200 Deluxe Technology Package for an as-tested price of $75,155. The big 5.6-liter direct-injected V8 is slightly detuned from the standard wheelbase model, assumingly to avoid the Gas Guzzler tax as well as to keep all V8 models rated for the same mileage, at 16mpg city/23mpg highway. Power output is 416 horsepower and 414 pound-feet of torque. It's mated to a smart 7-speed automatic with Downshift Rev Matching, giving the car a sportier feel during spirited driving, best accomplished by dialing the Drive Mode Selector over to Sport. There're also Standard, Eco and Snow modes, effecting throttle sensitivity and transmission mapping but not steering or shock settings. The double wishbone front and multi-link rear suspension in conjunction with the 18" Michelin grand touring tires does a wonderful job of keeping everyone sumptuously in place and this 4,300 lb. car glued to the road. In addition to the up to 50:50 rear-to-front power split of the all-wheel drive system, a feature called Active Trace Control applies selective braking to smooth out the transition between entering and exiting a turn. In Sport mode, the effect is reduced for a more organic feel.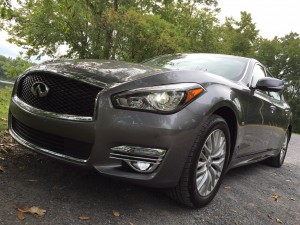 The Q70L drives with that big, boss sedan kind of swagger with a deep well of power to draw from, an isolating ride, and a super quiet cabin. You sit up higher than you'd think and the steering is pretty weighty. The added length, big V8 and AWD system add considerable weight that you can feel from behind the wheel but it can still power through a curvy road with its brutish strength.
The full LED lighting is an attractive and functional upgrade and other styling changes to the grille, front bumper and redesigned rear definitely infuse more panache into this swoopy, yet previously staid body. The look says understated confidence, bordering on dated.
I've always loved this Japanese white ash wood trim with silver powder accents but another one of my favorite features is no longer here…the Forest Air system.
No more gentle breezes blowing about, but 2015 models get a boat load of new safety tech like the Around View Monitor with Moving Object Detection and Predictive Forward Collision Warning which not only analyzes the vehicle directly ahead but also the vehicle in front of that one.
Though big car comfortable with attractive boutique wood, metal and soft leather touchpoints and cool features like Bose speakers built into the front seats, the computer and graphics displays feel like the 2010 car that it ostensibly is. It's not that the Infiniti Connection touchscreen system is difficult or particularly lacking in features, but is doesn't belong in a $75,000 car either.
The Q70L is great at providing respite to the weary, can flex its muscles with very quick V8 acceleration and provides an alternative to the usual executive sedan stalwarts. Far from being the most up to date, the Q70L acts a decent flagship placeholder until the new Q80 arrives in a few years.
Tagged with:
2015
,
5.6
,
auto critic
,
AWD
,
Infiniti
,
latest video
,
luxury sedan
,
Q70L
,
reviews
,
road test
,
steve hammes
,
test drive