2016 INFINITI Q50 RED SPORT REVIEW
2016 INFINITI Q50 RED SPORT REVIEW BY AUTO CRITIC STEVE HAMMES
Never in my nearly 20 years of test-driving cars has my opinion been swayed like it has been here. Sure, more horsepower can cure some ills but this new Q50 Red Sport 400 from Infiniti is a transformative sport sedan experience.
Those were my sentiments 2 years ago about Infiniti's new Q50; a car with a groundbreaking though poorly executed steer-by-wire system so aloof that it ruined the entire experience. I opined that Infiniti not only needed to reprogram it but that they should make it a standalone option, both of which I'm happy to report have come to fruition. Plus, the 3.7-liter V6 is history, replaced with a trio of turbocharged engines starting with a 208 horsepower 4-cylinder and ending at this 400 horsepower Q50 Red Sport 400 with a 3.0-liter V6 twin-turbo. Boosted to 14.7 psi, it generates 350 pound-feet of torque starting at a low 1,600 RPM, rocketing the Red Sport to 60mph in 4.5 seconds while flaunting a 13-second quarter mile.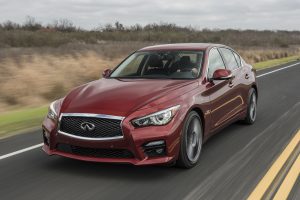 It's a smooth powerplant too, and works through an improved 7-speed automatic that's as smart as they come, with features such as downshift rev matching and Navi Sync Adaptive Shift Control, using the navigation system to alert the gearbox of the road ahead. Various driving modes alter the car's characteristics including those of Infiniti's new Dynamic Digital Suspension with adjustable shock absorbers, lending to a taut though forgiving ride quality with greater adhesion to the road.
Sticking it are a set of staggered width 19" run-flat max-performance Potenzas, perfectly complimenting this car's greater agility during cornering. Though with this much power to the rear wheels, it's not hard to break them loose which is why it's unfortunate there's no limited slip differential. There is however something called Active Trace Control which adjusts vehicle braking and engine torque to help enhance cornering feel. With traction control off, you can have all sorts of fun. But it's really this next generation Direct Adaptive Steering which converts the driving experience from annoying to pretty awesome. Using an electronic rather than mechanical connection from the steering wheel to the rubber, this $1,000 option now commands more respect because it greatly enhances steering feel and feedback as to what's happening at each corner. Larger brakes are added to handle the additional power.
These seats are phenomenal…I'm talking Volvo good or even better. So you can drive this car all day. And they position you for excellent command over the front end. Though I'm still not completely sold on the steer by wire system, it feels infinitely better than in my first drive…still vague and twitchy on center but more direct during sporty driving. The 7-speed is smart, the fixed paddle shifters feel great and the summer use Bridgestone rubber tangibly contributes to this car's surprisingly capable handling. It's a true joy to drive and faster than heck. But if you were hoping for racier sounds, sorry. The music here is muted at best.
My car's optional Driver Assistance Package also integrates more seamlessly than before with a bevy of cutting edge tech to help avoid accidents, including a brilliant Around View Monitor.
The sport-type driver's seat with power lumbar and torso and manually adjustable thigh extension is magnificent. Rear seats are midsize spacious and overall passenger and luggage volume is greater than in the Cadillac CTS V-Sport. Electronics and infotainment are agreeable, utilizing a dual touchscreen system with plenty of redundant controls. There's still no full Apple or Android smartphone integration but downloadable apps are available. The new Bose Performance Series 16-speaker Audio System is a gem, too. But on these tires, it can get pretty loud in here. If you prefer stealth speed, these exhaust tips are one of the few styling cues that give the Red Sport away but I wouldn't mind a little more exclusivity. 2017 models receive red calipers.
Available also with all-wheel drive, the 2016 Q50 Red Sport 400 starts at $48,855, while this well-stocked tester stickers for $55,185. And comparatively, 22mpg in combined driving on premium is well above average. From enigmatic to exhilarating, Infiniti has rebooted the Q50 and the results are very rewarding.
Tagged with:
2016
,
400
,
auto critic
,
DT with Steve Hammes
,
Infiniti
,
latest video
,
Q50
,
RED SPORT
,
reviews
,
road test
,
steve hammes
,
test drive