2015 Toyota Yaris 5-Door SE VIDEO REVIEW
2015 Toyota Yaris 5-Door SE VIDEO REVIEW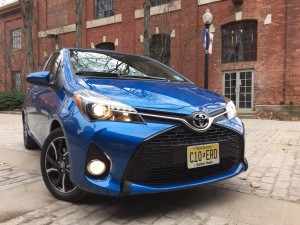 Toyota's often forgotten about small hatchback has received an extreme makeover European edition for 2015, fitted with key improvements and a newfound urban personality aimed to please the effervescent shopper.
If you covet exclusivity, the Yaris brings it.  In Toyota's lineup, only the $80,000 Land Cruiser and geriatric Sequoia sell in fewer numbers.  Obviously, the 2012 Yaris redesign didn't strike a chord with subcompact shoppers.  And the competition in this sub-$20,000 5-door segment is formidable with products from Nissan, Honda, Chevy and Ford dominating the sales charts.  And when the Mitsu Mirage is outselling you, well then you know you've got a problem.
But Toyota isn't giving up on its smallest, most affordable car.  This 2015 Yaris has been reimagined by the company's design studio in the South of France where it is also produced. It exudes a more flavorful persona through a new front fascia and headlight design with LED daytime running lights, aerodynamic fins, a new 16" wider wheel design, and new rear bumper and tail lamps.  I never spend much time talking about design because in the end, you like what you like, but there's no denying this Yaris has left boring in the past.
In a time when small sells, the Yaris has struggled to keep up with the competition but the changes made to this car are significant enough to give it a second life. Its look has become more aggressive, the interior far more modern and quality driven and the ride more confident and quieter. Throw in the 5-speed and you've got a car that brings some sport to the subcompact segment.
My previous Yaris test a few years back was in this exact trim and bodystyle, but that car had the 4-speed auto, and believe it or not, that relic is still in existence.  So this stick shift is a no brainer here and engagement is improved via a tweaked hydraulic clutch.  It's not nearly as bullet-proof as the stick I recently tested in the Civic and beginners will find it difficult to shift smoothly, but the pedal is more heavily weighted for a sportier feel and throws are short and accurate.  The 106 horsepower 1.5-liter engine makes due without direct-injection and is light on might, but at a tidy 2,315 pounds and with a takeoff that's been engineered for responsiveness, this Yaris plays the inexpensive sporty role convincingly.  Gas mileage of 30mpg city/37mpg highway bests the automatic's numbers and competes well within the class.
Though a little less so than last year, the electric steering is still quick, the improved suspension provides a more confident drive and additional spot welds produce a more rigid body.  It's also quieter inside but still notably noisy.  The rubber is good too, with Bridgestone Turanza's that know how to grip.  But the ride is decidedly firm and if you often find yourself in stop and go traffic, this 5-speed and clutch will wear you out.
The previously deficient cabin has also been reworked with higher grade materials, new instrumentation and a new touchscreen infotainment unit with optional navigation.  The elevated quality is instantly noticeable but there's a lack of useful stuff it spaces and the cabin is difficult to navigate at night due to the absence of ambient lighting and illuminated switchgear. The driver's seat is height adjustable but the passenger's seat is not and sits very tall, so not all of the datedness has been worked out.  Rear seat room is excellent for the segment with plenty of headroom and features a splitfold seat that opens the Yaris to greater space than in a Ford Fiesta.
As tested with the 4-season floor mats and navigation, this Yaris 5-door SE stickers for $18,644.  Those with more cash can turn to the Fiesta ST and Sonic RS for greater kicks, but the Yaris SE should now at least be able to hold its head a little higher until its slated Mazda2-based replacement arrives in a couple of years.
Tagged with:
2015
,
5-door
,
5MT
,
auto critic
,
latest video
,
manual
,
reviews
,
SE
,
steve hammes
,
Toyota
,
Yaris