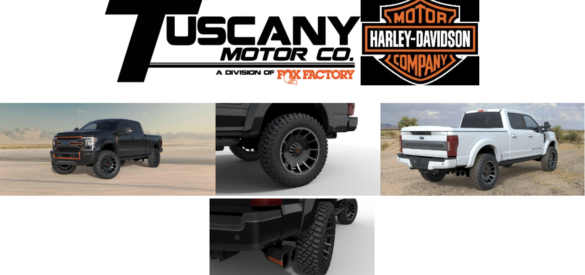 HARLEY DAVIDSON FAT BOY INSPIRED FORD F250 TO ARRIVE FOR SPRING. Harley-Davidson Motor Company and Tuscany Motor Co. today introduced the 2020 Harley-Davidson™ Branded Ford F-250 edition truck in Las Vegas. It is the latest in a growing lineup of Harley-Davidson® Fat Boy® motorcycle-inspired trucks manufactured through Tuscany Motor Co.  based on Ford and GMC truck models.
"The Harley-Davidson™ Ford F-250 edition fulfills customer requests for additional towing capacity and celebrates their passion for Harley-Davidson® motorcycles," said Jeff Burttschell, Vice President, Tuscany Motor Co. "Working closely with Brad Richards, Vice President of Styling and Design at Harley?Davidson, we created another fantastic truck worthy of the Harley-Davidson name and coincides with the debut of the Harley-Davidson® Fat Boy® 30th Anniversary motorcycle."
The new truck includes over 65 edition-specific components that make the 2020 model truck distinctly Harley-Davidson. The styling was inspired by the famous Harley-Davidson® Fat Boy® model.