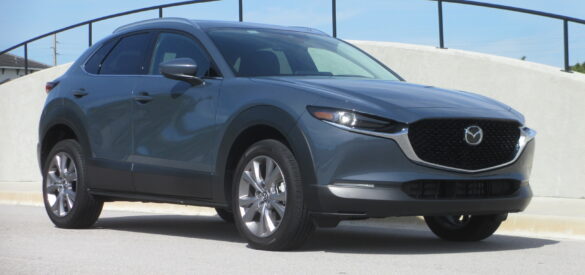 2020 Mazda CX30 Quick Takes. Mazda has always adopted a human-centric approach to building cars. With the U.S. debut of the all-new Mazda CX-30, the brand has taken this approach to another level. The CX-30 has a feeling of oneness that extends beyond the drive. It is a five-seat crossover made for a wide range of fans, especially young people who are approaching significant life transitions. Mazda wants the CX-30 to be able to help these fans enjoy those milestones to the fullest and become an essential partner in their daily lives.
CX-30 is the second model to adopt the latest evolution of Kodo design, a more mature interpretation of the striking design ethos. Based on sleek and bold styling, CX-30 is meant to evoke creativity in one's life. Realizing two contrasting expressions, the compact crossover has the flowing beauty of a coupe and the bold proportions of an SUV. Mazda's signature wing takes on a sharper and deeper form to achieve a strong, refined front end that is suggestive of forward motion. The diagonal angle of the rear window gives the vehicle a coupe-like silhouette while the narrowed arch shape of the liftgate makes the body look shorter and wider for a powerful stance. This allows for purposeful design of the trunk that maintains its usefulness without giving the CX-30 a box-like appearance. Offered in seven body colors, including Polymetal Gray, which was recently introduced for the 2019 Mazda3. Going beyond beauty, CX-30 is meant to look compact on the outside, but spacious on the inside.
The CX-30 is a new compact crossover that combines the bold proportions of an SUV with elegant styling that embodies Mazda's Kodo design language. The development team hoped to create a car that would enrich customers' lives by helping them and their loved ones make new and stimulating discoveries within their daily lives.