2022 LEXUS LX 600 TEST DRIVE
2022 LEXUS LX 600 TEST DRIVE BY CAR CRITIC STEVE HAMMES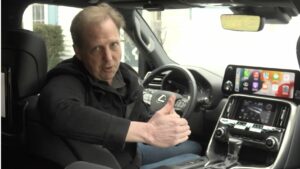 If you've ever stayed at a really fancy hotel the Lexus LX is as common a sight as spoiled little kids running around the lobby.  It's the chariot of choice for the concierge, doctors and rich people who want to be perceived as coming from old money.  And as is typical, anytime I've called out Toyota or Lexus products as being a blackhole of newness and technology the sycophants come screaming about the one thing they hold dearly; reliability.  "As long as I have a steering wheel and a seat I'm satisfied because 20 years from now it'll still be running."  And my counter to this has always been, "ok, well if you're paying a premium for one of these shouldn't you expect BOTH reliability and new features?"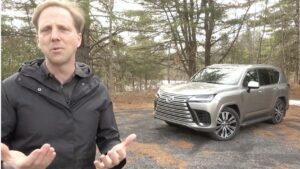 Which brings me to this all-new LX 600 Luxury…a $108,000 SUV for those afraid of change.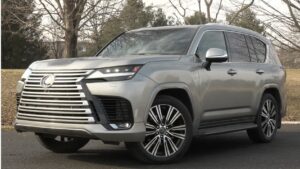 You may have heard; the Toyota Land Cruiser no longer has a home here in the States so it's gussied up Lexus counterpart the LX is going to have to carry the flagship SUV torch all by itself.  Sure, Lexus stocks a bunch of SUVs – 5 to be exact – but it's the LX that separates itself from the group with a starting MSRP of about $90,000.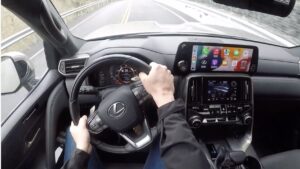 Can it off-road?  Yes.  Can it take you from the Ritz Carlton to the airport all the while looking the part?  Also, yes.  And it's "all-new" this year…an adjective rarely used when describing a Lexus SUV but after 14 years it was time to give it a complete redesign.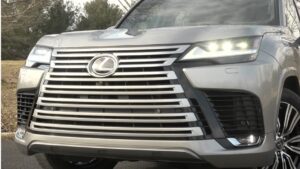 The result?  A big, bodacious grille, more sensuousness to the body, a new, more fuel-efficient twin-turbo V6 under the hood and a complete redo of the infotainment electronics.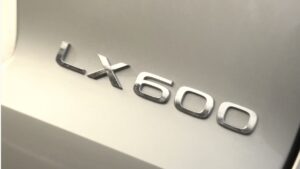 It's lighter and more powerful but as for changing the LX's footprint or other notable dimensions Lexus punted…choosing to preserve its heritage sizing of being nimble enough to tackle a wooded trail or the Nieman Marcus parking lot.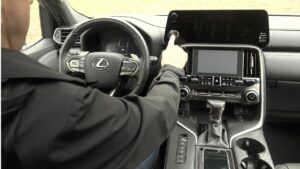 And with the expanded Multi-Terrain Select, low-speed gearing, a locking center differential, crawl control and in this case – a height-adjustable suspension – the LX is the body-on-frame SUV of country club dreams…and a number of those features have been improved upon this year such as the much quicker reacting Active Height Control system with 3 levels of lift and a fast squat for easier coming and going.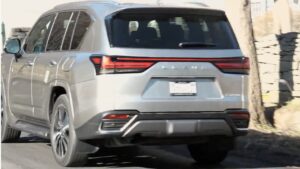 Using a combination of gas and hydraulic and metal springs, AHC also automatically adjusts vehicle height based on the drive mode and vehicle dynamics to both keep the body stable and deliver exceptional comfort through optimized spring rates.  Pretty neat stuff.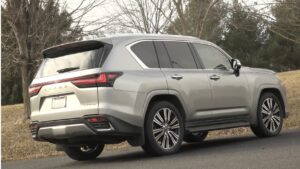 The 22" Dunlop tires aren't particularly mud worthy but then again – the customer choosing this LX 600 Luxury model – trim number 4 of 5 – more than likely just wants the peace of mind that comes with the resume of capability. Engine output from the new turbocharged 3.5-liter V6 puts the thirsty old V8 in its rearview mirror with 409 horsepower and 479 pound-feet of torque capable of moving this 5,900 pound SUV to 60mph in under 7 seconds.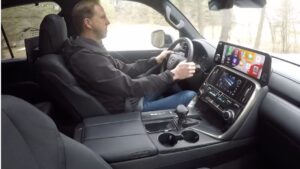 It feels great mated to the new slick shifting 10 speed-auto and even better now achieves 19mpg, at least on paper, as opposed to 14mpg…that'll pocket you nearly $1,500 per year right there.  It's a lovely, serene, power packed drive, it really is, but after a decade and a half between generations and a $108,000 MSRP it feels a little anticlimactic.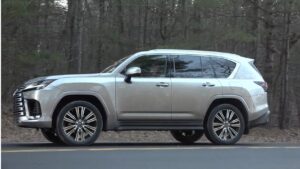 Let's use the Escalade and Grand Wagoneer as similarly priced competitors.  The LX is significantly smaller than those so it's noticeably tighter inside with far less cargo volume.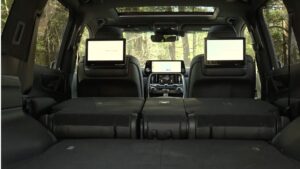 Going to use the 3rd row?  This one can't hold a candle to the others.  And from a visual standpoint, it's just not as exciting in here; smaller screens, fewer visuals, lower wow factor.  And as for features?  There's not a lot of cutting-edge stuff going on…in that regard the pantry feels a little bare.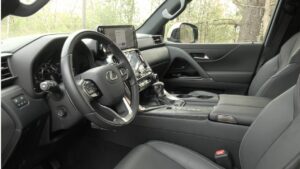 And then there's the issue of hands-free driving…it's not here while the Caddy is already onto a new generation of Super Cruise and the Jeep is bringing it to market soon.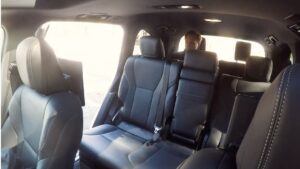 The seats are really comfortable but there's no massage.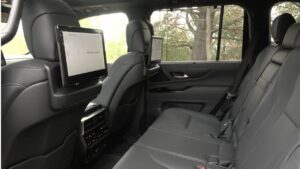 The new dual touchscreens are a vast improvement from the old maddening mousepad setup but it's lacking in depth of features and isn't as good as the new Tundra's bigger single screen and there's no pano roof, no camera mirror, very little ambient lighting, no welcome mat lighting and no power running boards…something an off-roader of this ilk really needs. The 25 speaker Mark Levinson sound system is also basic in its controls and frankly just doesn't wow like the JBL unit in the Tundra.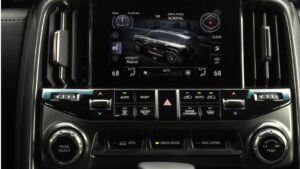 This one has the optional dual screen rear entertainment system and I love the way the center console be accessed from 3 sides…very smart.  It's small in here but there is a cool box for snacks.  I also like the placement of the wireless charge pad for untethered phone connections and the climate concierge is awesome – instinctively knowing when you need to be heated or cooled.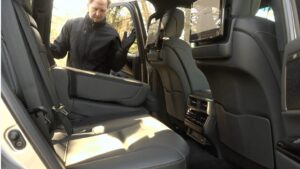 The rear seats recline and offer enough room but this isn't the big boy SUV passenger volume provided by the American competitors.  And that goes for the 3rd row as well which is accessed easily enough and offers decent kid space with power reclining seats but with far less leg, shoulder and headroom than the others.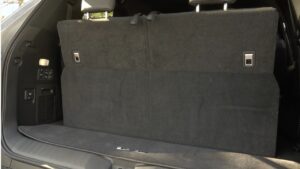 It's up to 15" shorter than those too so cargo room with all seats up is negligible and then when you're expanding for cargo all 3 rows have to a dance in order to get things flat.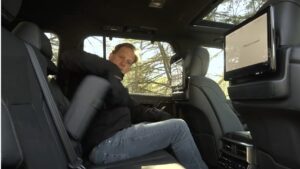 If you get the base LX it won't have height adjustability leaving it with less than 8" of ground clearance but on the 22s with AHC; not a problem.  Towing is now up to 8,000 pounds max.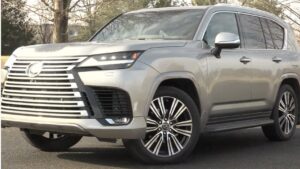 This Atomic Silver example looks amazing, the black open-pore wood trim is so classy and if an infusion of new tech is a turnoff to you the LX won't overwhelm.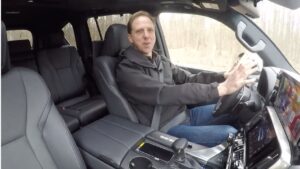 You can also now get one in F SPORT Handling trim and a $130,000 Ultra Luxury model with individual rear seats fit for a king. It'll fit in your garage and exudes an old money vibe that fits in perfectly with New England beach communities.  There's much to like about the new LX but also much to criticize.  
2022 LEXUS LX 600 TEST DRIVE BY CAR CRITIC STEVE HAMMES  |  TESTDRIVENOW.COM 2022(c)