2022 KIA STINGER GT2 TEST DRIVE
2022 KIA STINGER GT2 TEST DRIVE BY CAR CRITIC STEVE HAMMES
2022 KIA STINGER GT2
I can't believe it's already closing in on 5 years  since I was sitting at the Detroit Auto Show watching the much heralded debut of Kia's rear-wheel drive sporty hatchback; a luxurious, performance model who's development was overseen by a former BMW M engineer.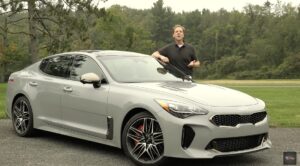 And now for its first and apparently last refresh the 2022 Stinger receives updated styling, better electronics and more safety tech.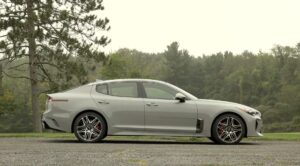 With the highest starting MSRP of any Kia model at $37,135, the Stinger is Kia's halo car and expectedly sells in very small numbers; about 1,200 per month.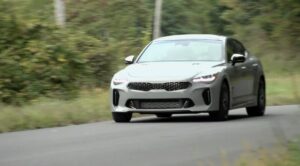 It was introduced to take on the stalwart German sport sedans; Kia flexing their engineering muscles showing that they too can go fast and handle a curvy road.  But the Stinger doesn't fit into Kia's Plan S which aims to transition the Korean brand to electric mobility by 2025.  So it's expected that the Stinger will disappear sometime next year meaning if you want one don't linger.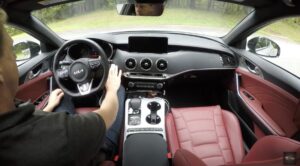 The biggest news for this 2022 model actually revolves around the base GT-Line's new, more powerful 2.5-liter turbocharged 4-cylinder.  But I'm back in the saddle of the most potent Stinger; the GT2 with its 3.3-liter twin-turbo V6 now producing 368 horsepower – that's 3 more than before but I can't say that I noticed.  With 376 pound-feet of torque and a launch control feature, this car will get after 60mph in less than 5 seconds.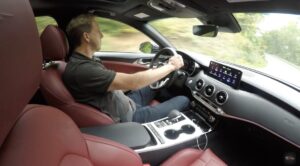 And when you go full GT2 Kia adds in a number of key performance features, most notably an electronically controlled suspension that maximizes comfort and is connected to the 4 drive modes for either a relaxed or firmer feel.  But from a driver's perspective, the biggest differences between this Stinger and the one I first tested 4 years ago is that this one is equipped with all-wheel drive and possesses a new valved exhaust system adding a visceral component the previous car was lacking.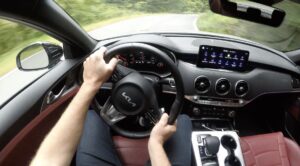 But it's this torque vectoring all-wheel drive setup that finally answers my 4 year old question of whether or not the Stinger is better as a rear-wheel drive or 4-wheel-drivce car and for me, this is the one to have.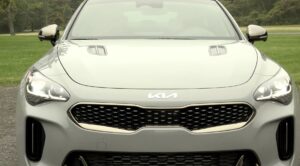 My last Stinger test drive was of a rear-wheel drive model and I learned that that one could be a real handful during spirited driving because the turbo boost came on so abruptly that keeping that car pointed straight often required a very deft touch.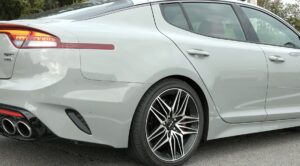 But this AWD Stinger reels in some of that rear-end happiness and as such feels less frisky but far more controllable. This one here requires less confidence in your driving skills but it's still plenty of fun backed by a luxurious personality.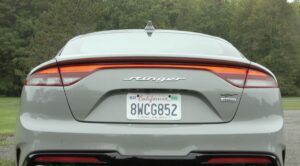 Low slung, riding atop staggered width grand touring all-season tires and dialed into Sport, the Stinger presents as a willing, composed, backroad go-getter that can be driven in an athletic way with complete control.  Power delivery from the twin-turbos through the 8-speed auto is better modulated allowing the driver to focus on things other than where the rear end is going.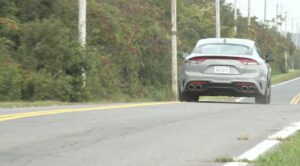 Now, I understand some drivers live for that kind of excitement and in the right car I'm one of them – it's just that here I feel like the interaction from all 4 wheels makes the Stinger a better car; less juvenile and more premium.  But I'm still noticing some understeer here which I expected the torque vectoring to erase.  Highway gas mileage is down just a tick this year to 24mpg and this is a Kia that wants premium gas.  Expect around 20mpg in mixed driving.      
Setting the car up is super easy via the Drive Mode dial which includes a detailed custom mode where you can make your own concoction.  And this car is much louder than before when sporty driving is on the menu, with the exhaust under full bellow it can be eye-opening from outside, more muted with active sound control on the inside.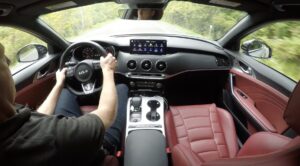 Helping keep your attention on the road is an excellent head-up display while the front seats are the perfect blend of soft yet supportive and include adjustable side bolsters.  This car, at least for me, has a perfect grand touring seating position and the cabin is easy to use; there's a traditional shift by wire gear selector and the switchgear is kept to an intuitive minimum.  I love how it looks and how it operates, with the new chain link design in the Nappa leather adding detail and all told living up to its premium aspirations with high levels of comfort and convenience no matter your driving style.  There's also new ambient LED mood lighting.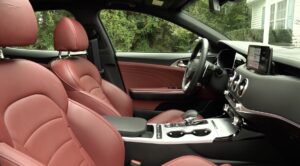 The Stinger's cabin, awash here in the optional Red Interior package, looks very much the part of a sport luxury model and is replete with some very comfortable seats, including side bolsters that hug you in when you dial into sport mode. Very cool. 
But beyond some other superficial updates the big news this year centers around this – the updated infotainment system latest with the latest version of UVO.  It's a great setup – as I know being a Hyundai Kona EV owner – and it has very easy to use controls, and now, improved voice commands. The only bummer is that you'll still need your USB cable to connect your phone to it.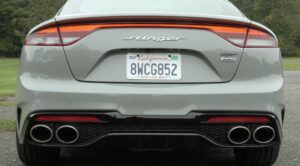 Despite that omission, this is still one of the best screens in the business, packed with cool features like Sounds of Nature, interesting design details like these radio Nixie tubes, and something I didn't recall – a 15 speaker Harman Kardon premium audio system that will absolutely blow you away.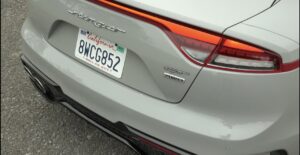 The Clari-Fi technology for cleaning up compressed music works especially well; an amazing listening experience.  Heated and ventilated seats, a surround view monitor with conveniently located console switch and the full pantry of Kia's Drivewise driver assist technologies round out the goodies, leading here to an as-tested price of $55,655 keeping with Kia's more-for-less ethos.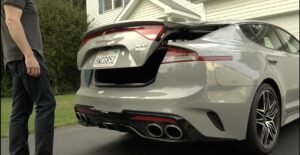 This stellar Ceramic Silver paint is a $495 option and is worth every penny nicely playing off of the red Brembo brake calipers.  And the more aggressively styled exhaust tips elevate the Stinger's presence.  The rear seats are spacious, comfortable and heated but the large tunnel really makes this a 4-seater.  And because it's a hatchback there's way more room in here than in a typical sports sedan.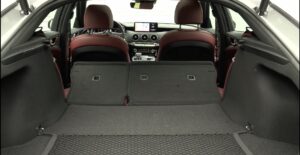 Drop the rear seats and now you're ready for bigscreen TV duty.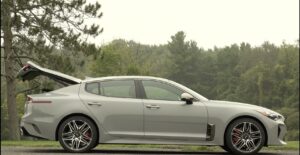 The hatch also opens automatically, hands-free, just by standing near it with the key fob on you.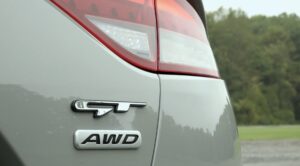 The Stinger is a great looking car, it's engaging to drive and luxuriously appointed for pennies on the dollar.  So if this turns out to be its swan song it's going out with a win.  
2022 KIA STINGER GT2 TEST DRIVE BY CAR CRITIC STEVE HAMMES  |  TESTDRIVENOW 2021(c)
2022 KIA STINGER GT2