Chrysler Pacifica Hybrid 2019 Review
Chrysler Pacifica Hybrid 2019 Review By Auto Critic Steve Hammes
So you're in the market for a minivan.  And let me guess; you're debating between the Honda Odyssey and the Chrysler Pacifica.  Both are excellent choices but I prefer the Pacifica; it has superior styling, a smarter interior and a plug-in option, how cool is that?  I last reviewed the Pacific Hybrid a couple of years ago when it first hit the market but here's what's new and what you should now before purchase.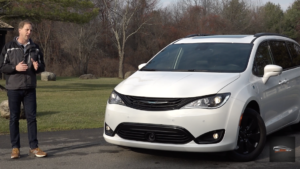 Between the Pacifica and Grand Caravan, Fiat Chrysler absolutely owns the minivan market.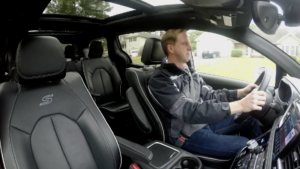 The Odyssey and Sienna also sell in big numbers, but once Chrysler converted the Pacifica from an under appreciated crossover SUV to a sliding-door family mover it put its competitors on notice that the original was still king.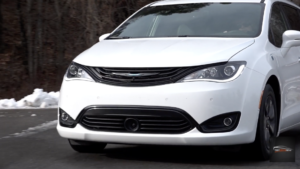 There are 3 main Hybrid trim levels with a price point starting at about $42,000.  They all have the same mechanicals so it's really just a matter of accoutrements.  This one is the top dog Pacifica Hybrid Limited loaded up with just about everything you could ever want in a minivan for about $51,000.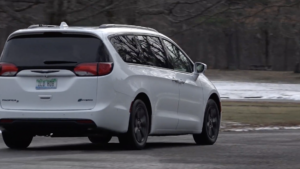 It possesses a number of luxury features not found in the lesser trims like soft Nappa Leather, and tech you can't get in the others like Park Assist.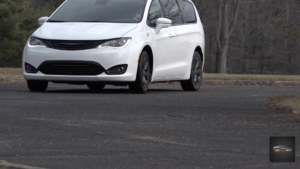 Ah but the hybrid must lose out on some features found in the gas model, right?  After all, it's got 96 lithium-ion batteries to lug around.  So the biggest downside to the hybrid is the loss of the 2nd row Stow 'n Go seats – a Pacifica trump card.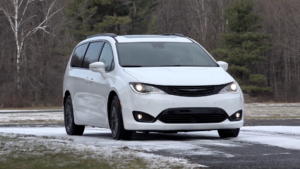 These guys can still be removed but they're heavy.  And the cool integrated vacuum cleaner?  Not here either.  Oh and as for towing with the hybrid?  Chrysler says it's not recommended.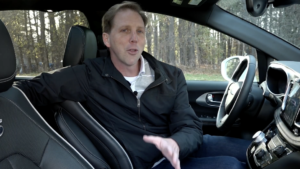 So what does a full charge get you?  About 32 miles depending upon the temperature.  And it's got that immediate, torquey goodness we all love in an EV that makes it sneaky quick plus it's quiet because the engine isn't running.  When operating in hybrid mode the back and forth from electric to gas is completely seamless.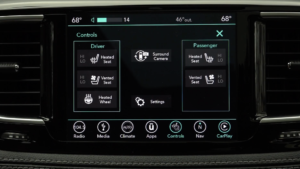 And there are all kids of ways to monitor the hybrid action.  Plugged into a standard household outlet a recharge takes about 14 hours. A level 2 charger, only 2 hours.  But there is no supercharging capability so don't even think about it.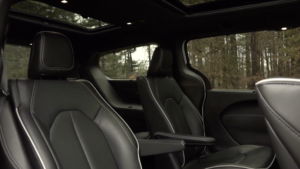 And remember, if you don't plug it in at all it'll still work – it's stupid but it won't leave you stranded until the gas tank is empty.  Total range is 520 miles.
I don't like the fact that even when the Pacifca is locked, the cord can still be removed so public charging leaves you a little vulnerable.     
The Hybrid is carrying an extra 650 pounds so it seems as though the ride quality has taken a bit of hit and there's more of a tendency here for the body to rattle, even riding on this heavy duty suspension.  But all told, it's a nuance and not at all a deal breaker.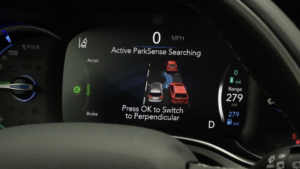 The 260 horsepower output and honed steering and braking feel give it a pleasing drive.  
Did you know you can now get the S appearance package on all Hybrids including the Limited?  It costs $795 and adds a lot of blacked out stuff for that infusion of Dodge street cred.  
The interior is pure minivan genius.  It seats 7 in complete comfort with a 3rd row that bests any other.  You even get window shades, a sunroof and your own USB port.  And these seats do sill fold away into the floor for times when you want a flatter cargo area.  The deep well comes in handy, too.  Both sliding doors and the tailgate can be opened with a kick of the foot, there's remote start and even umbrella holders.  The UConnect Theater is the best rear seat entertainment system on the market – modern, touchscreen or remote controlled, fully connected, embedded games and apps and Blu-ray compatible.  It's a kid's dream.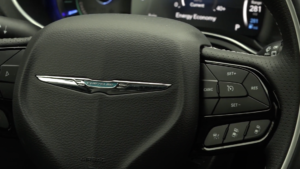 Talking mileage with plug-in hybrids isn't that helpful.  If you drive 30 miles or less you may hardly ever use a drop of gas.  A lot of highway driving will obviously tilt the scales in the opposite direction.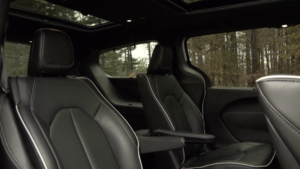 For what it's worth the EPA rates this at 82mpge and then at 30mpg after the big battery is fully depleted.  Based on that, it'll save the average owner $3,750 in fuel costs over 5 years when compared with the gas Pacifica.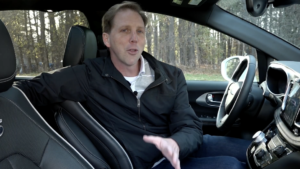 Unfortunately, JD Power ranks the Pacifica at the bottom of the segment in both Quality and Reliability and Resale Value.  But also keep in mind that the Hybrid still qualifies for the full $7,500 Federal Tax Credit.  
Tagged with:
2019
,
3rd-row
,
Chrysler
,
DTwithSeveHammes
,
FAMILY
,
Hybrid
,
latest video
,
minivan
,
PACIFICA
,
reviews
,
road test
,
test drive