Buick Regal Sportback 2018 First Look
Buick Regal Sportback 2018 First Look By Auto Critic Steve Hammes
Buick's latest German import is the 2018 Regal Sportback.
Say goodbye to the sedan body style, this all-new Regal adopts a 5-door layout lending more than twice as much overall cargo space as before and greater than is offered in the Audi A5 Sportback and BMW 4-series Gran Coupe.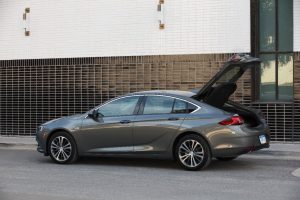 Developed "…with today's active, independent, premium car customer in mind" the Regal sports a coupe-like design backed by spirited performance.  Buicks says the target customer already …"has an SUV in the garage and is looking to compliment it with a sport sedan, but has an appreciation for the usefulness of a versatile cargo space when an occasional need arises."
With the exception of the range-topping V6-powered GS trim, the front-wheel-drive Regal Sportback's performance derives from a 2.0-liter turbocharged 4-cylinder engine producing 250 horsepower and 265 pound-feet of torque.  All-wheel drive models though receive an engine tuned for a sizeable 295 pound-feet of torque…even more than the GS's V6.  Gas mileage ranges between 24 and 26mpg in combined drivng.  That 4-wheel traction is courtesy of Buick's advanced twin-clutch differential offering better performance during acceleration and cornering by splitting torque between the rear wheels.
The body structure is stiffer, stronger and approximately 200 pounds lighter than the previous Regal.  A MacPherson strut front suspension is complimented by a 4-link rear on front-drive models and a more sophisticated 5-link setup on AWD trims, designed for refined control and a confident everyday driving character.
There are 4 non V6 Regal Sportback trims starting at about $26,000 while a fully loaded model crosses the $40,000 threshold.
Tagged with:
2018
,
audi A5
,
auto critic
,
BMW 4 series
,
Buick
,
DT with Steve Hammes
,
first look
,
latest video
,
performance
,
previews
,
Regal
,
sportback
,
steve hammes