2023 TOYOTA SEQUOIA CAPSTONE TEST DRIVE
2023 TOYOTA SEQUOIA CAPSTONE TEST DRIVE FOR TOP SPEED BY STEVE HAMMES
2023 Toyota Sequoia Capstone 4WD
George W. was a lame duck president, we were just getting to know Taylor Swift and a gallon of gas soared to a record $4.11.  The year was 2008 – the last time Toyota completely redesigned its most spacious, 3-row SUV.  With its thirsty V8 averaging only 13 MPG in city driving, the timing of the introduction of the second-generation Sequoia was unfortunate as Americans started shopping for more fuel-efficient vehicles. Flash ahead 14 years – an unusually long product cadence, even for Toyota – and an all-new Sequoia has finally sprouted.  But good things don't always come to those who wait.  
WHAT HAPPENED TO CARGO ROOM?
While the Highlander is Toyota's blue-collar family mover the Sequoia occupies a much loftier market position.  As the name implies, it's big – 3-inches longer than before.  It's now available in a 7- or 8-passenger configuration, sources power from a V6 hybrid engine and produces substantially more oomph while at the same time netting vastly improved fuel economy.  But with a nickel-metal hydride battery occupying space at the rear of the vehicle, the 3rd row seats haven't anywhere to hide meaning a low, flat load floor isn't possible, resulting in a precipitous drop in cargo volume.  Toyota's compromise is a sliding 3rd row with an adjustable cargo shelf system.  This small, removable shelf can be positioned at various heights including one that aligns it with the folded 3rd row for a harmonious, flat surface…but it starts about a third of the way up.  Beyond it being a little clumsy, this approach eats away at nearly 40% of the total cargo volume.  With the 3rd row seats upright and slid completely forward this new Sequoia benefits from an additional 3.4 cubic-feet of space behind the 3rd row.  The Sequoia's way back seat has long since been the best in the biz and it's still roomy enough for adults but legroom and shoulder room have decreased in every row.  
MORE POWER, MORE MPGs
The 5.7-liter V8 has been replaced with a gas-electric hybrid powertrain producing more horsepower – 437 – and way more torque – 583 pound-feet.  And no kidding; the Sequoia sounds like it's still packing 8-cylinders whether from inside or outside of the vehicle – its throaty grumble tricks the brain. Mated to a new 10-speed automatic transmission this 4-wheel drive model achieves 20 MPG in combined driving on regular unleaded – an impressive leap forward from the previous generation's 14 MPG – resulting in a 450-mile driving range.  This will save the average owner $5,750 in fuel costs over 5 years.  
TOWING MORE
Taking advantage of its electric boost, the Sequoia can shut off its engine under deceleration and while stopped in traffic.  And, under very light acceleration, the traction motor can move the over 3-ton Sequoia by itself before the 3.5-liter twin-turbo V6 joins in.  Called i-FORCE MAX and also available on the Tundra, it's an excellent hybrid application with smooth, powerful operation permitting greater towing capacity, now capable of nearly 9,000-pounds.  The Tow Tech Package is standard on the TRD Pro and Capstone grades and includes a feature called Straight Path Assist providing steering control when backing up a trailer.  In Tow/Haul mode the gas engine is always operating to ensure constant, reliable propulsion.  Load-leveling air springs in the rear are bundled with an adaptive variable suspension and can be further packaged with tow mirrors– the only items not present on this highly-adorned Capstone grade Toyota has provided.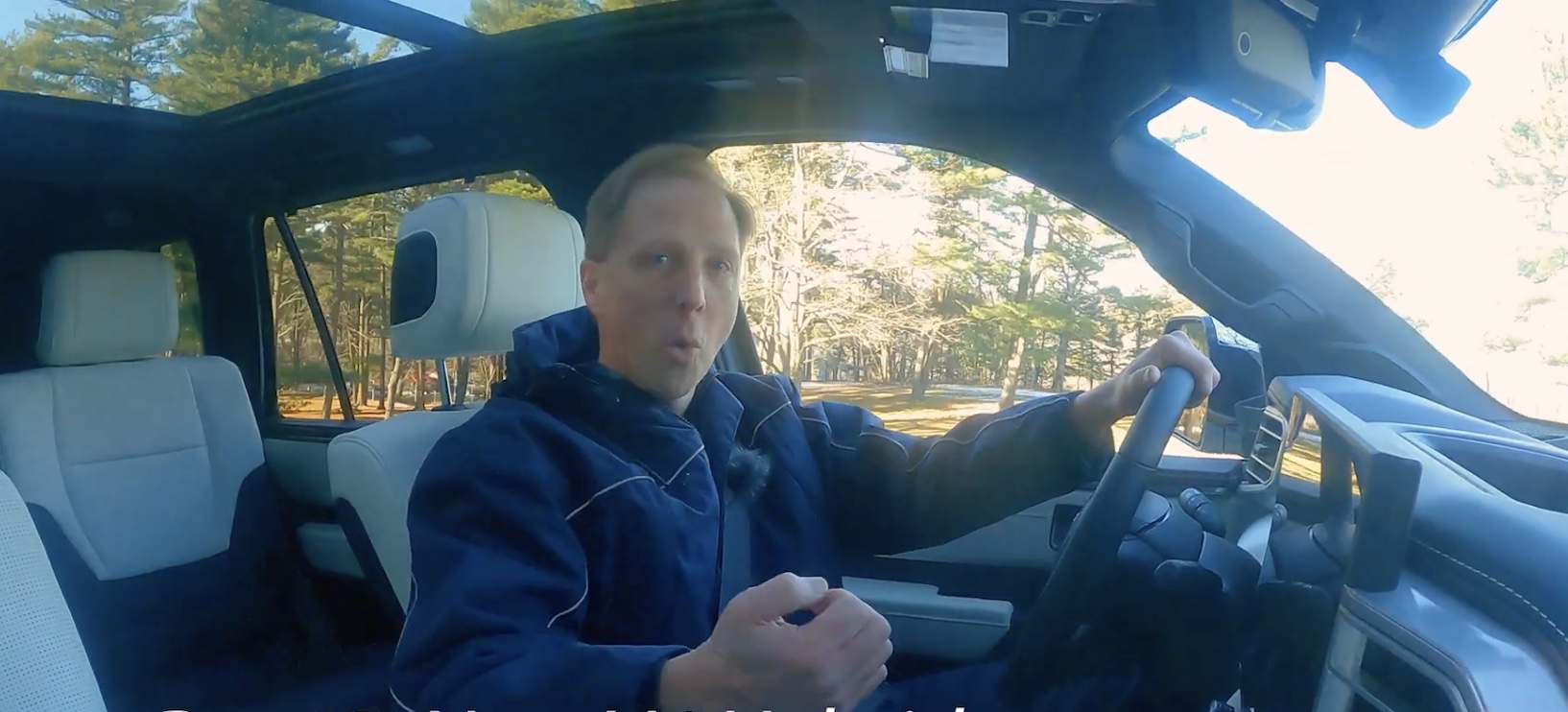 RIDE QUALITY 
And I wish that they were here because the ride quality isn't meeting $80,000 expectations.  The double wishbone rear suspension has been replaced with a multi-link arrangement but for whatever reason there's more impact harshness now and an overall degradation of the Sequoia's handling of road imperfections.  The wheel size has increased from 20- to 22-inches but I'm still surprised that ride comfort upon this next-generation truck frame isn't more sophisticated.   The steering feel and overall drivability are very good but the Lexus-like ride is missing.
NO AUTO 4-WHEEL DRIVE 
Typical to Toyota, the cabin is uncluttered by buttons and switchgear – it's all kept very simple and easy to use.  The wide center console houses only the shifter, a rotary knob for drive mode selection and a lever for choosing 4-high traction or 4-low gearing.  But conspicuously missing is an automatic setting or all-wheel drive mode.  This means that driving in changing road conditions – for instance during a snow squall – forces the driver to choose either rear- or 4-wheel drive, the latter of which can bind the drivetrain on dry pavement.  Eco, Normal and Sport modes are standard while Sequoias with the upgraded suspension further include Sport S+ and a Custom setting. 
CAPSTONE FTW
With a starting MSRP of $76,895 for a 2-wheel drive model, the Capstone is the new high roller grade and includes almost everything the Sequoia offers.  This 4-wheel drive-equipped Capstone arrived with the new dash cam – a $499 option – leading to an as-tested price of $80,906.  In the upcharge Wind Chill Pearl paint, it looks spectacular – everything you'd want in a big bucks SUV.  It's bold but not ostentatious, and it possesses a sporty, rugged, yet elegant stance.  Same wheelbase here as before but the Sequoia is now longer so it won't fit in many garages.
LEXUS-WORTHY CABIN MINUS SOME FEATURES
The huge touchscreen covers 14" from corner to corner and serves as the centerpiece of a visually appealing cabin – Lexus worthy in nearly every way.  The black and white soft, perforated leather combines with walnut wood trim for a modern take on the adventurous SUV – far more appealing than the interior of a Chevy Tahoe, a key Sequoia competitor.  Power running boards and a panoramic roof are Capstone standards.  But there are touchpoints, such as the wood door and plastic slider covering the deep center console bin, that don't feel appropriate at this price.  There's also an innovative, vertical, wireless phone charger but just like in the Lexus LX with which the Sequoia shares its design, I can't get my iPhone to stay connected; it moves around too much on the pad.  There is wireless phone projection however, and the big screen is simple to interact with including a wake word of your choosing, such as "Toyota," to spark verbal commands.  I don't love the layout of the features but, absent of any notable ambient lighting, it's the Capstone's moment to peacock.  There's also a head-up display, an external button for the surround view monitor, a rearview camera mirror and a 14-speaker JBL audio system but at this price I expected to find massaging seats, remote start on the key fob or even a Cadillac-esque hands-free driving feature but none of those items is present nor offered. 
After a lengthy wait the new Sequoia tempts with its handsome design but a closer inspection reveals some flaws, some of which may fatally impede a purchase.           
2023 TOYOTA SEQUOIA CAPSTONE TEST DRIVE |  TESTDRIVENOW.COM 2023(c)