2022 NISSAN PATHFINDER SL TEST DRIVE
2022 NISSAN PATHFINDER SL TEST DRIVE BY CAR CRITIC STEVE HAMMES
About a month ago I had my first opportunity to drive the all-new 2022 Pathfinder and I spent most of my limited time with it slogging through the mud.  Now, not only was that a lot of fun but it proved that Nissan had resuscitated some of the Pathfinder's lost ruggedness.  You can check out that video by clicking the link up above.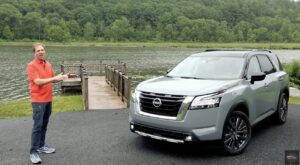 And now I have the Pathfinder in my possession for a full week and I have found mostly hits and only a few misses.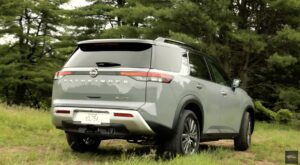 In a segment dominated by the Highlander and Explorer with others like the Pilot, Atlas, Telluride and Palisade also raking in the sales, the Pathfinder has a lot of work to do to climb back into the 3-row fray.  And it's safe to say this redesigned model is poised to rejoin those heavy hitters.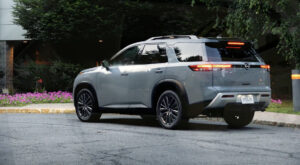 It's got the look, the size, the tech and the price to bring families back to a storied nameplate with 35 years of heritage.  Two- or 4-wheel drive, V6 power, 7- or 8-passenger seating, prices ranging from under $35,000 to just over $49,000 – these are the foundations of just about every SUV in this segment.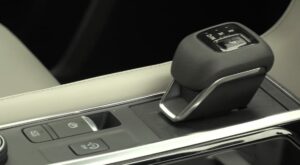 And now that the Pathfinder has swapped out its CVT for a geared transmission, increased interior volume, dialed up its off-road credentials and significantly raised its tech level and cabin appeal – it should definitely make it onto your shopping list.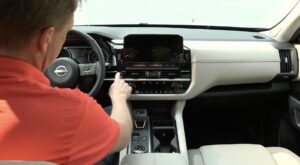 I really do love the new styling.  The rugged look is back, this two-tone Boulder Gray/Super Black combo looks spectacular and for the first time ever the Pathfinder comes standard with 8-passenger seating on S, SV and SL trims while the Platinum remains 7-passenger only. 
My tester is equipped with the optional SL Premium Package which includes 2nd row Captain Chairs.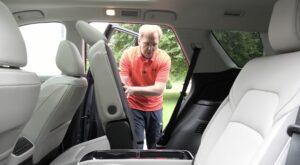 The 3rd row access is really brilliant.  It gives you such an easy ingress into the 3rd row and once you get back here there is plenty of space.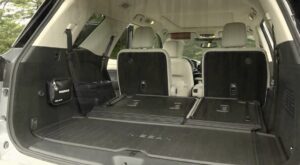 The new EZ Flex Seating System with Latch and Glide has one touch release from both sides and pitches farther forward than before…and child seats can be left in place, without the child in them of course, when moved for 3rd row access.  But sorry kids; there's no rear seat entertainment system available on any trim.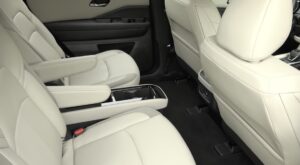 At least you'll have your own climate controls and both Type-A and Type C USB ports.  There are also sunshades on the windows and a no tools required removable center console if for whatever reason you'd rather it not be there.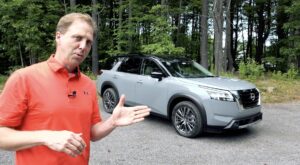 Third row access here is top-notch. The seat slides easily out of the way. And if you use the 3rd row a lot you're going to love how much space is back here.  I mean, I've got tons of legroom, plenty of headroom and even as an adult you would be comfortable back here.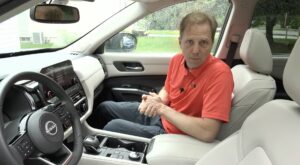 And you would think that with the cleverness engineered into the 2nd row seats that Nissan wouldn't get this position wrong but they did.  There's no height adjustable passenger seat on any trim level of the Pathfinder and for some bizarre reason the height adjustable passenger seat has become a tough get in the industry.  And this one sits really, really low so you're going to have some unhappy people over here.  And I would call this the Pathfinder's biggest misstep.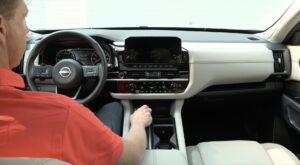 The cabin looks and feels more premium.  The layout maximizes family storage space and the controls are straightforward including those for the big touchscreen which supports wireless Apple CarPlay.  The charge pad isn't concealed so you're less likely to forget your phone and there's a nifty shelf over here that can hold the passenger's phone so it's not hogging a cup holder.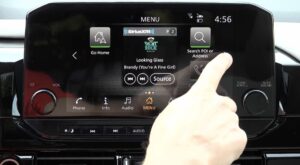 Highlights of the infotainment system are the 360 degree camera with real button, excellent sounding 13 speaker Bose audio system and a navi that is integrated with cruise control to proactively reduce speed when necessary, for example on a tight curve or off-ramp.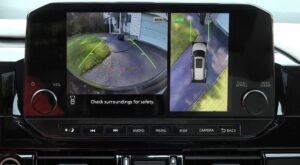 ProPilot Assist offers lower level semi-autonomous driving with lane keeping and stop and go functionality during your gridlocked commute but it's not anywhere near as capable as Cadillac's Super Cruise so your hands should remain on the wheel. And though these aren't Nissan's zero gravity seats they are supportive and comfortable as long as you're not too short.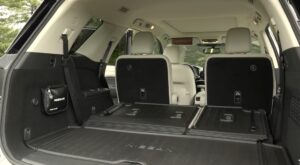 As for the cargo area, Nissan designed it to hold a 120 quart cooler or 4 golf bags even with the third row in place. And it's wider now so it can hold 4 foot building materials laid flat.  And then under the cargo floor is this really cool, dividable storage bin which is larger and easier to clean out.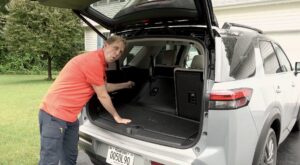 It's all very user friendly but if you want the motion activated liftgate you've got to step up to Platinum.  Other features exclusive to the highest trim are a power tilt and telescoping steering wheel, memory settings, softer, quilted leather, cooled seats, a big digital dashboard, head-up display and an additional USB port in the 3rd row.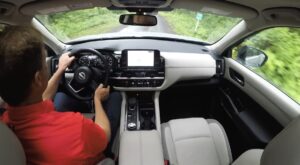 The Pathfinder's on-road drive is very good though it could use a little more power. It benefits from a new 9-speed transmission that gives it a more natural feel and sound but there are times when this V6 needs a little more prodding to get up and go. Otherwise this is a very quiet, comfortable ride that feels tight and not sloppy.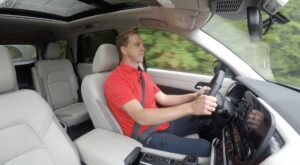 Modest power of 284 horsepower and 259 pound-feet of torque helps keep MPGs up at a notable 23mpg in combined driving on regular but the engine is unspectacular.  Where the Pathfinder feels especially adept is out here with the help of a quicker reacting 4-wheel drive system and various terrain modes.  Impressive stuff for sure with its 7.1" of ground clearance being the biggest limiting factor.  Towing is maxed at 6,000 pounds.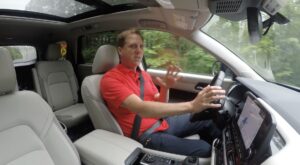 This SL 4WD with Premium Package checks in at $45,795…a solid price that'll put the Pathfinder right back in play.   
2022 NISSAN PATHFINDER SL TEST DRIVE BY CAR CRITIC STEVE HAMMES  |  TESTDRIVENOW 2021(c)